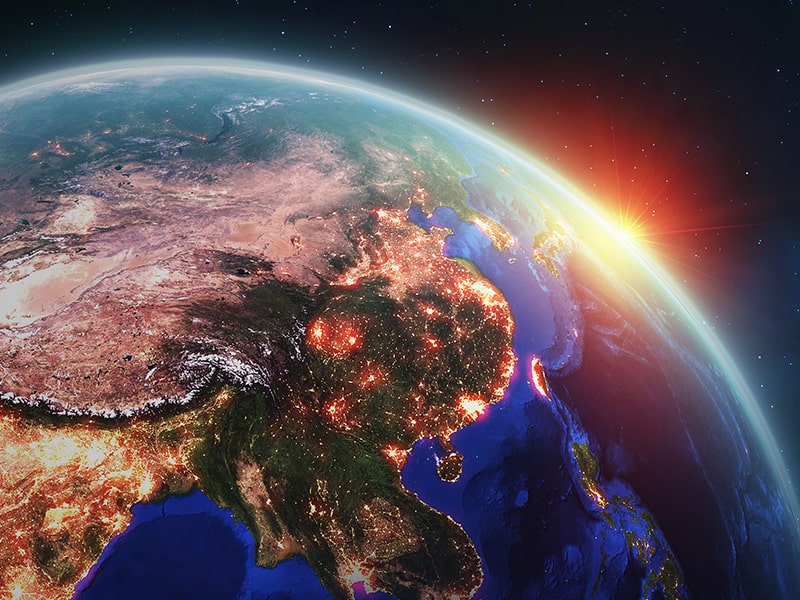 In May 2022 we asked 'are Chinese made cars about to flood the European market?', and in April 2020 we flagged up the 'Attack of the Clones?' and yet what we are witnessing continues to surprise even us. Not only are Chinese carmakers targeting European consumers, but in 2023 we now know that the UK is also in their sights, and this is only the first phase of an all out assault. And yet, some OEMs seem blissfully ignorant.
We've been here before of course. In the 1960s, the Japanese carmakers began to build a global empire. Slowly at first, but then by the turn of the century the likes of Toyota were the driving force of big auto. In the 1990s another powerhouse was sparking into life; the Koreans. KIA and Hyundai are now big players. This then, isn't the first 'Asian invasion', and yet this time it won't play out over multiple decades. Maybe just a single decade.
In several countries across the North Sea, Chinese cargo ships have been delivering electric vehicles for two or three years, but in the UK the transition has been a bit more subtle. Stealth brands like MG (SAIC Motor) and Polestar (Geely) have made inroads. But with right hand drive cars and our precarious position on the edge of the continent, until now we've only really been in the peripheral vision of the domestic Chinese car brands.
And yet, all of a sudden that's changed. Last year the Ora Cat debuted at Fully Charged LIVE UK and was arguably the star of the show. MG and Polestar, and some Shanghai-made Tesla were present too, but the Chinese influence was relatively low-key. We were told that a handful of the hundreds of Chinese brands like BYD, NIO, XPeng would probably enter the UK market in 2024, but 'events' in the US have changed all of that.
In the summer Joe Biden's Inflation Reduction Act (IRA) promoted 'American competitiveness' , and as a result the UK rose up the pecking order. As such, we expect around a dozen Asian brands to be on display at our flagship Fully Charged LIVE event in Farnborough, and as some of those will be bringing more cost-effective electric cars , we expect them to attract some serious attention.
So far, so predictable. So what is it that has surprised us so much? Honestly? It's the incredibly pedestrian response from a few of the older, more established OEMs. Of course, there are many that will be present at Fully Charged LIVE, but there are a few that seem content to let their competitors benefit from the thousands of test drives on-site at Farnborough and at Harrogate. How has this happened? It's a real head-scratcher.
Sure, supply chain issues haven't helped, but the heart of the matter is that this shift to electric has happened far faster than these companies convinced themselves it would. We've got bad news though, it's only going to accelerate. We know from many surveys of the Fully Charged audience that this paradigm shift is pure kryptonite to the brand loyalty that made carmakers feel superhuman. This is the 'Tesla effect' multiplied.
It might seem irrelevant, but perhaps it's important context, that a carmaker can participate at Fully Charged LIVE for £20,000 and in addition to a 100m space can expect 300-500 test drives over 3 days. When you consider the cost of a car, you can see that this represents incredible value and because of limitations as to how many can participate, also blocks competitors from the tens of thousands of 'EV-ready buyers' there.
We wouldn't name names of course, but this is one of the justifications we've seen of late:
"We have made a commercial decision as a brand team to not get involved in solely EV/car focused consumer events where we are having to compete with all the other OEMs for attention and space."
How did it come to this? Capitalism – matching demand with supply – is a central mechanism to the survival of these companies, and yet, some are seemingly unable to fulfil its basic tenet. A cynic might question their commitment to electric cars, but is it just that 'elephants can't dance' and that these big beasts are powerless to prevent their own extinction? So what happens next? Could some of these businesses really cease to be?
Literally, as I am typing this, an advert has flashed up on my other screen – you know the one, it's where Toyota tries to convince us that its 'self-charging hybrid' is cutting-edge technology and depicts an EV as some sort of kitsch Jetsons-esque bubble car. Well, I've got news for Akio and his acolytes, 'the car in front is a Tesla.' Toyota had 4% of UK car sales in December 2022, Tesla had 13%, and a further 21% belonged to pure electric.
And despite >16% of new car sales in the UK over the course of 2022 belonging to battery electric, it's far from the most advanced market. The same megatrend is playing itself out monthly in all major car markets – 82.8% in Norway, 51.3% in Sweden, 25% in the Netherlands etc. – and the writing is on the wall for those OEMs that have restricted supply, launched compliance cars or in the case of some, not even entered the fray.
Worse still for the naysayers, in 2022 the UK had its lowest car sales since 1992 and electric car sales still grew. Significantly. Car companies cannot manufacture battery electric vehicles quickly enough and for certain European brands electric vehicle waiting times are often in excess of 6 months, making consumers consider alternatives and creating previously inconceivable 'conquests'.
While there are exceptions to every rule – and Nissan has been an EV pioneer, and Porsche has breathed fresh life into its brand – the Japanese and German brands look most likely to be negatively impacted. While the wheels literally fell off for Toyota's BZ4X, the Honda e and Mazda MX30 are hamstrung by limited range. At the same time, the strategy for Audi, BMW and Mercedes seems to be to make more expensive electric SUVs.
So when a car like the MG4 comes along – relatively affordable, long range and attractive too – is it any wonder that consumers are choosing it over other options like the Honda e? And at the premium end of the market, Tesla and Polestar are eating away market share in the saloon segment from the BMW 3 series and Audi A4. Not to mention fresh faces like Hyundai's Ioniq 5 and KIA's EV6. And all this before a slew of Asian cars.
While the global new car sales market accounts for ~75m cars per annum, it is notable that >20m of those sales take place in China. Its foresight in terms of long-term investment in electric vehicles (and the materials they are made from), as well as the hypergrowth of its domestic market has the potential to power its non-domestic ambitions too. BYD, one of dozens of Chinese carmakers, is now making ~1m BEVs per annum.
Tesla meanwhile has the delivery of 1.8m BEVs in its sights in 2023. It is conceivable then, that all of the newer brands could be selling 20-40m cars annually by 2030. Add to that the rising share of challenger brands like Hyundai, KIA, Polestar, MG and many more, what percentage of the market will remain for the also-rans? It's almost a 'racing certainty' now, that not all of the runners and riders will complete the course.
Some companies will be subsumed, some brands will be bought and some will be consigned to the past. While it would take a brave individual to predict who will survive, there's little doubt that there will be big casualties.
With no little irony, maybe it's 'change anxiety' that could strand several of the longest-running car companies.
Thankfully, we can watch it all from the safety of our sofas on the Fully Charged SHOW.
Dan Caesar, CEO
---
Other insight pieces from Fully Charged contributors: