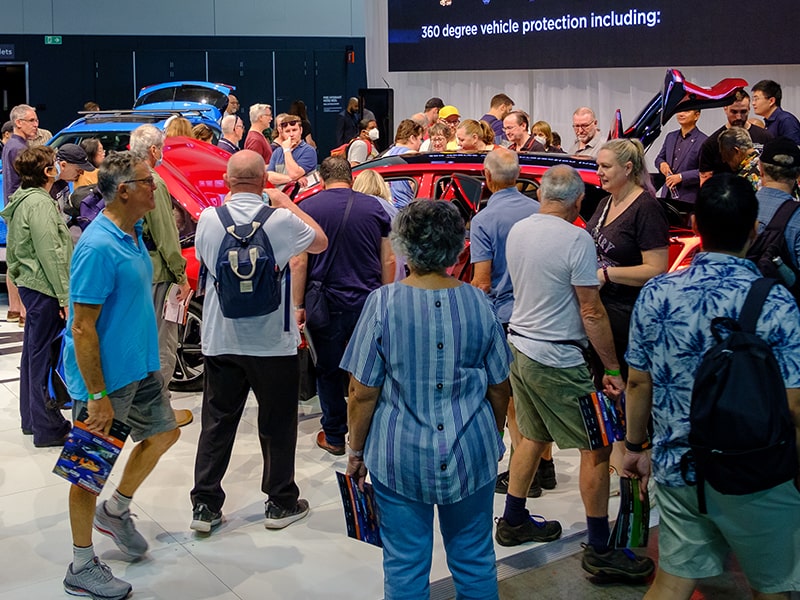 Fully Charged LIVE, the YouTube channel spin-off exhibition, has now launched successfully at Silverstone, Farnborough, Austin, Amsterdam & San Diego.
And yet the latest launch, Fully Charged LIVE Australia last weekend, was our most successful by every measure, including attendee numbers.
Launching exhibitions is notoriously difficult, doing so from >10,000 miles away is doubly so, and yet the 2-day Sydney show attracted 13,988 attendees.
Below, we explain 'The Secret of Our Success', but it would be remiss not to mention that this is the first of seven FullyCharged.LIVE events in 2023.
Big things are expected of the year 5 show in the South of England this April, and at the first Fully Charged LIVE in the North this May.
Then this September, the Fully Charged team will see if Canada can beat the high bar set by the Australia show.
Then the year will round off with a return to California, and to Europe (Amsterdam), which will also host the inaugural Fully Charged Awards.
The team is targeting more than 100,000 EV-ready, energy-savvy consumers across all of the events, and is looking to double that number in 2024.
Robert, Dan, Imogen, Jack and the team are hosting an invite-only event in London on April 3, where Fully Charged will make multiple announcements.
If you would like to be considered to attend, please email us, via dan@fullycharged.show asap.
The Secret of Our Success
There is no silver bullet of course.
I could tell you about the respect that Fully Charged has earned over 13 years, or the profound dedication of its creative and commercial teams.
Or I could tell you about the investment we make in visitor attractions at all of the shows, or the magnetism of showcasing 'almost' every EV.
But if we had to isolate one reason above all others, we would say that we are fortunate to benefit from the same special ingredient that has enabled Mr Beast to sell Beast Burgers in 300 locations across the US, and Logan Paul and KSI to sell $250mn of Prime Energy Drink – specifically, the YouTube 'fan fervour' of a channel (and its hosts) that attract millions of views every month. It gives Fully Charged LIVE 'unique consumer pull', and the ability to guarantee large audiences wherever we go in the world, but especially in our key territories (of the US, Canada, Australia, Europe & UK).
What's more, if you're selling products or services in the electric vehicle or home energy sectors, the quality of our audience is second to none too.
Millions research these products through our YouTube episodes, with the most motivated buying tickets with a view to investing in these technologies.
This guarantees exhibiting companies, something very few events offer, an influx of thousands of pre-educated consumers with money to spend.
And we're only just getting started! We expect all of our eight shows globally (yes, there will be more added) to grow very considerably over the coming years. Fully Charged LIVE is already the leading electric home and vehicle show in the world, and we still have a few surprises up our sleeves.
Here are some of the comments from the Sydney show, and of course we will be back in 2024, and expect the show will double or triple in size: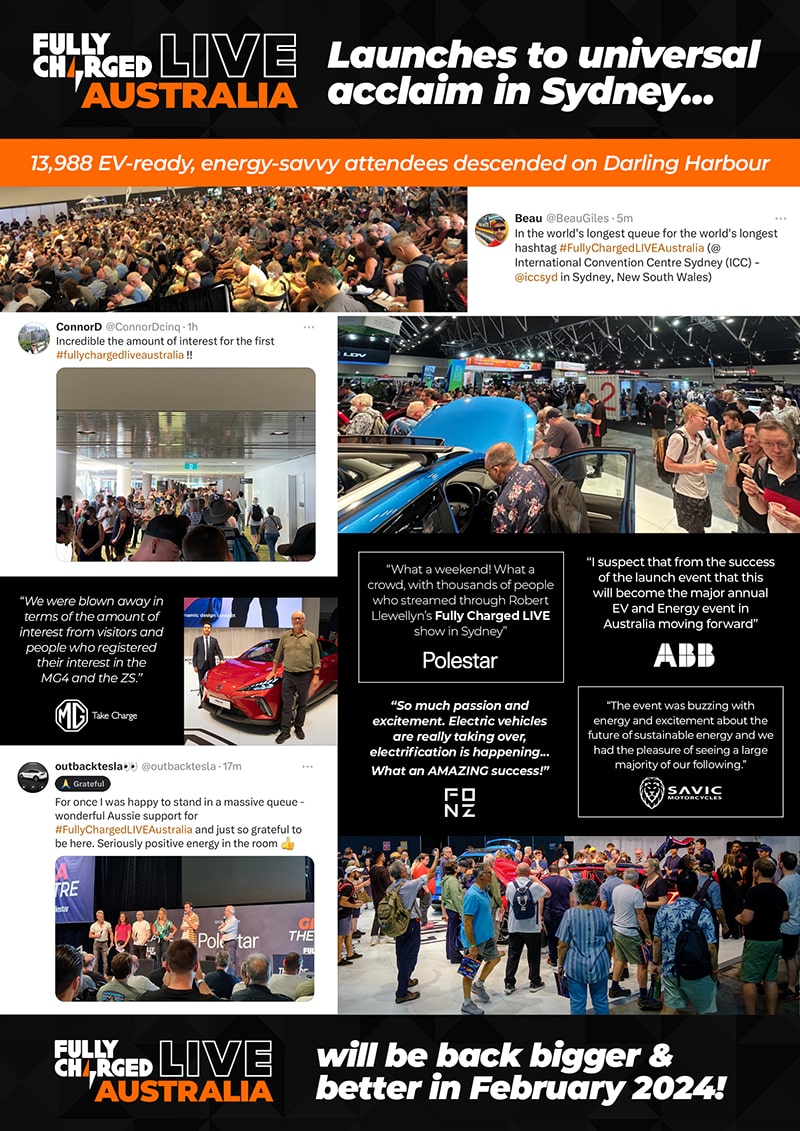 Dan Caesar is the CEO of the Fully Charged SHOW, the world's no.1 clean energy & electric vehicle channel