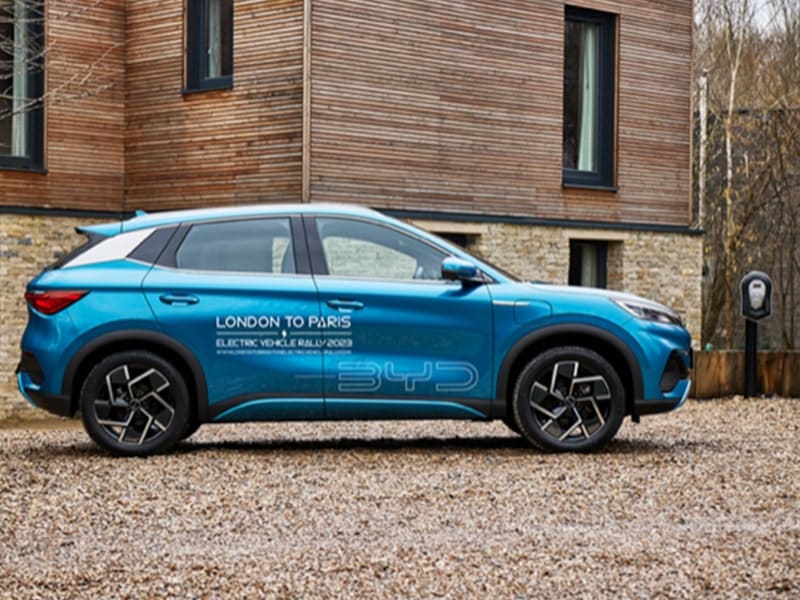 The London to Brighton to Paris electric vehicle rally invites you to test drive some of the newest EVs on the market at the event on the 1st of July. Simply bring your license and a bunch of questions for us to answer and we will give you a selection of the very best EVs on the market to test drive on an enjoyable scenic drive along the Sussex Coast. Test drivers would be under no obligation and all test drives are completely free.
This year we are offering over 20 stands and stalls including EDF, Motability Operations, Madness Events, and their micro mobility stunt show. Live music, giveaways, new models not seen before and bike/scooter rides.
We are pleased to announce our official automotive partner as BYD UK, the newly launched Electric car brand in the UK and global leaders in New Energy Vehicle sales. The event is further supported by Motability Operations and proudly sponsored by EDF, Britain's largest generator of zero-carbon electricity.
As the biggest EV rally in the UK and the first of its kind on an international scale, we are thrilled to announce the continued sponsorship by EDF and the new support from BYD UK and Motability Operations.
This rally is not just for car owners, bus drivers, and van drivers; it's an event that invites builders of road legal conversions, scooterists, cyclists, bikers, inventors, solar car specialists, and even electric planes to join in the fun. The event management team at Current PR invites spectators to come down for free and enjoy samples, live music, stalls, stands, and lots of cool electric vehicles on show.
Members of the public can simply turn up to the EVillage on Madeira Drive, Brighton on Saturday, July 1st, from 9 am and test drive a great selection of electric vehicles with no obligation whatsoever. Just bring your driving license and buckets of questions, and the organisers will do their very best to answer them!
Jonathan Jenkins, Head of Innovation at Motability Operations, expressed his enthusiasm, saying,
"With the transition to electric vehicles approaching in the UK, we're working hard to support our 650,000 Motability Scheme customers as they make the switch. We see this collaboration as a fun and inspiring way for our customers to learn more about our journey to electric, help them combat range anxiety, and highlight how EVs can be accessible for everyone. We can't wait for our customers to get involved."
The rally will kick off in Westminster, London before reaching the halfway finish line at the iconic Madeira Drive, Brighton Beach. The event will feature over 20 stands and stalls profiling the best of innovation and technology from 9 am to 4 pm. An exclusive awards party sponsored by 3ti at the new Soho House's Brighton Beach Lofts will follow, where the most energy-efficient vehicles will be recognised.
After celebrating in Brighton, the rally's second stage will take participants from Brighton to Paris via Newhaven and Dieppe.
The rally is excited to continue its association with the Big Lemon Bus Company, BBC Sussex, The Brighton Argus newspaper, and Fully Charged.
Robert Llewellyn, founder of Fully Charged, expressed his delight, stating,
"We are thrilled to support the fantastic London to Brighton Rally as Media Partner for the third consecutive year as they extend the route in 2023 to finish in Paris! Now we just need to decide which EVs we will be entering!"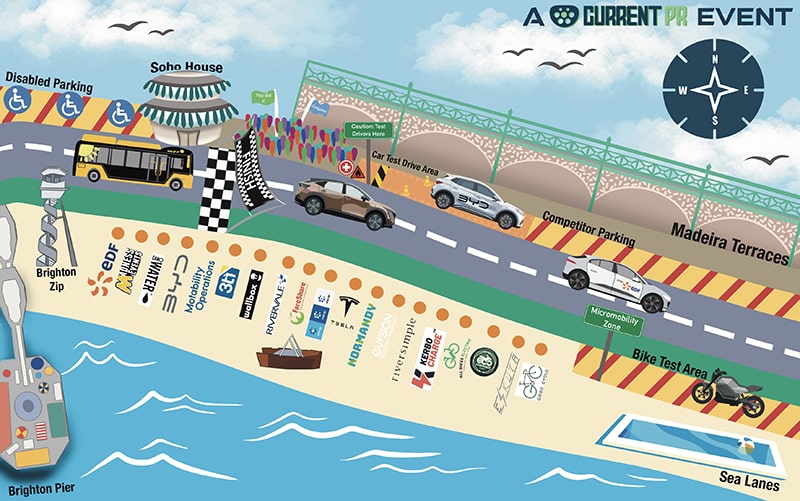 This year, the event is expanding its horizons and embracing Region Normandie, NES Ecospace, and various Seine Maritime stakeholders. Rally participants will enjoy a Normandy goody bag packed with treats from the region. The aim for 2023 is to have over 100 electric vehicles driven by UK and French EV entrants competing in this energy trial.
The London to Brighton to Paris EV Rally is not just about showcasing the rapid development of electric vehicles and renewable energy; it's about combating range anxiety and illustrating the accessibility, variety, diversity, and limitless possibilities of traveling in a low-carbon world between major cities. With free entry for bikes and self-builds in the London to Brighton section and an entry fee starting from just £90 for privately owned vehicles, this is an affordable event for all. The entire event entry, including return ferry travel and hospitality, is under £200 and is now sold out.
In addition to the excitement around the rally, renowned electric vehicle manufacturer BYD will be showcasing its impressive range of cars. BYD is a global leader in electric vehicle technology and has been at the forefront of the EV revolution. Their vehicles offer an impressive range, advanced features, and a commitment to sustainability. With BYD's participation, the rally will highlight the cutting-edge technology and innovation driving the electric vehicle industry. BYD will take centre stage as the automotive partner of the London to Brighton to Paris EV Rally, showcasing their highly anticipated BYD ATTO 3 and maybe a few surprises along the way.
The BYD ATTO 3 is a compact electric SUV that combines style, efficiency, and cutting-edge technology. With its sleek design and advanced features, it represents the future of urban mobility. ATTO 3 is equipped with the latest in BYD's innovative technology, including intelligent connectivity features and a range of safety enhancements. Its spacious interior offers comfort and convenience, while the long-range battery allows for extended journeys without the need for frequent charging.
As the automotive partner of the London to Brighton to Paris EV Rally, BYD is committed to promoting sustainable transportation and driving the adoption of electric vehicles. With their participation in the rally, BYD will showcase the capabilities and performance of their electric cars, further solidifying their position as a leader in the industry.
Mark Blundell, Marketing and PR Manager for BYD UK expressed his excitement about BYD's involvement, stating,
"We're thrilled to be the automotive partner for the London to Brighton to Paris EV Rally. Their commitment to innovation and sustainability aligns perfectly with the spirit of BYD and we see it as a superb way to continue our introduction into the UK market".
Co-founder Tom Druitt added,
"We're really excited to be going international this year with the very first London to Paris EV Rally and delighted to have BYD as our automotive partner this year. For me, this is especially exciting as many of The Big Lemon's buses have BYD batteries. BYD means Build Your Dreams, and that's what we're doing with The Big Lemon and with the London to Paris EV Rally! We're also very pleased to partner with EDF again this year; they have been a huge support since the first London to Brighton EV Rally in 2021 and are leading the way in the UK's race to net zero.

This year, once again, we're celebrating the rapid development of low-carbon technologies and showing how far electric vehicles have come. Fossil-fuelled vehicles are now going the same way as fossils themselves, as electric vehicles are not just cleaner and greener, they're also just better in every way. And this year, with the help of our partners Motability, we're also showing how accessible they can be."
Categories for the rally include E-Bikes, E-Motorbikes, City cars, Saloon cars, SUVs, Vans, Self-builds, Minibuses, Buses, Trucks, Electric planes, public transport, Solar, Hydrogen, and their KW usage.
---
About the author
Back in 2020 two Brighton friends, Bill and Tom, were chatting about The Big Lemon's transition to an electric bus fleet. Tom mentioned that he'd like to do some kind of challenge to see how well the electric buses perform and Bill suggested inviting other vehicles to join the challenge. One thing led to another and the London to Brighton Electric Vehicle Rally was born.