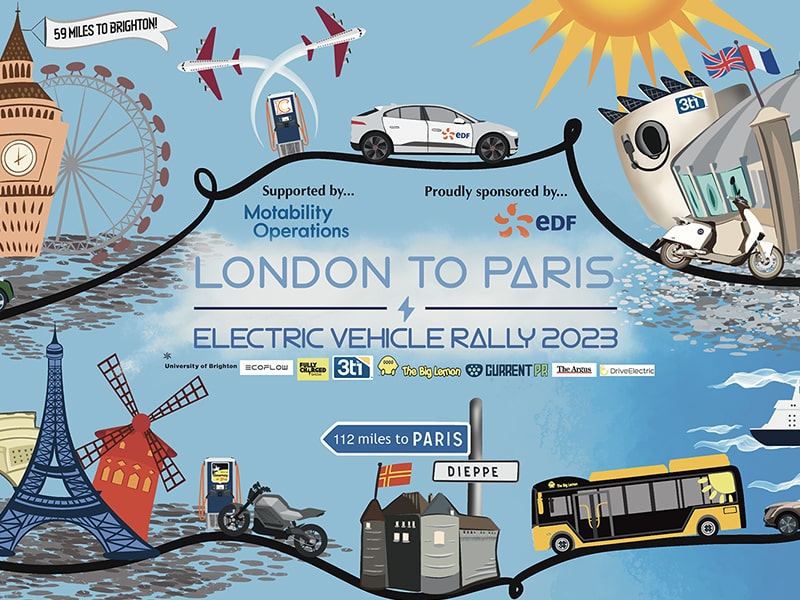 Get ready, EV enthusiasts! The London to Brighton to Paris EV Rally is coming up on July 1st and 2nd, 2023 and it's going to be an electrifying event.
This year, the rally is supported by Fully Charged, Motability Operations and sponsored by EDF, the biggest generator of zero carbon electricity in Britain. EDF is helping Britain achieve Net Zero by leading the transition to a cleaner, low emission, electric future and tackling climate change. As the UK's largest producer of low-carbon electricity, EDF is committed to promoting the use of electric vehicles and making them more accessible to the public. This year we are also joined by 3TI energy hubs and their quest to power car parks and indeed car chargers with solar energy via their incredible Papilio3 system. An incredible firm taking charging into the next century!
This is the first official large scale international electric vehicle rally, building on the success of the previous two years in London and Brighton. The rally is open to all types of electric vehicles including cars, buses, vans, scooters, bicycles, and even electric planes. The organisers are hoping to attract builders of road-legal conversions and solar car specialists to add to the excitement of the event.
Jonathan Jenkins, Head of Innovation at Motability Operations, said,
"With the transition to electric vehicles approaching in the UK, we're working hard to support our 650,000 Motability Scheme customers as they make the switch. We see this collaboration as a fun and inspiring way for our customers to hear more about our journey to electric, help our customers combat range anxiety and highlight how EVs can be accessible for everyone. We can't wait for our customers to get involved."
The rally will begin in Westminster, London, with a stop in Crawley before reaching the finish line in Brighton. The event will also feature an awards party at the new Soho House's Brighton Beach Lofts where the most energy-efficient vehicles will be recognised. The rally's second stage will take participants from Brighton to Paris via Newhaven and Dieppe.
Tom Druitt and Bill Murray the event founders have added that,
"We are absolutely delighted to be bringing the third instalment of its incredibly exciting event to London, Brighton, and now Paris! We wanted to show what can be possible, and we believe that choosing Paris captures people's imagination. This year we will be partnering with a telemetrics company to adjudicate the various stages and provide us with the winners in an easy and open format. We will use big screens in London and Brighton to show spectators how the contestants are doing. We are again expecting big crowds as per the previous two events with around 20,00 to 30,000 people are expected along Brighton seafront during the course of the 1st of July parc ferme event. There will be attractions for children, a huge amount of food and drink on offer and music stages to offer live music and interviews from among others BBC radio."
The fact that it's only 111 miles from Dieppe to Paris, and of course only 59 miles from London to Brighton, makes it more palatable and easier for people to get involved. Basically the idea of an international event really appealed to us and our loyal rally patrons. We brought it up through our WhatsApp group and stakeholder meetings and decided that 2023 was the year to join our French cousins in a truly fun-filled EV adventure.
We will be hosting a competitors' event at the Green Room restaurant on South bank on Friday the 30th for people to meet up, talk about last year's event and set their strategy for the rally itself.
Some people are simply doing the London to Brighton. A great deal are booking the whole event. They are taking advantage of a fantastic offer for a return trip via the Newhaven – Dieppe ferry, hospitality in London, Brighton at the new Soho house Brighton beach house with awards dinner included, and then overnight accommodation on the ferry. This includes a breakfast on the quayside in Dieppe, a lunch provided by tourism Normandie and then a meal in Paris to celebrate the overall category winners
We want to make it as easy as possible for people to book in. To do it over the weekend means that it doesn't affect your working week and from Friday evening through to the arrival back in the UK on Monday morning the only thing you'll have to worry about is conserving energy and winning your category.
Yes, there will be champagne (obviously not for the drivers when competing) and delicious meals served along the way however the thing to concentrate on the most on is to drive as carefully and sensibly (this is after all an energy efficiency challenge) as possible.
The ethos is to see what is possible. We want to create events that inspire and educate, and that is illustrated by our partners. EDF, Motability operations and 3TI. Our association with University of Brighton is also ongoing and shows what is being done in the UK to further battery technology and vehicle design.
By collaborating with industry leaders EDF Energy and Motability Operations, 3ti energy hubs, ECOFLOW and Uni of Brighton we aim to set a new standard for transitioning to electric vehicles. Our partnership with Motability Operations provides access to electric vehicles for individuals who require mobility assistance, while EDF Energy's Drive Electric program offers comprehensive support with its array of electric vehicle tariffs, charging solutions, and car options. The rally is designed to promote education and raise awareness about the many benefits of electric vehicles, highlighting their versatility, performance, and eco-friendliness. We believe that through this collaboration, we can help to drive the wider adoption of electric vehicles, making sustainable mobility a reality for everyone.
We are closing Madeira Drive, Brighton again for the 1st of July all day, and there are lots of opportunities to see stands/ stalls, vehicles and exhibitors that promote sustainable technologies.
The entire event will be filmed and publicised via BBC and ITV. We are going to be joined by Caroline Lucas, MP and various other key figures. The start will be circumnavigating Parliament Square and then we will be on to Brighton via Crawley. Guests will be entertained at Soho House during the course of Saturday and then send off those competing in the French stage where they will take the overnight ferry from Newhaven arriving in Dieppe early on Sunday 2nd July. After a petite dejeuner hosted by the mayor of Dieppe and various dignitaries we will be heading to Gournay en Bray to collect their lovely Normandy hamper of cider, juices, cheeses, and local delicacies.
We are to be joined by mobile charging from various companies and have set out a route that embraces the easiest and most accessible charging facilities leading to and coming from Paris. It is still possible to compete on any form of EV including E bikes and scooters. We have several vehicles to assist along the way and we have created a route that is navigable by any type of electric vehicle. We have made allowances for vehicles with smaller range or scooters et cetera and people will be able to extend their booking with the DFDS ferry company if they feel they need more time to complete the journey. We will stay on in Paris to make sure everyone gets signed in and everyone gets sent off safely. All the infrastructure is in place to ensure that any competitor can enjoy the event. Working with Motability operations, and also Roger Warner from Charge2access we will ensure that every element of the event is as accessible as it can possibly be. We have broken down the event into two stages, and it is easy to enter either the London to Brighton or Dieppe to Paris stages on our website.
The event is also associated with the Big Lemon Bus Company, BBC Sussex and the The Brighton Argus newspaper and Fully Charged.
Robert Llewellyn, founder of Fully Charged, said,
"We are delighted to support the fantastic London to Brighton Rally as Media Partner for the third consecutive year as they extend the route in 2023 to finish in Paris! Now we just need to decide which EVs we will be entering!"
The rally will also include participation from Region Normandie, NES Ecospace and various Seine Maritime stakeholders. The event will give teams a Normandy lunch hamper with lots of goodies from the region included. The aim for 2023 is for over 100 electric vehicles driven by UK and French EV entrants to compete in this energy trial.
Categories for the rally include E-Bikes, E-Motorbikes, City cars, Saloon cars, SUVs, Vans, Self-builds, Minibuses, Buses, Trucks, Electric planes, Public transport, Solar, Hydrogen KW usage, and Net Zero Hero. Entry into the London to Brighton section is free for bikes and self-builds and from just £90 for privately-owned vehicles. The entire event entry including return ferry travel and hospitality with meals is under £200.
The London to Brighton to Paris EV Rally is a celebration of the rapid development of electric vehicles and renewable energy. The event aims to combat range anxiety and showcase the accessibility, variety, and limitless possibilities of electric vehicles. With the support of Motability Operations, the rally also aims to illustrate how electric vehicles can be accessible for disabled people.
So, mark your calendars for July 1st and 2nd, 2023 and get ready for an exciting journey from London to Brighton to Paris in or indeed on an electric vehicle. For more information, visit the official website and enter now.
---
About the author
Back in 2020 two Brighton friends, Bill and Tom, were chatting about The Big Lemon's transition to an electric bus fleet. Tom mentioned that he'd like to do some kind of challenge to see how well the electric buses perform and Bill suggested inviting other vehicles to join the challenge. One thing led to another and the London to Brighton Electric Vehicle Rally was born.