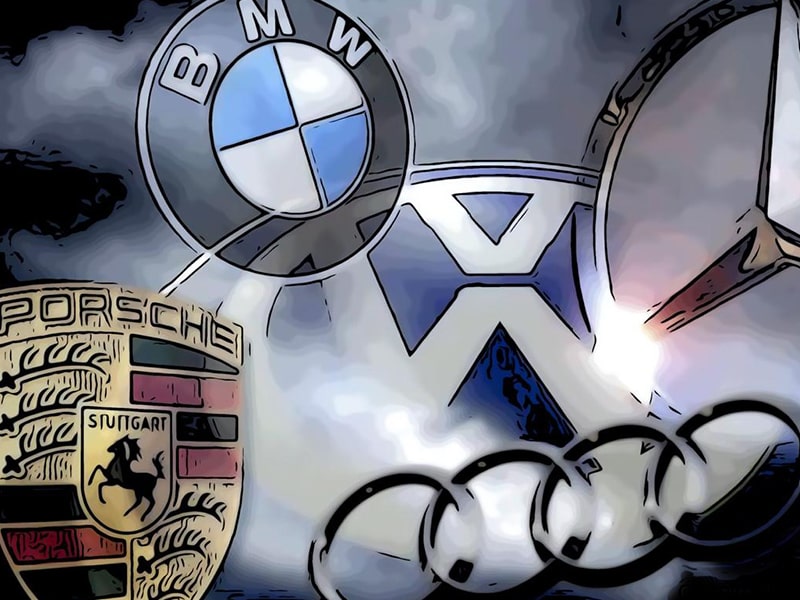 To invest in Tesla, you have to understand the competition: When I started to define the Californian company as my once-in-a-lifetime investment opportunity in 2014, I promised myself to thoroughly analyze the strongest competitors – the German car manufacturers.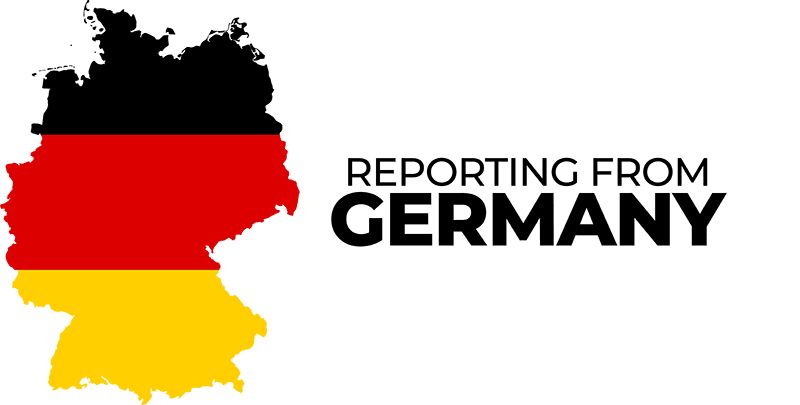 Early in 2020, the media, automotive experts, and VW Managers repeated that the German automakers were ahead of Tesla, and had no reason to be concerned as Volkswagen would overtake Tesla in 2021. Herbert Diess, CEO of VW Group said in January 2020, we are "pretty optimistic that we can still keep up with Tesla and probably overtake them at some point."
Their assumption was based on a linear progression of the VW BEV percentage growth shown. At the time, I explained in various articles, newsletters, and endless tweets why VW, BMW, and Daimler will not overtake Tesla, but continue to fall further behind. As usual, people didn't believe my analysis, but today, the data proves that the media and automotive experts they relied on were wrong.
German automakers have recently released their 2021 and fourth-quarter sales figures: the results are mixed to negative, if we compare them to the competition. When you read the first marketing press releases with cherry-picked data and regions, it all sounds very positive unless you put the data in context and compare it to past performance and the performance of current competitors. PR and marketing departments intentionally avoid giving such context, but I've done the work for you to tell the true story of what happened in 2021.
Let's start with a positive outlier: Porsche. The automaker has successfully increased sales of the Taycan from 20,000 in 2020 to 41,000 in 2021, an impressive 100% growth. In addition – (and this is a rare exception) – Porsche has also increased its total sales last year to a new record of just over 300,000 vehicles sold worldwide. At this size, Porsche is and will remain a niche luxury carmaker for which people pay a premium price. Even if they went all-in-electric one day, which they have not yet committed to doing, especially with the 911, it would not make much difference in terms of CO2 emissions worldwide. Regardless of my criticism of the Taycan's battery technology with its pouch cells, every single compelling BEV is important and therefore I applaud the progress Porsche has made over the past year.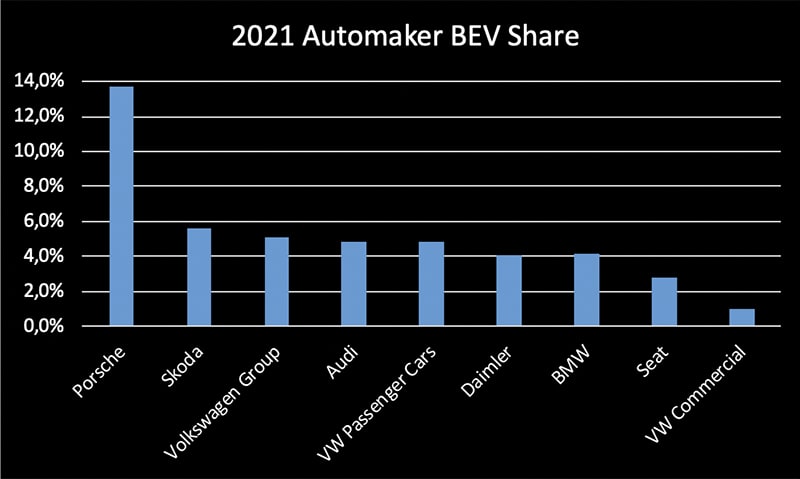 With a BEV share of 13.7% in 2021, Porsche is the clear leader among German automakers in BEV share compared to total vehicle sales. The all-electric Macan, expected in 2023, should bring new BEV growth and continue the brand's success. Unfortunately, the company is yet to stop selling the ICE 911 and continues to develop 'e-Fuels' if they do not change, BEV sales may stagnate at a certain level sooner or later.
More important than Porsche's rather low vehicle sales are all the other automakers, which still sell millions of ICE vehicles. Their BEV share relative to all vehicles sold is on average 4.3% in 2021, or an average growth below 100% in a high growth segment. Such a figure sounds great unless we realize that we are talking about improvements from 20,000 to 40,000 vehicles at Daimler or from 134,000 to 263,000 at the Volkswagen brand.
100 percent growth sounds a lot, but it's not when you're selling millions of vehicles, but only improving by 20 – 100,000 from a low base. Add to that the fact that total vehicle sales were down the last 2 years at VW, Audi, Daimler, and many others, and that makes the BEV percentage seem larger than it is. All German automakers combined sell only 66% of the BEVs Tesla sold in 2021.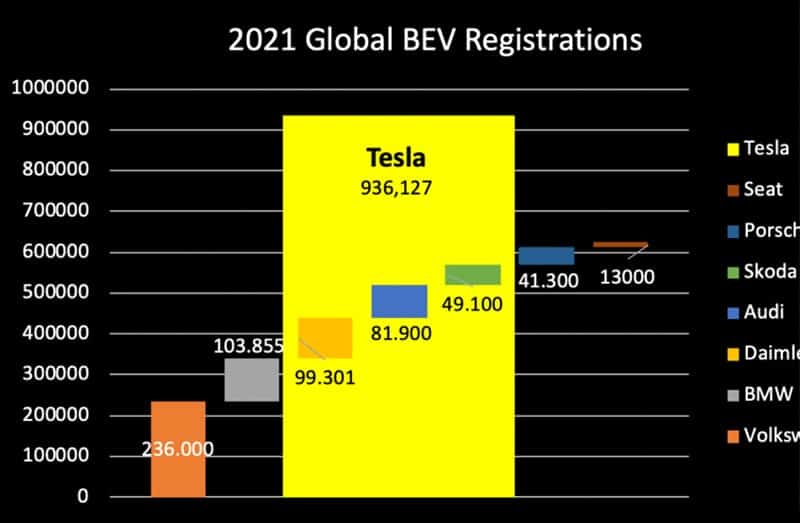 The Volkswagen brand's target for BEV share in 2021 was 6-8%, but they achieved just 4.8% BEV share on shrinking overall sales, far below their initial expectations. If Volkswagen and the group want to keep up with the fast-growing Asians, Chinese, and competitors like Tesla, where they claim to be the second-largest brand, they will have to grow much faster in 2022.
To make matters worse, Volkswagen has no new BEV models or technology other than the existing MEB platform, which has proven to be unpopular with customers on several issues, particularly software-related ones. The ID.5 and ID.Buzz models will be launched in 2022, but since they contain the same MEB technology, it is questionable whether they will bring the needed change. The ID.4, with 119,000 vehicles sold in 2021, is a positive exception, but far from the required mass volume that the Golf had and that the VW brand desperately needs to keep costs low with mass production they are famous for. The so-called world car ID.4 will be produced at the U.S. plant in Chattanooga in 2022, but initial U.S. customer reviews do not suggest the U.S. market will receive it well, and in China, the ID.4 and the entire ID line can be only called a disappointment. With 70,000 ID sales against a target of 100,000 and a production capacity of 900,000 in 2022/23 the ID China demand is far below expectation and VW has underestimated what Chinese customers are looking for and expect. The truth about customers' demand can be found in registration data: Tesla sold more BEVs in China in December than Volkswagen in the entire year 2021.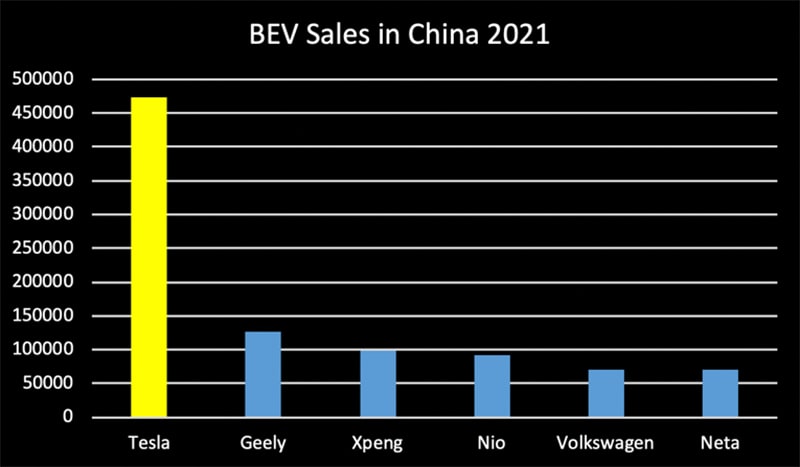 Even if we add up the BEV sales of all the companies in the Volkswagen Group, including Porsche, the Group continues to fall behind Tesla and is neither catching up nor overtaking as many predicted in 2020.
Quarterly, we see that while all German automakers posted solid growth in the fourth quarter, they lag far behind companies that define the BEV market, like Tesla. The BEV gap between the VW Group and Tesla is widening as well as the gap between VW passenger cars and Tesla. This disturbing fact becomes more obvious if we compare the quarterly sales per VW Group Brand, other German Automakers, and Tesla. Even in the last and historically strong sales quarter Q4 the German Automakers have been unable to reduce the gap in BEVs sold but fall further behind.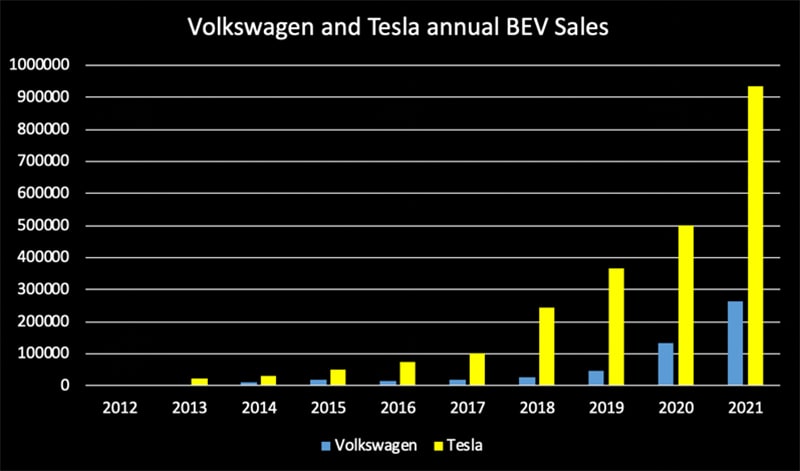 Annual global sales of VW passenger cars in 2021 compared to Tesla show that the gap between automakers in vehicles sold has grown 84% from 366,000 to now 672,000 BEVs. Even worse, in 2022, when Giga Berlin and Giga Austin start production and Giga Shanghai continues to expand, I expect Tesla to sell 1.6 to 1.8 million vehicles, but Volkswagen passenger cars will sell about 500k up to 1 million fewer BEVs than Tesla. Even at 100% growth, which I doubt they will achieve, Volkswagen will fall further behind. Therefore, the gap will grow in 2022 and a change can only be expected if VW grows with the new Artemis and Trinity BEV technology, which will be launched in 2025 and 2026 but that's in 4 years time.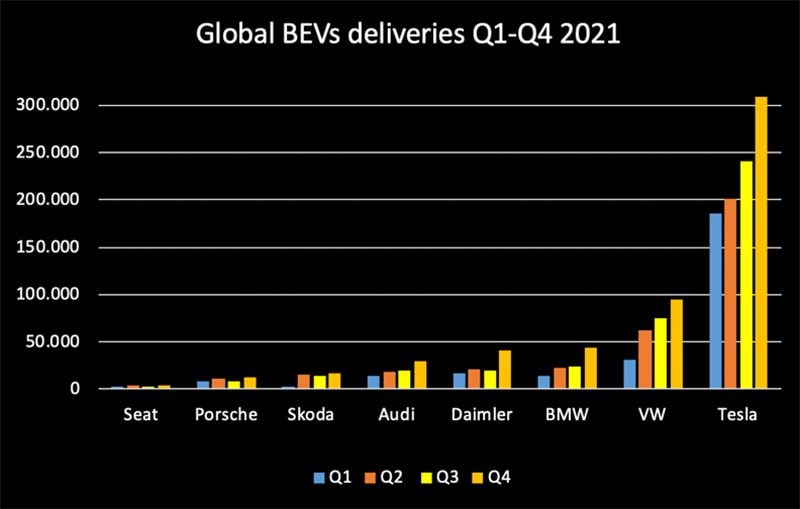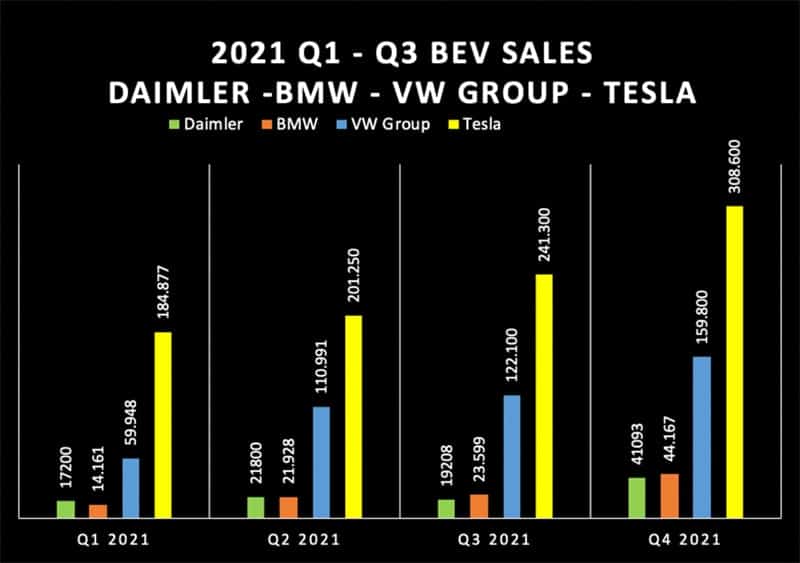 While Tesla's growth in Q4 proved their exponential growth that is driven by just two models in two segments the German automakers have a variety of BEV models and some bestsellers like the BMW i3 or VW eUP that are phasing out because the company could not make any profits and just sold them only to avoid CO2 fines. Maybe that's the reason why the eUP! supposed to be sold again soon. Audi's e-tron had almost zero growth in 2021 and is considered an old model already. The question is what are the catalysts that allow German Automakers to catch up with BEVs?
Early adopters of the Volkswagen BEVs and that's also true for BMW, Audi, Porsche, or Daimler usually accept some issues with their new car because they love their brand with the look and interior they are used to. But over time it becomes more obvious to customers that software, range, continuous improvements with over-the-air updates or driving assist, and autonomous driving features are more important for daily use and satisfaction than the interior and familiar identity.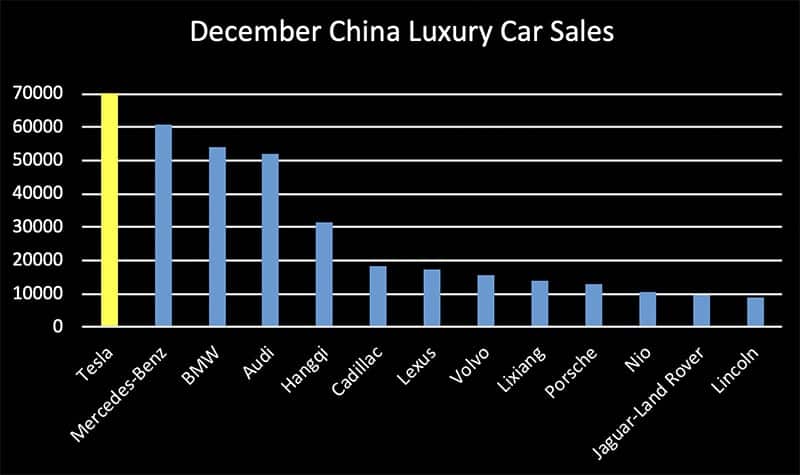 All who now claim Tesla and the German Automakers should not be compared need to remember that it is their CEOs who draw the comparison. All who claim that the lacking BEV growth in China is not of importance should remember that VW called themselves with 40% revenue generation in China jokingly many times a 'Chinese company'. Tesla and Chinese BEV Automaker now grow successfully while German Brands fall behind with sales and revenue in the largest auto market in the world. It is all the more worrying that the ten BEV manufacturers with the most registrations do not include a single German company. Volkswagen has 12th and 14th rank in a fast-growing market. According to the domestic manufacturers' association CAAM, sales for passenger cars in 2021 increased by 6.5 percent to 21.5 million cars and BEVs grew by 170%.
A traditional stronghold of German Automakers in China has been the luxury sedan segment but even in that German sweet spot, they are now losing against Tesla.
The only unit from Volkswagen Group that grew in 2021 is Volkswagen US and they grew with ICE and not with BEVs. ICE sales are set to shrink over the years everywhere to a very low share therefore it can be asked what is the ICE US growth worth if it's known already it won't last. That development can be seen in China where the total sales of VW shrunk by 14% despite a 100% growth in BEVs.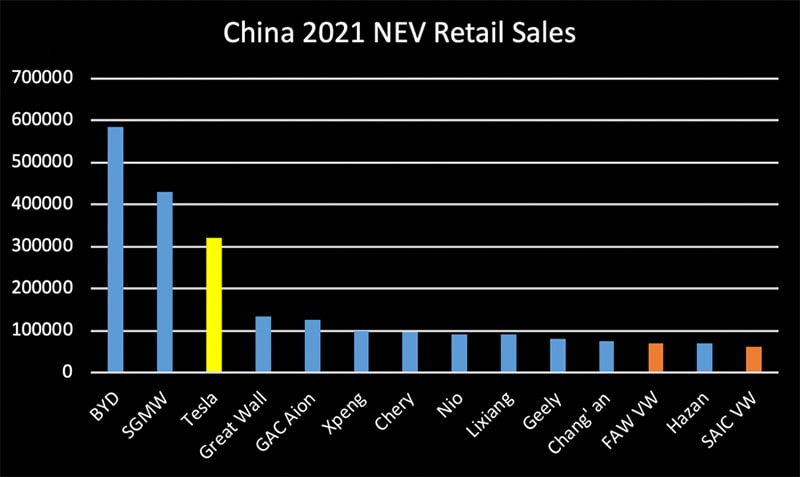 The best way to assess how German automakers are performing compared to Tesla in 2021 is to look at incremental BEV unit growth. While 100 – 200% growth always sounds fantastic, absolute numbers provide a much better basis to get a good overview. The chart below shows us that Tesla is growing about 400% faster than Volkswagen passenger cars, and even if we add up all the German manufacturers, they fall behind by -37% in unit growth in 2021. The gap with Tesla is growing despite all the new BEVs German Auto has launched, and I argue that the gap will continue to grow through 2022. The reason for this is not only the BEV models, which are often only popular in a niche market but even in segments where sales are good, there will still be problems with semiconductor, battery, and parts shortages in 2022.
The catalysts for the German automakers to accelerate their BEV growth are limited and it is unlikely that they will be able to maintain the pace that Tesla has shown in 2021 and will have in 2022 when two new large factories in Berlin and Austin come online. For those who claim that average selling price (ASP) and revenue is a much better metric, I would like to mention that the ASP of Tesla vehicles is much higher than the ASP of BEVs from German manufacturers and the graph would look even more drastic if we had the numbers available. There are exceptions for Audi, Mercedes, or Porsche premium BEVs, but their sales absolute growth is worse than that of Volkswagen Group's low-cost BEVs therefore they fall behind in total revenue too. Regardless of how we look at the data, the situation for German Auto in 2021 does not look good, and I predict it will get worse, not better, in 2022.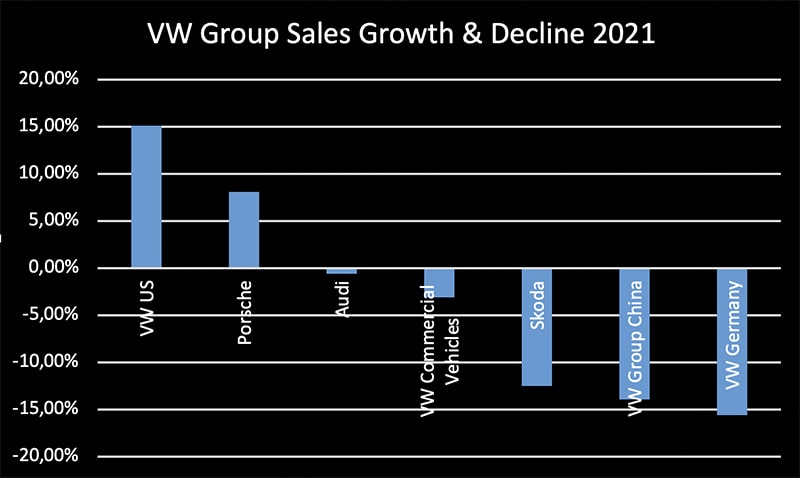 Tesla dominates the entire BEV industry in 2021 with only two models. The Model 3 is the best-selling BEV in the world and the Model Y is growing even faster in 2021 and will most likely be the best-selling model in 2022. Few models sold with high volumes are very cost efficient and allow high margins and profits. When you consider the €3,700 price tag for the Wuling Mini, which is only be sold in China and will likely not be available in North America or Europe for regulatory reasons, the revenue chart would look even more dramatic. The ID.4 is the VW Group's best-selling BEV model, with 122,000 units sold in 2021, and will likely fall further behind Tesla and Chinese BEV models despite going on sale in the U.S. this year. Overall, it can be said that Tesla dominates the global BEV market on a model-by-model basis and is likely to extend its lead this year.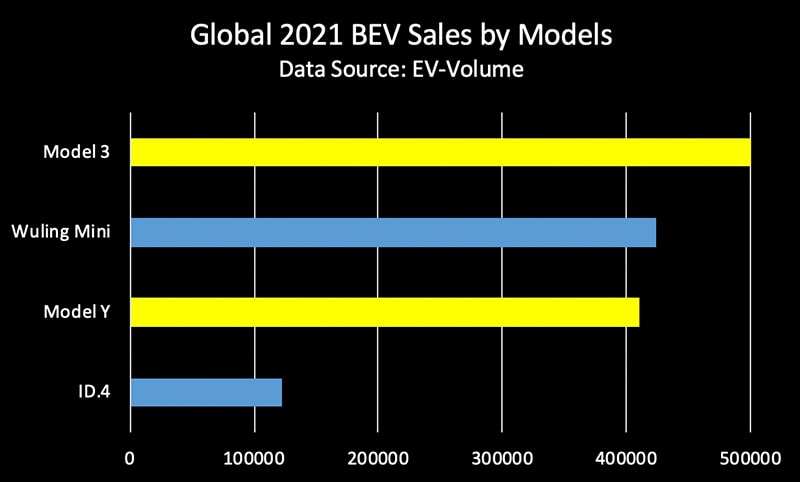 For the VW brand to keep up with Tesla in 2022, the German automaker will need to increase its BEV sales by 250% to keep Tesla in line, if I assume expected sales of 1.6 million vehicles, or 70% growth. However, VW's BEV growth in 2021 was only 96% and a 250% growth rate for VW in 2022 would just mean maintaining the gap, not catching up, or even overtaking Tesla, as many have claimed is possible.
Even the VW Group CEO Herbert Diess has lost faith, "If we own, here in Europe, about 20 percent market share, for that 20 percent market share to maintain 50 percent EVs, we need six gigafactories. Those factories would have to be up and running by 2027, 2028 to be able to deliver on our 2030 goal. It's close to impossible to do that."
For all German car brands combined to keep up with Tesla in 2022, they would need to grow 106% year-over-year to maintain the gap, not catch up or even overtake.
In 2021, all German manufacturers combined increased their BEV share by about 1.9% to an average of 4.3% of all vehicles sold. To achieve a 100% BEV share and completely exchange internal combustion engines sold today with BEVs, German Auto would need another 50 years if they continue to grow at the pace of 2021.
That would be achieved in the year 2072!
---
Data Source: All registration data shown in the graphs are either from official Government authorities web pages, from automakers press releases or calculated based on automakers released percentage vehicle sales growth or decline
---
About the author
Alex Voigt has been a supporter of the mission to transform the world to sustainable carbon free energy and transportation for 40 years. As an engineer, he is fascinated about the ability of humankind to develop a better future via the use of technology. As a German, he is sometimes frustrated about the German automotive industry and its slow progress with battery electric vehicles which is why he started to publish in English and German. With 30 years of experience in the stock market, he is invested in Tesla [TSLA], as well as some other tech companies, for the long term.