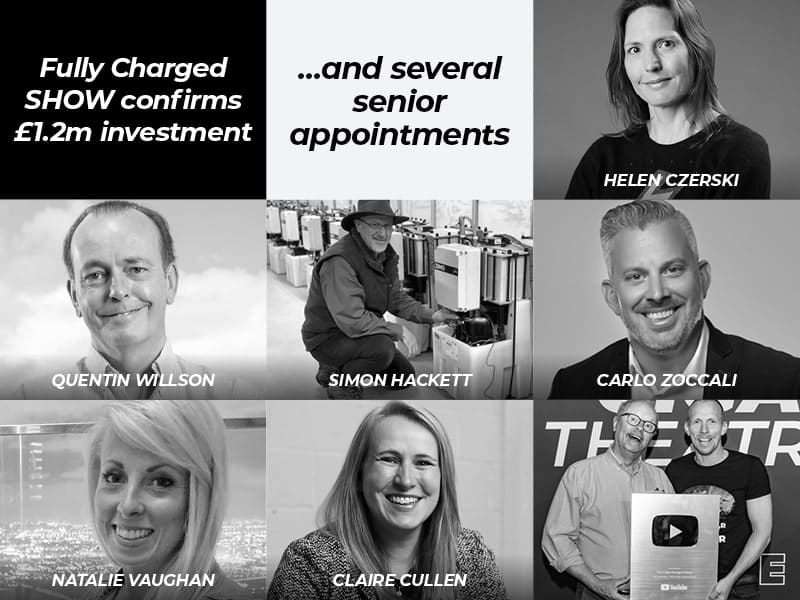 £1.2M OF DIRECT INVESTMENT RAISED BY FULLY CHARGED SHOW LTD., AS PART OF £1.5M TARGET

DECISION TAKEN TO RAISE MAJORITY OF FUNDS VIA DIRECT INVESTMENT INSTEAD OF CROWDFUNDING

FUNDS TO BE INVESTED IN ACCESSING NEW OPPORTUNITIES IN 2024 / 2025

3 SENIOR EXECUTIVE APPOINTMENTS FROM FARNBOROUGH INTERNATIONAL, GOODWOOD FESTIVAL OF SPEED & GIANT DIGITAL RESPECTIVELY

INCREASED BUSINESS GOVERNANCE WITH FORMATION OF FORMAL BOARD STRUCTURE

ADDITION OF 3 NON-EXECUTIVE DIRECTORS: HELEN CZERSKI, QUENTIN WILLSON & SIMON HACKETT
13 years since the first episode of the Fully Charged SHOW on YouTube and 5 years since the first Fully Charged LIVE exhibition, the organisation is entering an exciting new growth phase.
Buoyed by £1.2m of direct investment, funds will be invested from Q4 2023 to strengthen its exhibition sales business, and to open up a number of new opportunities from 2024 onwards.
New senior executives set to join the business from September onwards include:
Carlo Zoccali – formerly Venue Director at Farnborough International – as Chief Commercial Officer
Natalie Vaughan – formerly Event Operations Manager at Goodwood Festival of Speed – as Head of Event Operations
Claire Cullen – formerly Marketing Director at Giant Digital – as Head of Stop Burning Stuff
Carlo Zoccali will be joining as a full board member, alongside the current Chief Financial Officer (Calvin Sellers), Chief Operations Officer (Jo Caesar) and Chief Production Officer (Will Scammell).
The quarterly board will begin in January and will be chaired by Chief Executive Officer (Dan Caesar) and Founder (Robert Llewellyn). It will be administered by Head of People (Laura Rivet).
To supplement the expertise of the executive members of the board, several esteemed non-executive directors are also set to join, including:
Helen Czerski, associate professor at University College London, physicist, oceanographer, and regular science presenter on the BBC, as well as the Fully Charged SHOW
Quentin Willson, a transport expert of more than 35 years years, who is a seasoned Motoring Journalist and TV Presenter (Top Gear, Fifth Gear), and Founder of FairCharge UK
Simon Hackett, a technology expert of more than 35 years, who heads up The Hackett Trust, and is the principle investor in Redflow as well as the Fully Charged SHOW
These developments will enable the Fully Charged Show Ltd, and its subsidiary brands – such as Everything Electric and Stop Burning Stuff – to maintain standards set while continuing its growth trajectory.
---
Founder, Robert Llewellyn, had this to say:
"It's been an amazing decade or so for the Fully Charged SHOW. The changes we are making are designed to ensure that the next decade will be even better still."

---
CEO, Dan Caesar added:
"Strengthened by direct investment, we will be able to exploit existing and near-term opportunities and it's testament to the strength of the Fully Charged SHOW that we are able to attract top talent from the likes of Farnborough International, Goodwood Festival of Speed and Giant Digital. Furthermore, the ability to draw on the experience of 3 truly exceptional non-executive directors will be invaluable."