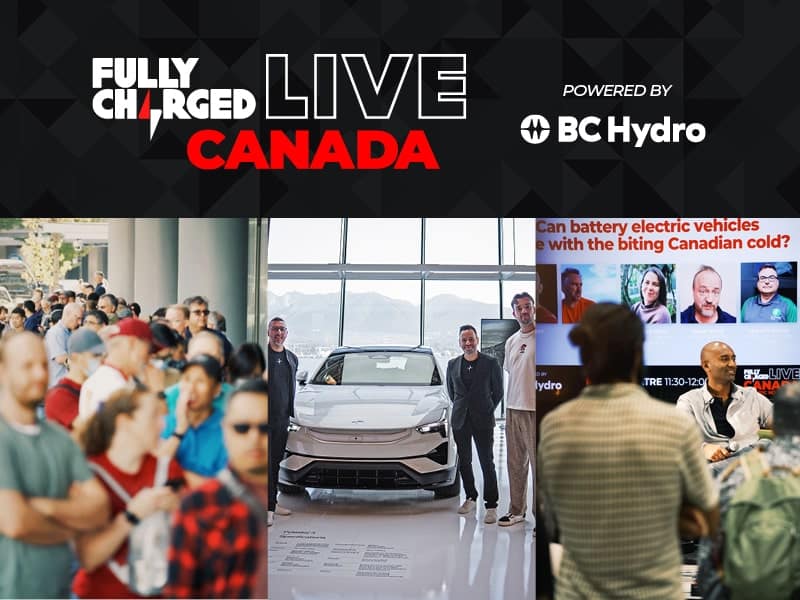 Hosted at the Vancouver Convention Centre, Fully Charged LIVE Canada received universal acclaim.

Launch attracted 17,112 attendees over 3 days. Fully Charged LIVE's biggest overseas exhibition to date.

Built around multiple 'live' stages with more than 50 educational and entertaining sessions.

>15 car makers attended to create Canada's biggest ever battery electric vehicle test drive program.

First sightings in Canada of several highly anticipated electric cars, including Polestar P3, BMW i5.

Expo of electric vehicles of all shapes and sizes, as well as an array of clean energy technologies.

Hosted by professional content creators and YouTubers, exhibition packed with visitor attractions.

Success has ensured the event is set to return to Vancouver in 2024, as 'Everything Electric CANADA'.
Brought to British Columbia by way of a special invite from clean energy champions, BC Hydro, the Fully Charged SHOW – a 1 million subscriber YouTube channel from the UK – brought its 'eclectic mix of electric tech', as well as first sightings of the Polestar P3 and BMW i5, to Vancouver Convention Centre on September 8th, 9th and 10th.
In a highly sustainable, harbourside venue against the beautiful backdrop of mountain scenery, the stage was set for the three days of education and entertainment at the first Fully Charged LIVE Canada. The tried and tested format has been successful in several cities across the world, but the Canadian launch was its biggest launch by attendance.
17,112 attendees participated in a fun-filled festival of electrification, and the organisers have already confirmed that Fully Charged LIVE will return in 2024, with its broadened brand identity 'Everything Electric CANADA.' Built around regular visitor attractions – such as the Giga & Mega Theatres, Home Energy Advice Team, Test Drive Program, Micro Mobility Zone and more – as well as more than 100 exhibits, it is anticipated that the footprint of the show will double in the next 12 months. Furthermore, new features will be added including the hotly anticipated 'Zero Carbon Kitchen.'
Crowds enjoyed watching their favourite YouTubers – the Fully Charged SHOW, Two Bit Da Vinci, Munro LIVE, Undecided with Matt Ferrell, Transport Evolved and more – as they took to the stages throughout the venue. Hosted outside and inside and over two levels, the Test Drive Program was a particular highlight, with between 3,000 and 4,000 test drives; a record number of battery EV test drives at a Canadian event. With test drives typically booked out before lunchtime, the organisers will endeavour to increase automaker presence and double available test drives in 2024.
As well as electric car test drives, more than a thousand rides on electric bikes and scooters took place, and the Commercial Vehicle Zone included an impressive display of larger electric vehicles. The 'Electric Alley' and 'Content Creation Workshop' also proved to be firm favourites, while the hugely popular 'Home Energy Advice Team' delivered hundreds of one-on-one sessions over three days. Energy tech is liable to be the fastest-growing element of Everything Electric CANADA 2024, as EV owners are proven purchasers of solar, batteries and heat pumps.
---
Feedback from visitors and exhibitors was consistently positive:
"I wanted to take a moment to express my heartfelt gratitude for delivering an exceptional show here in Vancouver. The contributions of the Fully Charged SHOW in raising awareness and knowledge about the electric vehicle transition are immeasurable. You are undoubtedly moving the needle in this critical sector, helping to bridge knowledge gaps that have long been barriers to mass EV adoption."
– Sid Mehta, Simon Fraser University.
---
"We are living in an exciting time – we are witnessing and participating in a revolution that will transform our global energy systems. Welcoming Fully Charged LIVE Canada to Vancouver offered an exciting opportunity to discuss, collaborate and connect with British Columbians – and others from across North America – on electrification, conservation, and efficiency."
says Diana Stephenson, Senior Vice-President of Customer and Corporate Affairs at BC Hydro.
"As more people and businesses look to transition from fossil fuels to reduce their impact on the environment, we are proud that at BC Hydro, 98 per cent of the electricity we generate comes from clean and renewable resources. And we are committed to supporting our customers on their journey through electrification."
---
The organisers from the Fully Charged SHOW had this to say:
Robert Llewellyn, Founder:
"We were taken aback by the warmth of the welcome we received in Canada by visitors from across North America. We were not sure that our other launch shows could be bettered, but Vancouver has set the bar. We're looking forward to our next exhibitions in Amsterdam, Sydney, London and Harrogate with renewed energy, before returning to British Columbia for an even bigger, better show in 2024."
Dan Caesar, CEO:
"We are ecstatic about this, our last launch exhibition of 2023, and we are already planning our return, rebranded as 'Everything Electric CANADA' in 2024. I would like to pay particular thanks to the citizens of Canada in general, and British Columbia specifically. To our team in Vancouver – Jason, Laura, and Duane – who expertly helped us to navigate a new market. And, finally to the talented team at BC Hydro, whose foresight to bring Fully Charged LIVE to British Columbia, and support of the event, has proven to be a masterstroke."