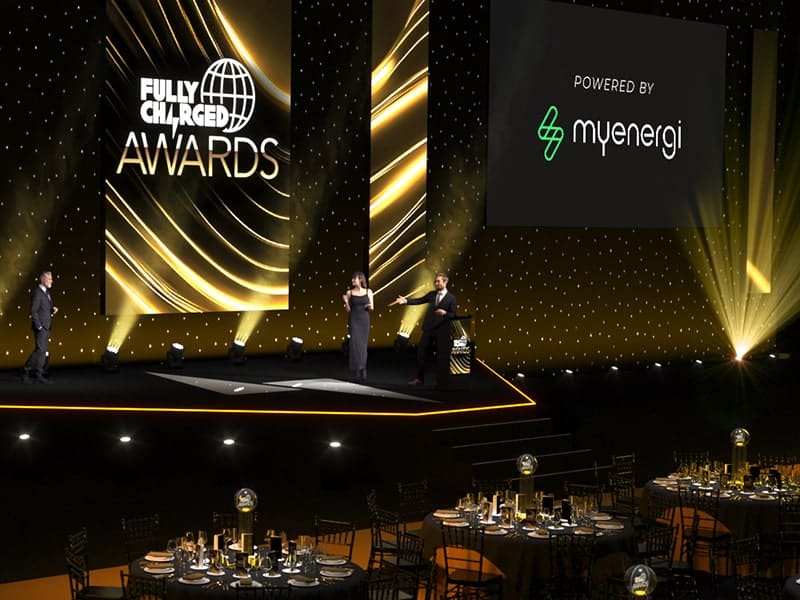 Great British eco-smart home energy tech pioneer, myenergi, confirmed as exclusive sponsor of the first Fully Charged AWARDS

Expert panel of 16 industry luminaries to underpin global consumer choice awards as voted by electric vehicle drivers

Final categories confirmed, including Best Electric Vehicle at 4 different price points

All timelines leading up to the inaugural awards ceremony on Friday 24th November 2023 at the RAI in Amsterdam

Fully Charged SHOW opens survey to ensure wide consultation with its audience
The Fully Charged SHOW is proud to present myenergi as the exclusive sponsor of its first global Fully Charged AWARDS in 2023.
Headquartered in the UK, but operational worldwide, myenergi is renowned for its innovative range of eco-smart home energy tech – including zappi, the world's first solar compatible EV charger.
Founder of the Fully Charged SHOW, Robert Llewellyn had this to say:
"From the moment we filmed with myenergi in 2017, we could see the potential of this pioneering company. It has gone from strength to strength in recent years and we were proud to play a small part in its success. With the arrival of its modular battery, now is an apt time to announce their support for the first Fully Charged AWARDS."
myenergi Co-Founder, Jordan Brompton, added:
"We're delighted to partner with the Fully Charged SHOW team as exclusive sponsor of the 2023 Fully Charged AWARDS. With shared ambitions to accelerate the transition to electrification, inspire the switch to renewables and enable the smart homes of tomorrow, it's the perfect collaboration!"
While the Fully Charged AWARDS will be a consumer-choice ceremony, voted for by battery electric vehicle drivers, a panel of 16 experts has been assembled to ensure that the process is robust.
Expert panellists from around the world include:
Chelsea Sexton, US Department of Energy
Christina Bu, Norwegian EV Association
Colin McKerracher, Bloomberg New Energy Foundation
Dan Caesar, Fully Charged SHOW (and CHAIR of Fully Charged AWARDS)
Ellen Hiep, Global Electric Vehicle Alliance
Elliot Richards, Fully Charged SHOW
Emma Pinchbeck, CEO, Energy UK
Giles Parkinson, The Driven
Helen Czerski, University College London
Henry Sanderson, Benchmark Mineral Intelligence
Julia Poliscanova, Transport & Environment
Ketan Joshi, Net Zero Taskforce
Monica Araya, Executive Director, European Climate Foundation
Quentin Willson, Founder, FairCharge
Robert Llewellyn, Founder, Fully Charged SHOW
Roger Atkins, Founder, Electric Vehicles Outlook
After careful consideration and extensive consultation with stakeholders, the final 15 categories are confirmed as follows:
Best Large-Scale Energy Project
Best Energy Supplier
Best Home Energy Project
Best Micro Mobility Electric Vehicle (e.g. boards, scooters, bikes, trikes etc)
Best Commercial Electric Vehicle (e.g. last mile delivery, van, truck etc)
Best Large-Scale Electric Vehicle (e.g. aviation, marine, rail etc)
Best Electric Vehicle Charging Network
Best Innovative Electric Vehicle Manufacturer
Best Sustainable Electric Vehicle Manufacturer
Best Small Electric Vehicle
Best Energy Efficient Vehicle
Best Electric Vehicle <30,000 Euros
Best Electric Vehicle <45,000 Euros
Best Electric Vehicle <60,000 Euros
Best Electric Vehicle >60,000 Euros
More information on the category-by-category methodology will be made available when public voting begins and the published timelines for the Fully Charged AWARDS are as follows:
Friday 4th August 8am (London) – Fully Charged AWARDS survey opens; closes on Thursday 31st August at 6pm (London)
Friday 1st September – Tickets for Fully Charged AWARDS officially on sale
Friday 8th – Sunday 10th September – Fully Charged LIVE Canada takes place at the Vancouver Convention Centre
Week Beginning 25th September – LongList of 9 in each category announced
Sunday 1st October 9am (London) – Online Voting opens; closes on Tuesday 31st October at 6pm (London)
Week Beginning 6th November – ShortList of 4 in each category announced
Friday 24th – Sunday 26th November – Fully Charged LIVE Europe takes place at the RAI Amsterdam
Friday 24th November 7pm (Amsterdam) – Fully Charged AWARDS* at the RAI, Amsterdam; closes 12am
For further information about the AWARDS please email commercial@fullycharged.show
Find out more about myenergi and Fully Charged by visiting: myenergi.com / FullyCharged.Show.