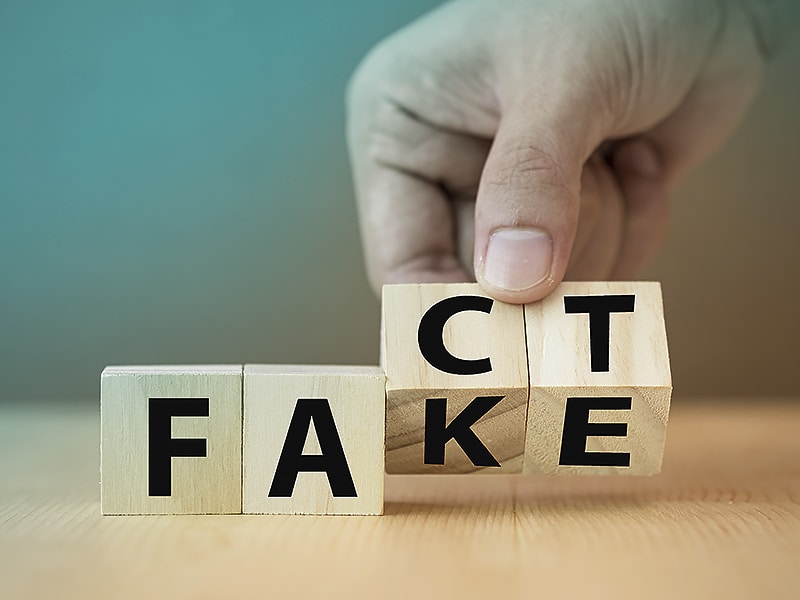 ZDF is one of the established public broadcasters (ÖRR) that are co-financed by every citizen in Germany and rightly enjoy great public trust for fair, balanced, and fact-based reporting. If you are looking for a serious assessment of a topic, then ZDF and ARD are an important source and an elementary and stabilizing factor in our society. I grew up with this self-image and that was my previous assessment until I saw the report of Frontal21 "Turbo, Tempo, Tesla – Elon Musk in Brandenburg" on March 2021 on ZDF.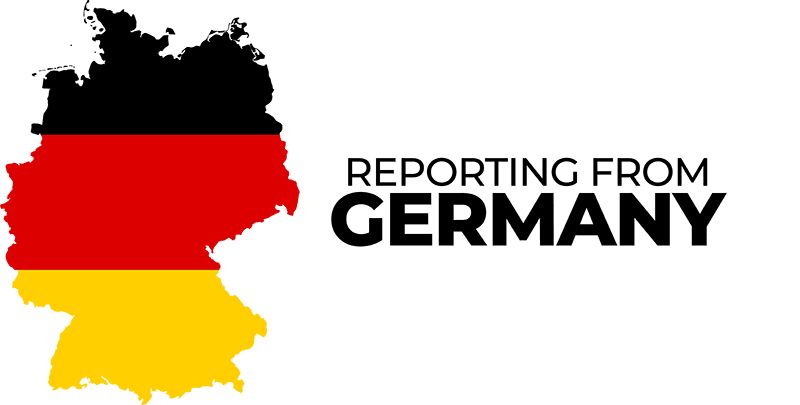 In a quick reaction, I tweeted some fact-checking which revealed how wrong, misleading and manipulative the Frontal21 documentary is on almost all levels and added "Shame on you ZDF info!" a Tweet Elon Musk repeated days later.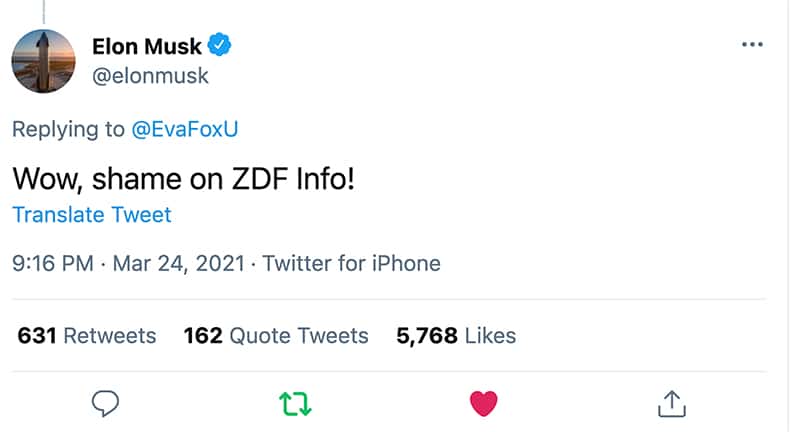 To question a company like Tesla and to criticize if opportune is right and important because finally, it is about questions that are discussed controversially in the population and affect us all. In a country where 850,000 jobs are directly located in the automotive industry and several million if you include those indirectly involved, it is only legitimate to evaluate whether Tesla is really the company it presents to us. Environmental protection, occupational health and safety, and legal regulations are immovable important, and sensitive pillars of society that affect us all and ensure social peace.
When ZDF and Frontal21 publish a documentary, the station receives an advance of trust due to decades of serious and good journalistic work. An advance means that the citizens can trust that all available facts in the report are checked, balanced, and presented factually correct and from different perspectives according to journalistic ethics. Every controversial topic looks different when viewed from different angles – that's why it's controversial. A one-sided presentation is just an opinion but not a report and certainly not a documentary.
Unfortunately, I could not find my leap of faith in the ÖRR confirmed in Frontal21's report "Turbo, Tempo, Tesla – Elon Musk in Brandenburg". The reactions in the social media of thousands of German citizens who describe the way of reporting as one-sided, misleading, and even manipulating show that I am not the only one with that assessment.
Many commentators demand that the ZDF editorial team be held accountable and that the authors and journalists be fired. The reason given for this is that the program does not only not do justice to the mission of the public broadcaster but also polarizes and divides the population through factual and manipulated misrepresentations and deliberate abridgments in a documentary. The anger, frustration, and annoyance present in the comments are also intensified by the fact that every German citizen is required by law to pay contributions to the ÖRR every month and in return is confronted with a program that contradicts the principles of the mission confirmed by the German highest court the Federal Court of Justice.
Everyone can have a different opinion or point of view about Tesla and that is something positive. It is not about whether one supports Tesla and finds it good or rejects and criticizes it, but about the fact that facts are facts, should be checked, and are unchangeable. If we question this basis of our social interaction with a report, then we risk far more than a few angry listeners – we risk that the citizens lose confidence in our basic order, the social peace, and thus our democracy. Trust in our media and politics that is already challenged far beyond the usual level in the time of a pandemic.
In the following table, only some examples are listed which prove in detail with sources that Frontal21 has left the path of serious reporting based on facts. The vast majority of authors, journalists, and editors of the ÖRR work hard day after day to ensure that correct and substantive work is done and I regret that just these are hindered by such reports in their work and questioned.
This is not an opinion of my person or an assessment of a few thousand fellow citizens, but the result of checking facts.
What ZDF and Frontal21 broadcasted
Content, information and facts that have not been broadcasted
Commentary, sources & facts

The journalist in an interview after publication to Deutschlandfunk (DLF is also a part of ÖRR)"We didn't make anything up, we didn't finish quoting one part,"Heise told Deutschlandfunk. And the second part was not relevant to the facts of the case, she said.

It was deleted:

"This may be a rare peak use event, but not an everyday occurrence. And this is not a natural forest – it was planted for cardboard use & only a small portion will be used for GF4"

Removing the first sentence results in a change in the statements meaning. Infrequent peak use indicates that undersupply could only show up in rare situations and possibly.

Out of 3 sentences of Elon Musk's tweet, Frontal21 has translated only one with content errors but gives the impression of an original tweet. "net water" was made into "water" and instead of an exclamation mark, a colon was placed.

2 sentences were deleted. The content of the message was thus not only shortened but significantly changed in its causal statement.

Source Report after Minute 13:00 and DLF Article

Andre Bähler, Chairman of the water board Strausberg-Erkner Interview,

"We are currently assuming, and this is also what we knew 1.5 years ago and also said, that at the beginning of '23 the quantities that will be needed there for production will exceed what we have available." (…)

Frontal21: "What does that mean?"

Bähler, "That there is not enough water for it."

Frontal21 "With what consequences?"

Bähler, "The consequences are that there must be restrictions somewhere for the consumers. Sure. So we can't conjure up the water either."

Environmental Minister Brandenburg Axel Vogel March 10th, 2021,

"For the first factory we have before us that is to be built there, it's about 1.4 million cubic meters of drinking water, and they are secured. There are contracts for that." (…)

Minister Vogel,
"Hangelsberg North is an additional offer that is to be submitted and is now being explored, and Hangelsberg North is intended for Tesla and Freienbrink and would sufficiently ensure that further construction phases can also be approved here accordingly." With further building sections, the period is meant to start from 2023.

The Strausberg-Erkner water board signed the contract for Tesla's first construction phase for 500,000 vehicles and 1.4 million cubic meters of water on Oct. 14, 2020, and is not scheduled for future water supplies from 2023. Strausberg-Erkner is therefore not contracted at all to supply additional water to Tesla from 2023 and the interviewee Bähler is, therefore, the wrong person to contact.

Source Frontal21: Report at Minute 12:20

Source Umweltminister Axel Vogel, Meeting Committee for Agriculture, environment and climate protection at Minute 30

Source: Confirmation of the conclusion of the contract in 2020 by the spokeswoman of the water board

Frontal21 gives the impression that the water supply of the citizens is endangered by the Tesla plant, which is factually wrong.

Frontal 21 has not only broadcasted factually incorrect facts but holds after this was communicated without correction further to it. Source

Journal21 says in the broadcast

"Musk sends off another tweet. On the construction site, the topping-out ceremony is celebrated yet there is still no final building permit."

What Journal21 does not report is that no final building permit is required for the construction and that work can be carried out legally with provisional permits up to the start of production.
Frontal21 creates the factually false impression that Tesla is carrying out illegal construction projects. Source report from minute 18:50
Journal21 reports

"Potsdam state parliament, August 2020. The state parliament manager with Alexander Riederer. The Committee for Infrastructure is meeting. Alexander Riederer is supposed to inform the deputies about the factory plans but Tesla does not allow inquiries."

What Frontal21 does not report is that it was agreed with the state parliament and the deputies before the meeting that inquiries cannot be answered due to the ongoing proceedings without a final decision by the responsible authorities, since the corresponding answers are only available once the authorities have decided. For legal reasons, no other procedure is possible for any company.
Frontal21 creates the impression by this representation that Tesla does not want to answer or has something to hide, although these facts were explained before the meeting and agreed upon by all involved.
Frontal21 interview with Reiner Hoffmann, Chairman of the German Trade Union Federation.

"It is an imperative of the hour also for Mr. Musk that one does not only open one's hand, on the one hand, taking public subsidies gladly pockets them but with the employees, he does everything to employ them with slim wages with lousy working conditions."

Head of the employment agency in Frankfurt an der Oder, Jochem Freyer.

"The pay is just a blast for this level."

Freyer "Tesla pays better than is customary in the locality"

Freyer "For Tesla, it is not a no-go to hire someone who has been without a job for a long time or who has not completed vocational training. That's a statement that doesn't come from many other companies."

Frontal21 did also not report that a German union agreement would not necessarily improve the pay of the employees through a collective bargaining agreement with Tesla.

Furthermore, they did not mention that Tesla employees at Tesla Automation in Prüm Germany have apparently been working well with Tesla management since 2017 and have seen above-average capital gains, particularly as a result of the stock options granted upon acquisition and hiring. Nothing is known of poor working conditions and there is no evidence of it.

The German unions have repeatedly tried to put pressure on Tesla to conclude a collective Union agreement but the employees in Prüm have not supported this and Tesla pays according to the union levels of collective agreements which was not the case with the previous founder Grohmann with 30% below tariff.

So even without unions, Tesla pays at or above the level of collective Union agreements.

"We are very pleased with this development," says Patrick Georg of IG Metall Trier about Tesla Grohmann now called Tesla Automation. "Finally, there is no more wage dumping." By wage dumping, he refers to pay at the time of founder Grohmann.

The statement of the head of the employment agency Frankfurt, which is in charge of the search for personnel, proves that the statement of the union representative is completely groundless and incorrect. Tesla pays higher wages than the local standard, which means that the purchasing power of the employees is higher.

Frontal21 deliberately did not include this information from the Worker Agency AfA in the report, thereby creating a one-sided, distorted, and factually incorrect picture of the wage structure.

By interviewing union representatives, Frontal21 broadcast a factually incorrect portrayal of wages in Germany and misappropriated the actual wages at the collective agreement level.

Source: Report from minute 34:33
and interview Handelsblatt with Freyer from November 2020. Der Tagesspiegel

Frontal21 interview with former Tesla engineer Christina Balan.

"I realized at some point they were sending cars out with critical safety issues and I started asking questions. Guys, we can't do this it's bad for the customers but it's also bad for the company."

Frontal21 "She's being kicked out"

Ms. Balan worked at Tesla in Fremont California until 2014, i.e. 7 years ago, and has since been in court proceedings with Tesla, all of which she has lost to date. According to U.S. rulings, her objections are without merit.

Tesla's vehicles regularly win the highest ratings of safety reviews in the USA, Europe, and Asia. This information was not mentioned or broadcast by Frontal21 but shows that there were no safety risks with the vehicles then or now, but the opposite is true.

Ms. Balan signed a termination agreement with Tesla and was not fired. Tesla "despite her own misconduct, she was never fired from Tesla. She voluntarily resigned – not just once, but on multiple occasions." Geek Wire

The question is what relevance a statement made by an employee 7 years ago working in California has for the factory in Germany, Grünheide in 2021.

The safety of Tesla's vehicles is proven by the tests of the safety authorities of all relevant countries in the very first places and is beyond question.

Source: Report from minute 35:20 and ADAC, NHTSA, minute 36:40 and  Geek Wire
ZDF heard my complaint and replied to it but even now did not find the doctored tweet to be an issue which begs the question on what basis not only the authors of Frontal21's report but also the mother company and broadcasting firm ZDF edits and publishes documentaries.
The mission of public broadcasting is to provide the German citizen with objective and balanced information, which may of course also be critical, and indeed should be. To present a subject objectively means to show all perspectives and to refer to the available contents and facts in a balanced way.
The documentary "Turbo, Tempo, Tesla – Elon Musk in Brandenburg" by Frontal21 falsifies and manipulates at least one tweet, sends one-sided representations, omits crucial available and known information, and shortens interviews, and statements in a way that their contents are inevitably misunderstood and the journalistic work is thus, unfortunately, to be evaluated as misleading and even manipulative.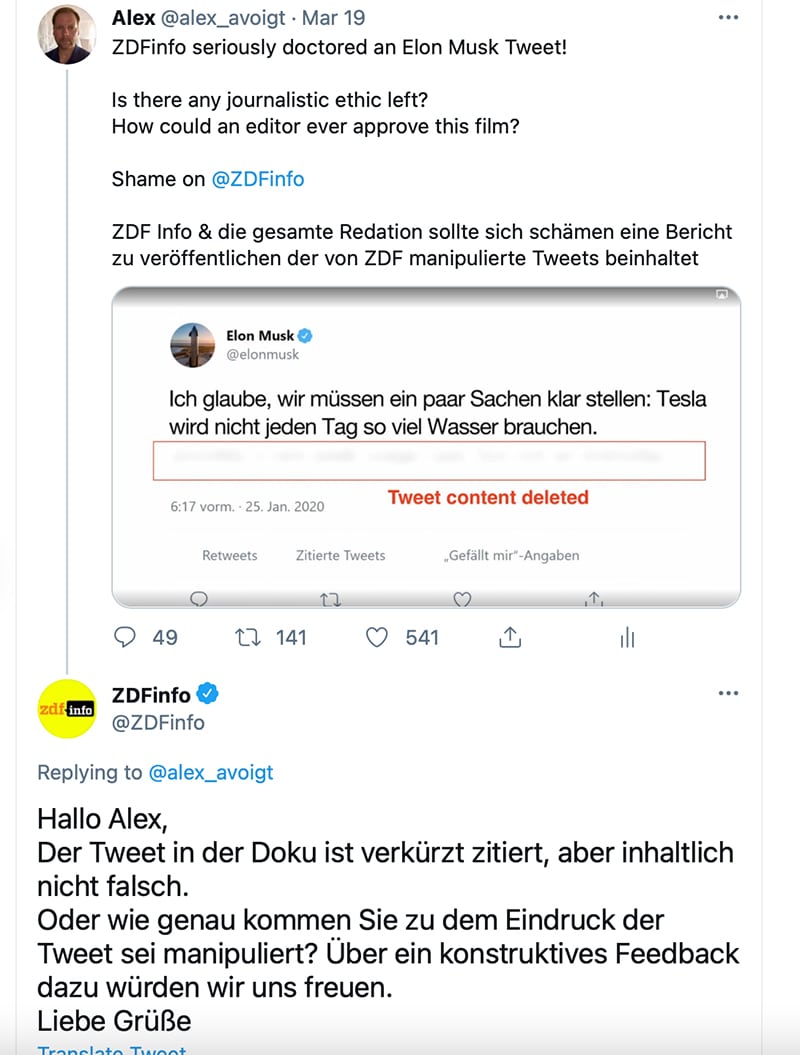 This is the collected statement of more than 90% of 4,600 negative comments of the report on YouTube with more than 6,600 'downvotes' as of today. The author Manka Heise replied to the criticism in the social media to the Deutschlandfunk, "We have not made up anything, we have not finished quoting a part". Ms. Heise continues, and the second part was not relevant to the facts.
The author confirms in this statement to the Deutschlandfunk that it is not relevant for her and thus the editorship that Elon Musk states "It is possibly a rare peak consumption case, but not an everyday event". Just the water peak consumption and whether this occurs frequently or rarely shows us but whether a water shortage could occur at all and is likely or not. The substantial meaning of the Tweet is doctored by the editorship without a reference of it and explained on inquiry as not relevant.
The tweet is also not translated correctly in terms of content and the punctuation was changed whereby the doctoring in the layout of a tweet by Elon Musk gives the impression that it is an original. This is only one example of many in the report but should make every listener think about whether the basics of a factually oriented journalistic activity to inform citizens correctly were observed by ZDF and Frontal21.
The facts are clear and indisputable for anyone who checks the sources. Every German citizen who wants to stand up for public broadcasting that informs us correctly, objectively, and with facts should therefore follow my lead and submit a formal complaint about ZDF and Frontal21 regarding this broadcast to the Broadcasting Council.
---
About the author
Alex Voigt has been a supporter of the mission to transform the world to sustainable carbon free energy and transportation for 40 years. As an engineer, he is fascinated about the ability of humankind to develop a better future via the use of technology. As a German, he is sometimes frustrated about the German automotive industry and its slow progress with battery electric vehicles which is why he started to publish in English and German. With 30 years of experience in the stock market, he is invested in Tesla [TSLA], as well as some other tech companies, for the long term.