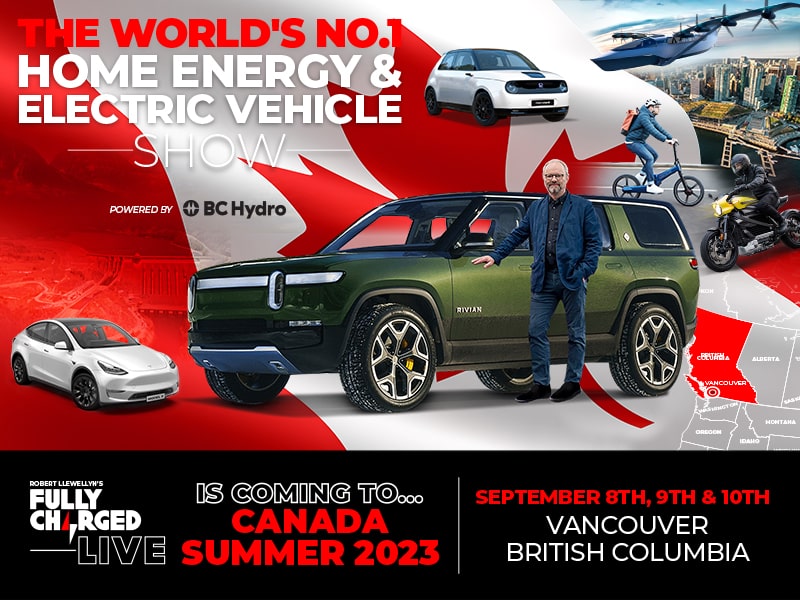 I have to admit when I first proposed the Fully Charged LIVE concept to Robert back in 2017, I didn't anticipate that it would become such hot property all around the world.
In truth though we are regularly entreatied by cities, regions and countries to bring the world's no.1 home energy and electric vehicle show to them.
One such approach came from a contact in Canada back in January, and here we are announcing our launch event at the Vancouver Convention Centre in September 2023.
It could have all been so very different.
It's true that Jo (my wife, also Events Director for our LIVE shows) and I had a successful track record in event organising, but when I first met Robert in 2016 we were fed up with running events.
This was in part due to having had to sell our award-winning Renewables Roadshow and Renewables Awards events (including the awards, 7 events in 3 weeks nationwide), when the UK Govt kicked the legs out from under the renewables industry.
When we sold up we also had a 3 year old boy and a 1 year old girl, so understandably our batteries were a bit depleted.
While I continued to campaign vociferously for renewables, I often bemoaned the fact that most of the events were 'business-to-business talking shops', where industry insiders sought to reassure each other that these technologies were indeed the future.
Where was the consumer champion that was going to make these technologies interesting, attractive and accessible to the great British public?
Meanwhile in 2010, Robert took the extraordinarily risky step to start what was in effect a 'money-pit' on YouTube.
This is not to say it wasn't good in the early years – it was exceptional – but it was unlikely to do much for Robert's bank balance, or fulfil its potential as that consumer champion.
When we met, I was enthusiastic about being involved, but did not intend for an event to be the path to prosperity for Fully Charged.
In fact, even when we did arrive at that conclusion, our first iteration was going to be a small-scale event at a country house that was better known for nightly arias, rather than Nissan Ariyas.
Ultimately, though to create a commercial event, capable of sustaining Fully Charged as a whole, we had to consider a more commercial (and more central) venue, and we arrived upon Silverstone.
And what an event it was – and subsequent events have been too – as the 'LIVE' format has shown how powerfully complementary it can be to our digital platforms.
Since then in the UK, we've moved to a two-venue model, with Farnborough and Harrogate hosting Fully Charged LIVE South and North in 2023.
In the US, we launched at another F1 venue – Circuit of the Americas near Austin – and again in 2023, we are moving to a two-venue model with California and Canada now confirmed.
Our Europe show had difficult COVID-related circumstances to overcome, and finally launched to acclaim in Amsterdam on its 3rd set of dates last month.
Likewise an Australian event has long been on the radar, and the combination of COVID and a 'Fully Charged' baby, has meant that our audience Down Under has had to wait a little longer than originally advertised.
We are now absolutely delighted to be able to bring Fully Charged LIVE to the jaw-dropping Vancouver Convention Centre in September 2023.
This is in no small part to our incredibly supportive headline sponsor, BC Hydro – they have been on-board from the beginning and we cannot wait to build a brilliant event with them over the next 15 months.
Their support, allied to the size of our audience in Canada and the Pacific Northwest as a whole, gave us an easy decision to make, and Robert and I would like to express our sincere gratitude to them.
As 'environmentalists' I should say that while Robert and I will attend the launch events, when we have successfully launched in each country, it will be left to local teams to deliver on an ongoing basis.
This isn't an idle boast; we already have team members in San Diego, Amsterdam and Australia for example.
With the whole team available to Jo (here and abroad), I can confirm that we won't be adding to this event schedule for 2023, although additional events in 2024 will certainly be considered.
And, while it is a work in progress, we are working on a 365 day a year 'event' solution to sit beneath these big set piece events from next year too.
So here is our Fully Charged LIVE line-up for the next 15 months, starting in San Diego this September, culminating in Canada next September:
2022
2023
International Convention Centre, Sydney, Australia – 11th & 12th March
RAI, Amsterdam, Netherlands – 24th, 25th & 26th March
Farnborough International, Hampshire, UK – 28th, 29th & 30th April
Yorkshire Exhibition Centre, Harrogate, UK – 19th, 20th & 21st May
San Diego Convention Center, California, USA – 18th, 19th & 20th August
Wish us luck! We can't wait to see you soon!
Dan Caesar, JOINT CEO
Please send all exhibitor and sponsorship enquiries to Commercial@FullyCharged.Show