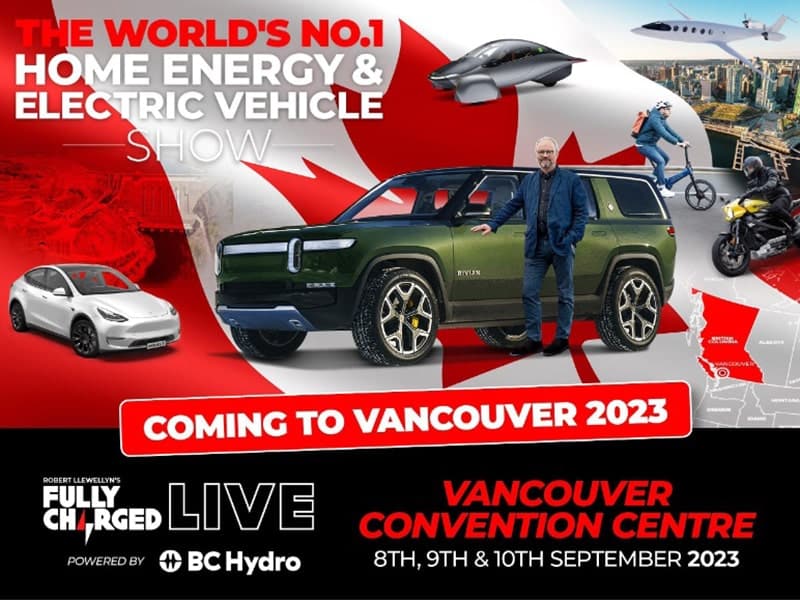 British-based, global YouTube sensation, the Fully Charged SHOW confirms 'festival of electrification' in Canada & the Pacific Northwest

Award-winning Fully Charged LIVE format (Europe, North America and UK) to debut at the Vancouver Convention Centre on 8th, 9th & 10th September 2023

3-day long-weekend event to include 40+ 'live sessions', visitor attractions and the largest ever collection of electric vehicles in Canada

Exhibition space has been increased by 90,000 square feet with plans for huge indoor and outdoor test drive activation

BC's clean electricity provider, BC Hydro, is helping lead consumers to clean technology solutions as key partner in 'powering' Fully Charged LIVE's success
After hugely successful events in Amsterdam, Austin, San Diego, Silverstone and Farnborough, Fully Charged LIVE returns in 2023 with shows in Europe, UK (2) and North America as well as launching in Sydney and Vancouver.
In 2023, the Fully Charged LIVE team is targeting a combined total of more than 100,000 energy-savvy, EV-ready buyers across all 6 events, with 12,000-15,000 expected in Canada.
Fully Charged LIVE is a content-first show with an array of visitor attractions – Watt Drive (test drive program), Home Energy Advice Team, Electric Alley, Electric Launchpad, M1CR0 MACH1NES (test track), Zero Carbon Kitchen and many more – as well as an exhibition of the latest clean energy technologies and electric vehicles.
Due to early support and interest in participation, the planned exhibition space has already been increased by an additional 90,000 square feet adding new and exciting space and features to the indoor and outdoor test drives and rides and visitor attractions.
The heart of the event is the content program with >40 'live sessions' across two theatres hosted by Fully Charged presenters including Robert Llewellyn, and many other familiar faces, as they discuss the hottest topics with the foremost experts.
Renewable Energy giant BC Hydro will lead the partner line-up as headline sponsor and have been instrumental in bringing Fully Charged LIVE to Vancouver.
Fully Charged will be filming episodes and recording podcasts extensively in Canada and the Pacific Northwest in Q3 2023 culminating in the LIVE event in September
---
Fully Charged's CEO Dan Caesar commented
"We have long felt that Canada is a perfect place for Fully Charged LIVE and we can't wait to bring our show to the one of the most sustainable venues in the world. We would like to thank BC Hydro for their significant support in creating a Fully Charged LIVE fit for Canada. This will be the 11th Fully Charged LIVE event globally and visitors are guaranteed an incredible experience packed with positive energy, while exhibitors and sponsors will benefit from an audience like no other. The Fully Charged community has been built over 12 years and is educated and ready to invest in cleaner technologies".
---
BC Hydro added
"Here in B.C., we are leading the charge in battling climate change through electrification, thanks to our abundant supply of clean electricity powered by water,"
says Chris O'Riley, President and CEO,
"Our partnership with Fully Charged is an important step in educating customers about making the switch from fossil fuels."