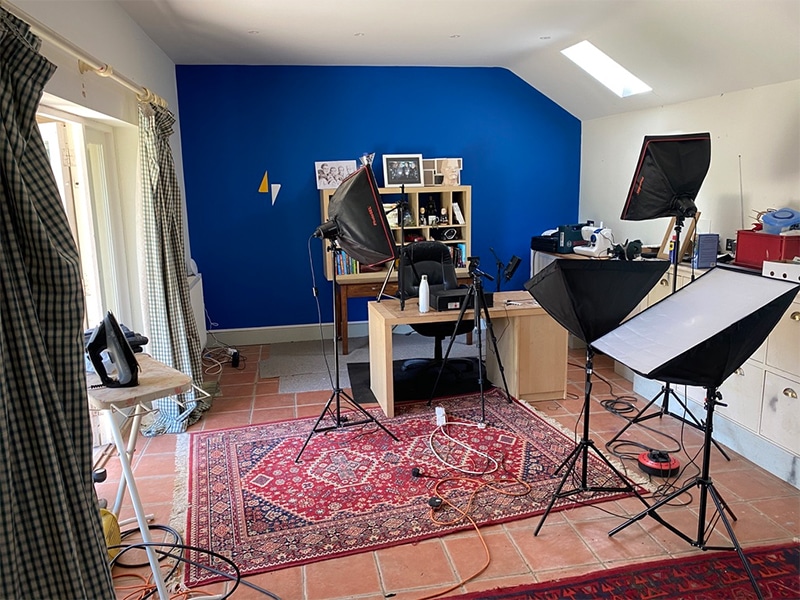 When I first met Mr. Llewellyn, four years ago, I made a BIG assumption about the size of the Fully Charged 'operation'.
I didn't think Fully Charged was a fully-fledged conglomerate, but having seen some of the beautifully-shot, highly engaging episodes, I was shocked to discover that it really was just Robert, a very talented cameraman, and a part-time production assistant.
It still staggers me what Robert has achieved – he will be embarrassed when he reads this – but to see what was coming in respect of clean energy and electric vehicles, and to self-fund a YouTube channel back in 2010 was as prescient as it was risky
Watch the pilot episode to see just how on-the-money Robert's predictions were, way back when, when electric vehicles were derided, and wind, solar and batteries were 'always on the horizon'.
He may have been on the money then, but make no mistake it has not made him any money. In fact, were it not for Red Dwarf, Scrapheap Challenge and Robert's largesse, Fully Charged would've been running on empty a long, long time ago.
I hate to break it to aspiring YouTubers, but YouTube advertising revenues only pay for a small percentage of production costs. So for all his success, while Robert has much to be thankful for, he doesn't live in the lap of luxury.
But money(?), that's not what this blog, or Fully Charged, is really all about.
---
Passion Project
You wouldn't YouTube without having a huge passion for the project. There's no real reward in it – definitely not in the early years – and it's all-consuming too.
Robert would be the first to admit that his fan bases from Red Dwarf and Scrapheap Challenge helped him get going, in spite of this it took a full five years to attract 30,000 subscribers.
So we salute all of the other YouTubers we know – there's too many to mention, but we've namechecked a few of our favourites* below (and if I've forgotten anyone, please, please, please forgive me).
We all share the same passion, and it is our hope that we can inspire people to 'stop burning stuff', by embracing clean energy and electric vehicles of all shapes and sizes.
As well as cleantech, like wind, solar and batteries, we also cover scooters, bikes, cars, vans, trucks, buses, boats, trains, planes and more.
We are fortunate enough to be independent and free from vested interest too. For example, we are not motivated to sell cars so won't push a single solution. In fact you are more likely to hear us say 'fewer cars, far fewer, but electric'.
Furthermore, we are not afraid to ask the difficult questions, such as should we travel less? Could we use less energy? Where do the materials that we need come from, and go to?
After all, the shift we are witnessing from the burning of fossil fuels, to electrification, is a once in a century transformation, and we believe it is imperative that this time we get it right.
Above all though, we love to share our passion with you, possibly in the hope you will share it with someone else.
Slaves to the Algorithm
With 72 years of content uploaded onto YouTube every day, there is simply no workforce in the world that could review all of that video, so instead YouTube has to rely on a sophisticated algorithm.
The algorithm ranks and promotes YouTube content based on ~400 different signals, and one of those is the frequency with which you release videos.
Fully Charged has gone from airing 1 episode a week to 1.5, then to 2, and is currently the team is churning out 2.5 each week. It's no mean feat for a small team to do that amount of filming, editing and all the tasks around that.
The effort it takes to do this every week, month after month, year after year, takes a physical and mental toll, and while it is definitely a first world problem, YouTube 'burn out' is an observed phenomena akin to a continuous treadmill.
Robert is very much at the front edge of this process, as well as preparing for, and presenting episodes, his knack for storytelling means it's invariably his job to 'hack' the episode before it goes to the editing team.
Ben (Director of Production), Stuart, James and our young guns Andrew and George take the 'hack' and turn it into its final form. Oh, and it's generally these guys that shoot the episodes in the first place, fact check, and release the episodes as well.
And with a tiny team of heroes, by YouTuber standards we are the lucky ones. Many of the other YouTube channels you watch will rely on one or two people, working all hours to feed the YouTube machine.
Is this right, or does it just promote quantity over quality? Probably, but rest assured we remain committed to the location-based filming for which Fully Charged has become known, once we can get out again (written during COVID_19 lockdown).
Haters Gonna Hate
Without doubt, one of the hardest aspects, and I know our fellow YouTubers will feel our pain on this, are the torrents of abuse that we sift through in the wake of each episode.
This isn't exclusive to YouTube of course, it's a societal curse, unleashed by social media. I am sure we all wish we could go back to a time, when we couldn't hear everyone's inner thoughts.
But if you think Twitter can be abrasive, the YouTube comments section is probably best avoided.
In the golden, olden days, angry men (yes, it's almost always men) would have had to reach for pen, paper and postage stamp – and by the time they had done that their outrage might have subsided.
Now, no matter how misinformed they are, they can tap out any old crap on their keyboard and hit send.
Why not ignore it? Well, we try, but there are many crumbs of constructive criticism that we use to ensure the continuous improvement of the channel.
What's more, the temptation to respond when you see people publicly misleading others, lying or even libelling you in some instances, is sometimes too strong to resist.
The correct course of action is to console ourselves with the knowledge that we are building something out of the bricks that are thrown at us- but we are only human, and sometimes it hurts.
Don't get us wrong, we are very lucky to do what we do, but we definitely have some scars to show for it.
---
Financially speaking Fully Charged is on somewhat firmer footing these days – we wouldn't have survived the incoming economic downturn two years ago – now, thanks to our followers, we have a fighting chance.
But as the clean energy and electric vehicle sectors grow, Fully Charged is growing too, and your contributions remain critical.
So from all the team at Fully Charged, your support as a Patreon, a YouTube member, a visitor to Fully Charged LIVE, or simply as a viewer is profoundly appreciated.
And of course, from all of us, and no doubt from you as well, we would like to offer our congratulations, and no little gratitude, to Robert, for building a show with the power to positively transform peoples' lives.
Here's to the next ten years!
Dan Caesar
Managing Director
Follow Dan on Twitter
---
If you like Fully Charged you might also like these channels that focus on Electric Vehicles & Clean Energy