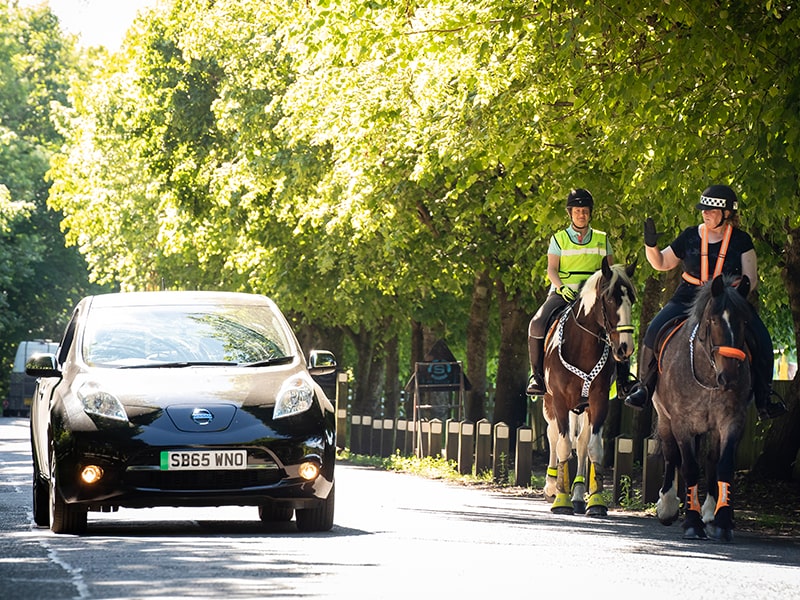 Today, where many options of motorised transport options are available, we often forget that there was a time when horses were the main mode of carriage. As a horse owner for over 25 years, I have noticed the roads I regularly ride my horses along, to access off-road bridleways, are becoming busier and busier. With the exponential uptake of battery electric vehicles (EV), myself being an early adopter, the chances of horses encountering them on the roads is constantly increasing.
I am active on social media as an electric vehicle advocate and also follow many equestrian pages and groups. Over the past few years, I had noticed posts starting to appear where horse riders were commenting that they had experienced a negative encounter with an EV which had 'spooked' their horse. As a British Horse Society (BHS) Member, I was aware of the 'Dead Slow' campaign, and I decided to contact the BHS Safety Team to see if anyone was researching how horses were reacting to quieter low emissions vehicles. Des Payne and Alan Hiscox, Safety Team Leader and Director of Safety at the BHS respectively, were keen to take this potential issue forward and I was delighted to help organise the vehicles for a detailed new study, which included my own Nissan Leaf.
Funded by the BHS Scotland, in collaboration with Robert Gordon University and the Electric Vehicle Association Scotland, the aim of the study was to determine how horses respond to electric vehicles and whether they are able to sense (hear) the approach of the EV before its rider. This is where my Nissan Leaf came in, playing the part of one of four vehicles (three electric and one petrol) in the experimental study. The cars were individually presented to three different horses at three various speeds, including 10, 20 and 30 mph, to capture the horses' reaction to each scenario.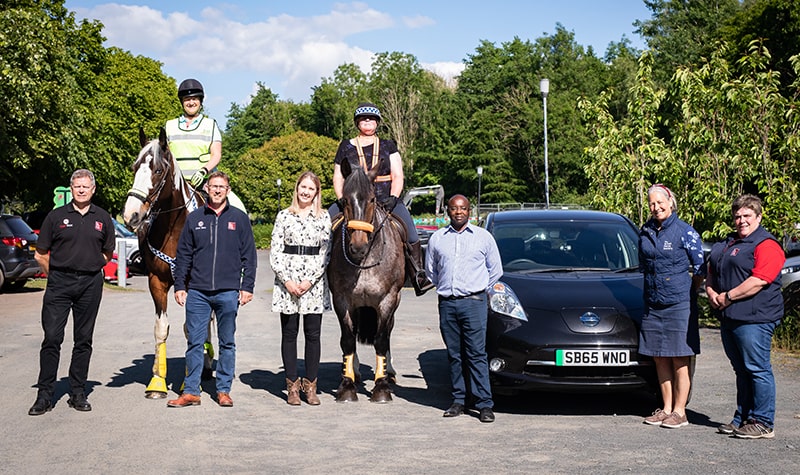 It was a successful day, with the study demonstrating that the low-level noises produced by EV's can in fact be detected by a horse and they can be aware of the vehicle before a rider. These findings reiterate how important it is for all drivers to pass horses safely on the roads, no matter what vehicle they're driving.
In line with the Highway Code changes, and as part of the Society's 'Dead Slow' campaign, the BHS encourages all drivers to slow down to 10mph and leave at two metres distance when passing a horse and rider on the roads. With almost 3,000 incidents on UK roads reported to the BHS last year, 85% of which occurred because a vehicle passed too closely and 75% because a vehicle passed by too quickly, these are important guidelines to follow.
The BHS Safety Team continues to educate drivers on how to pass horses safely, promoting these key 'Dead Slow' behavioural messages. Most notably, the team have worked closely with the Department for Transport on the recent changes to the Highway Code with particular focus on the Hierarchy of Road Users. Horses now sit alongside pedestrians and cyclists, as vulnerable road users.
The Safety Team at the BHS are also extremely busy with events, training and awareness days to educate the next generation of drivers. They too have worked with police forces across the UK to hold 'close pass' operations in areas where they know that there has been an increase in incidents reported to the Society.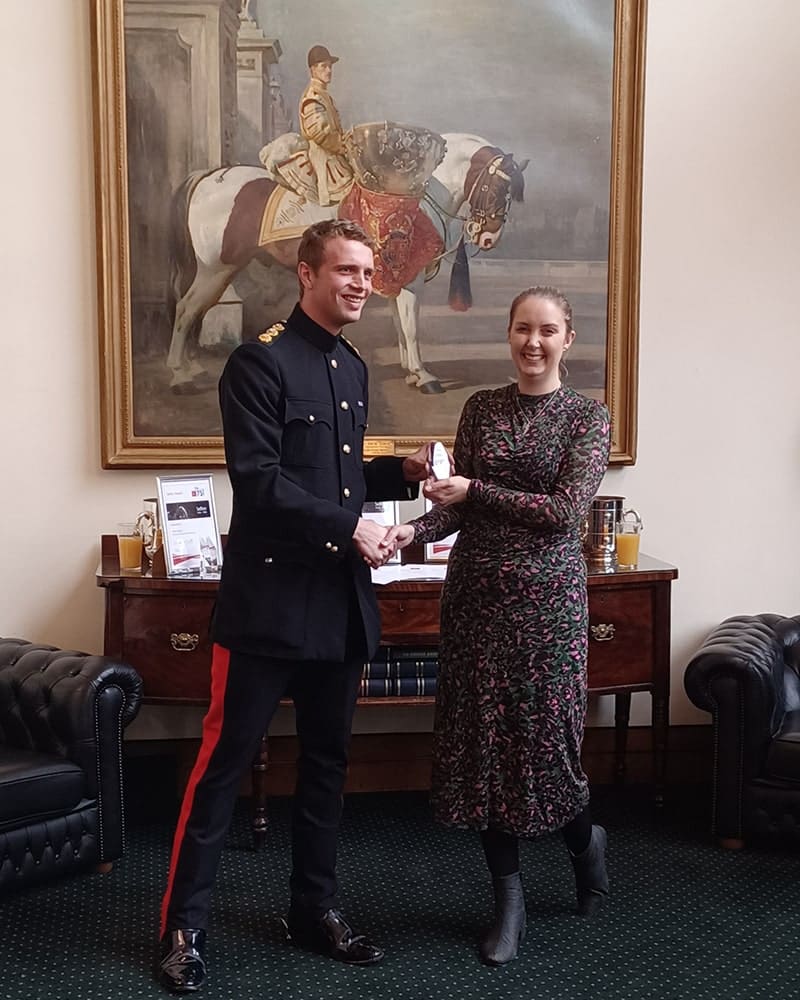 It's been great to support the BHS with this initiative and to play a part in helping to improve equine road safety. In November I was honoured to have been awarded a British Horse Society Sefton Award, in recognition of my contribution to equestrian safety. It's been extremely rewarding to drive this project forward and to delve deeper into the effect of electric cars on equines ridden on the roads.
As for riders, these findings are helping to alleviate concerns around how their horse(s) will react to electric vehicles due to limited sound levels. These factors are essential both from an EV driver's and a horse rider's perspective; the safety of horses and riders on roads is paramount and a better understanding of horse behaviour in the presence of an EV, from all parties, is key if future incidents are to be avoided.
---
About the author
Elinor began her electric dream in 2015 when she bought her first electric vehicle. Elinor was the first female director of the Electric Vehicle Association (EVA) Scotland from 2018-2021. She is now an Equestrian Safety Adviser for BHS Fife and a Sustainability Champion for the Dundee Dental Hospital and School.