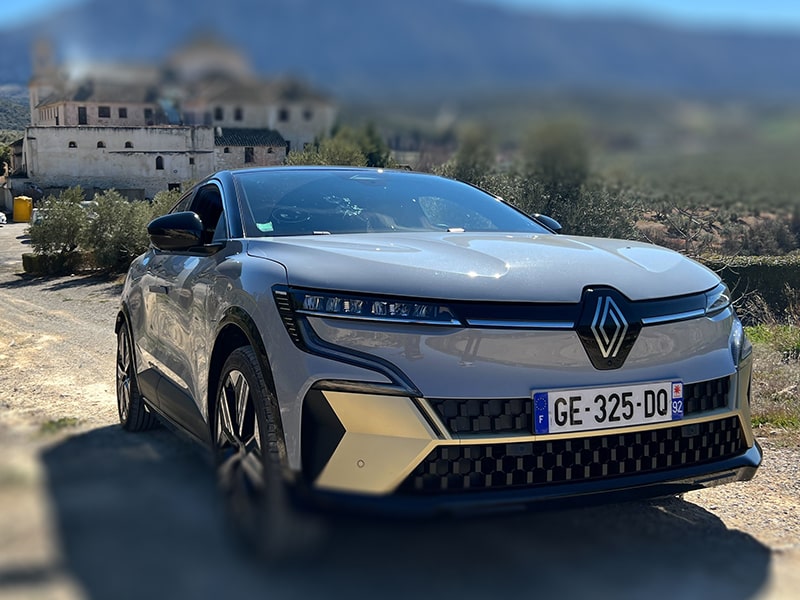 When I first went on a press launch for a new car many years ago, I was definitely out of place, out of my depth and out of my comfort zone.
I'm an old luvvie, a semi retired comedy actor who should be wearing a cravat while boring everyone with loud theatrical anecdotes. (Okay, I don't wear a cravat but the rest is a bit close to home, did I ever tell you about the time I had dinner with Jeremy Irons)
Back then I arrived at a posh hotel in somewhere like Geneva and met a small crowd of automotive journalists who all had proper jobs, had deadlines and could bash out 1,200 words on the new Mazda without blinking.
I had no idea what I was doing, obviously I was trying to make a video about the new car, for my YouTube channel which, at the time, sounded a bit naff and amateur.
The car was probably a hybrid as I was interested in the new breed of vehicles emerging. The hybrids, the plug in hybrids and the very very rare pure electric ones.
12 years later and I admit things have developed a bit.
For a start Jack Scarlett does most of the car reviews for the channel, and he's unspeakably brilliant and everyone loves him.
And I am very, very happy about that.
And we have an incredible crew who rig up the cameras, check the sound and then edit the resulting footage.
I used to do all that on my own, and it's important to remind readers, I did it quite badly.
Just occasionally we get the opportunity to see and test drive a new car on a specific date and if Jack is already booked, I step in.
So I got on an airplane for the first time in over 2 years and flew to Malaga airport in the south of Spain, courtesy of Renault.
I was there to experience the all new Megane E-Tech, and as I walked past the car on display in the courtyard of the very pleasant hotel we all stayed in, I was impressed.
Basically it's not huge, like so many new cars are now. It really is a disease that cars have got SO big and heavy, and I don't mean just electric cars.
All cars, and I have to say this particular disease emerged in the USA originally but it has now spread globally and is showing no signs of diminishing.
And the cars that are obscenely bloated are always the most popular. People buy them, people love them. The bigger the better.
So the Megane E Tech is a bit bigger than the original Megane which was launched in 1995, but only by a handful of centimetres.
The big difference will be the interior space which is, because it's only built as an electric car, much bigger than the original petrol model.
And this is the first bit of genuinely good news I head about this car.
You can't buy the hybrid, plug in hybrid or diesel version of the Megane, because Renault aren't making any.
Just like the Renault Zoe, this is built from the ground up as an electric car and it makes a huge difference.
The wheels are pushed right out to the far corners of the vehicle giving much greater space for the human occupants, and what because clear when talking to the engineers who developed the Megane was, they applied a great deal of knowledge they have gleaned from making over 400,000 Renault Zoes.
They have really worked on reducing weight, particularly on the drive train. The electric motor, inverter, charger hardware, heat pump and transmission gears weigh 145 kilograms. That is considerably lighter than a combustion engine with cooling systems, clutch, gearbox and transmission.
Of course the battery is heavier, 400 kilograms (for the 60 kWh pack) but the whole car comes in at 1,620 kilograms, which is only fractionally heavier than a combustion engined VW Golf.
So yes, electric cars are heavier, but they don't have to be massively heavier if they are not a huge space hogging, street blocking 3 ton SUV.
Sorry, must not rant about bloated SUVs, everyone loves them.
According to the EV Database which is the trusted source we always use, the Megane E Tech with the 60 kilowatt hour battery pack has a realistic average range of 225 miles or 363 kilometres, but they also state that in mild weather, in a city, a realistic range of 330 miles is very plausible.
I must say in the brief few hours I drove the car, the range didn't cross my mind and we did a long trip from sea level up some proper mountainous areas inland from Marbella.
The engineers did bang on about how much effort they had put into noise reduction in the cabin, and whatever they did, it's worked as it's seriously one of the quietest electric cars I've ever driven, and none of them are particularly noisy.
Overall, there is something very 2nd generation about the Megane. The early models of the Zoe were charming and basic, I always loved that car but it did feel slightly experimental.
But over the ten years it's been around, Renault have learnt so much, not only about how the technology deals with a vagaries of life on the road, but also how people interact with the machines.
How often to they charge them (much less often than many might assume) how often do they use rapid chargers, (even less often) but they have noticed that an average Zoe driver will cover more kilometres per year than a diesel powered Renault Clio.
To be fair I think that's because a Zoe is nice to drive and any diesel car is a right rattling pain in the jacksie.
They have a 2012 Renault Zoe at their works that has done 1,000,000 kilometres, and yes, on the original battery pack. Chew on that Mr Jeremy 'throw the battery away after 3 years' Clarkson.
Not only has it done a million kilometres but it's still going, they are going to use it until it literally falls to bits.
And Renault seem to be at the forefront of using the old batteries from some of the 400,000 Zoes in other roles, repackaged into large containers that operate as grid backup, or indeed factory backup.
And they are now building a battery recycling plant at their Flins factory not far from Paris. They will break down the old batteries, strip out and separate the materials and use them again.
So all in all, I wasn't just impressed with the car, it's ease of use, quiet ride, good visibility and comfort, I was impressed by how seriously both Renault and Nissan are taking the transition away from combustion engines.
And yes, I did discuss the recent zero star Euro NCAP rating that was awarded to the Renault Zoe. It had 5 stars back in 2013 but recently the regulations have changed. I was informed it was a combination of them needing to make actual technical improvements to the car and some behind the scenes legal wrangling.
The Megane doesn't seem to be likewise afflicted.
Anyway, it comes out later this year, it's going to cost around £35,000 for the 60kWh version, the one I drove. It can charge at 130 kilowatts which I don't think I mentioned in the show, but that is brilliant, it means you can charge at a speed of over 350 miles range in an hour.
Obviously it doesn't have 350 miles range, but what that means is you can add 100 miles in 20 minutes.
Jack is now very busy reviewing all manner of cars, I'm soon flying somewhere else, in an electric plane. I'm not scared.
It'll be fine.
Okay it's rather small, but it'll be fine….
See Robert's new episode on Youtube now.
Robert Llewellyn