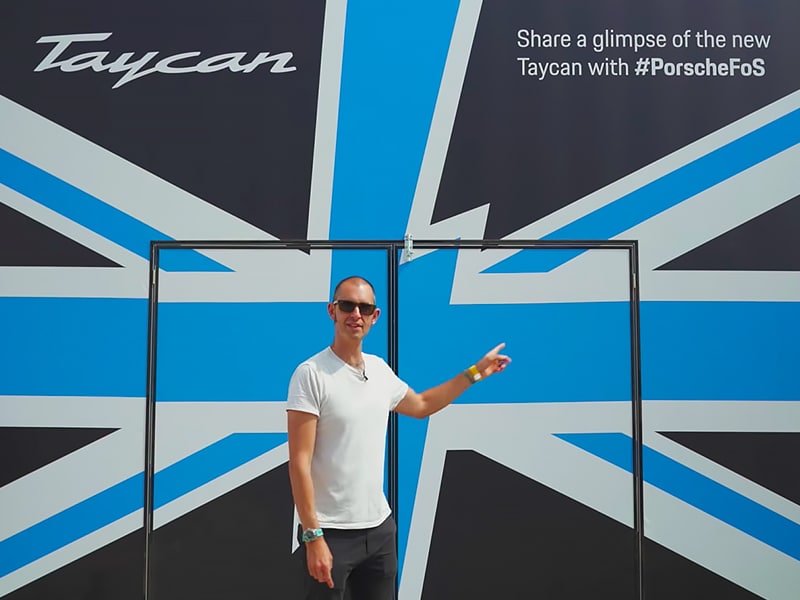 Not in my 21 years as a motoring journalist have I managed to achieve a world exclusive in a Porsche, so I couldn't have been happier when Porsche GB asked if I wanted to be the first non-Porsche person to drive the Taycan.
The conditions of the exclusive were pretty straight forward – do not show the dash and cabin, do not drive it fast around corners, but do drive it full throttle on an old Canadian military runway (Lahr) a few hours outside of Porsche HQ in Stuttgart.
Oh go on then.
Porsche couldn't provide concrete spec details but wanted me to drive the car without distraction, so no chaperoning. Fine by me. We were given the key fob to the identical car first seen in public during Goodwood's Festival of Speed weekend. It still had the Union Jack roof decals and misleading headlight and tail-light stickers.
We do know this is a 155mph 300+mile range 800-volt car with twin motors delivering over 600ps/hp, with the ability to reach 0-62mph (100kph) in well under 3.5 seconds and charge at over 250kW. 0-124mph (200kph) in under 10 seconds they say. Well, it can achieve a sub 8-minute lap of the Nurburgring Nordschleife so it's no slouch.
I tried to be a proper journalist and grill the engineers Bernd and Heiko, and off-camera Myk (Porsche electrified PR man) about real numbers and specs. They wouldn't let much slip at this pre-embargo stage, so the following info is everything I've gleaned through reading trusted sources such as Georg Kacher in Car magazine.
Some of this might not be totally correct, but it helps form a barometer I'm happy to go with.
Needless to say a Porsche is a sports car, so the focus was always going to be trying to discover if the performance was sporty and importantly repeatable (unlike a Tesla P100D in Ludicrous mode) and how the chassis/brakes/steering felt.
In other words, is this a true sports car that happens to be electric?
There were well over 20,000 €2,500 deposits put down globally for the Taycan in March this year, so you can imagine that figure has significantly risen since. Interestingly over half of the sales have been conquest sales – so called customers who have never previously bought a Porsche before. The public launch is in September when all of these speculations will be proved accurate or laughed out of social media. Porsche apparently expects to sell 25,000 Taycans per year globally, which is 10% of their annual sales.
Taycan is the first in a line of plug-in pure EV Porsches which has a programme budget of some £5.3 billion – taking product to the end of 2022. So how much will this car I am driving today sell for, come the end of 2019?
Well, this car is the range topper and it seems to be referred to as the 'Turbo'. With that in mind Porsche tells me Taycan will sit between their Cayenne SUV and the Panamera 4-door sports saloon. The Turbo versions of these cars are priced around £100k to £130k, so I would estimate this 600+hp Taycan will cost some £120k (€130k or $146k).
However there will be lower ranking models, some of which will probably have one motor and be RWD. Expect the 4-seat only Taycan range to begin around £65k (€70k  $79k) with 325hp (est). 
The J1 chassis platform of this car will be shared by the Audi E-Tron GT fast 4-door, albeit with different (asynchronous) motors. Remember, this PPE (Premium Platform Electric) was always designed as fresh ground-up EV.
The Model S Tesla no doubt played a part as benchmark in the Taycan's early development. Although the P100D in Ludicrous Plus mode is faster zero to 62, the Taycan has repeatable launch control on its side. No "Are you sure you want to push the limits? This will cause accelerated wear of the motor, gearbox and batteries". Bernd Propfe, director of Taycan product line, says I can do ten full throttle 0-62 and four 0-124mph sprints without any decrease in performance. I ended up doing more. No warnings, no problems.
There are around 200 Taycan prototypes being tested from -35 to +45 degrees centigrade around the world, covering collectively over 1 million kilometres.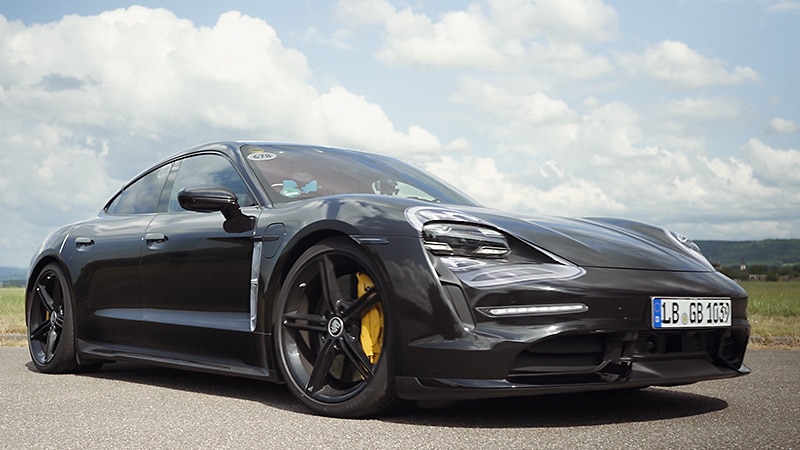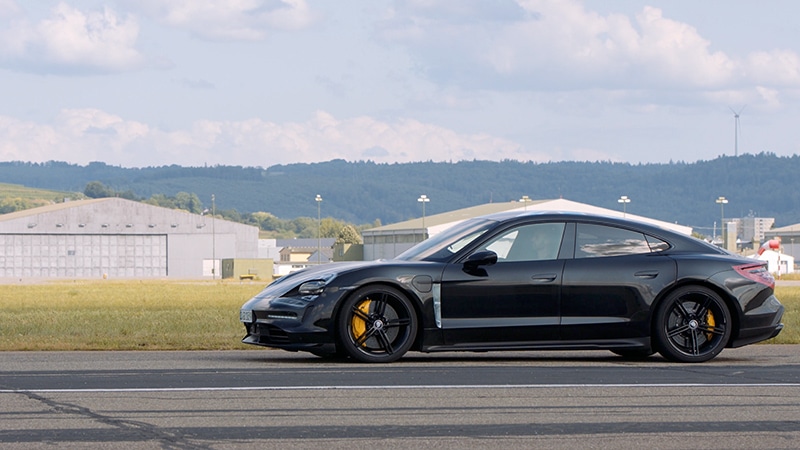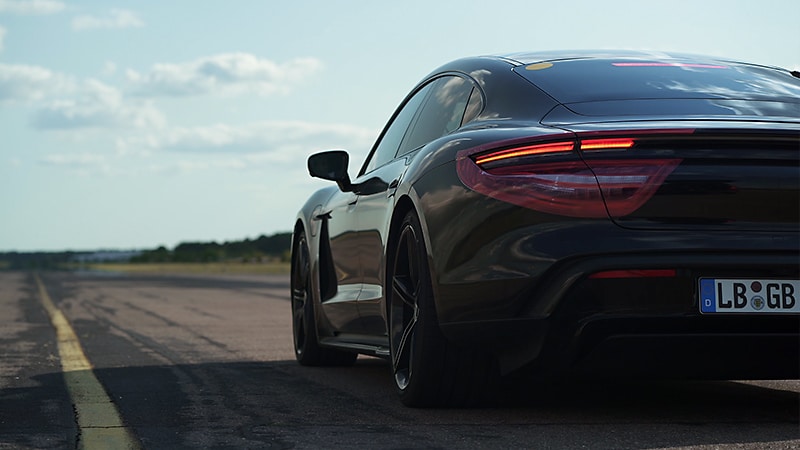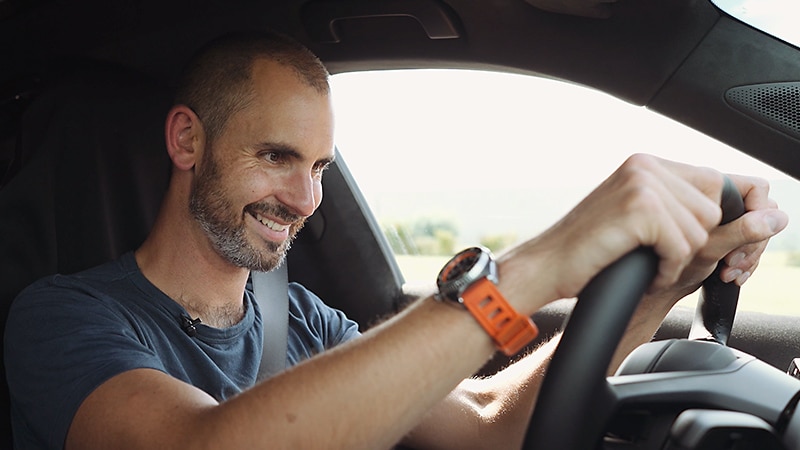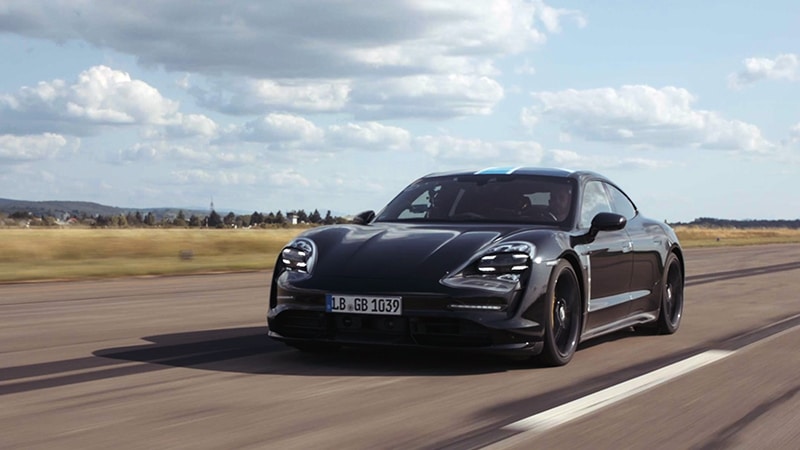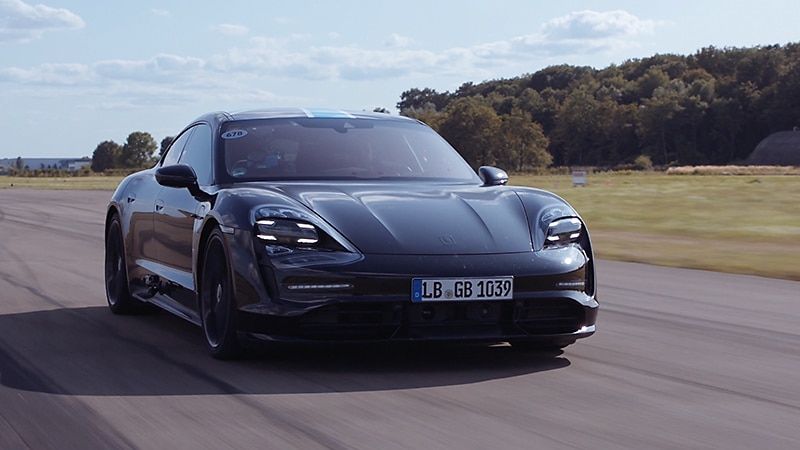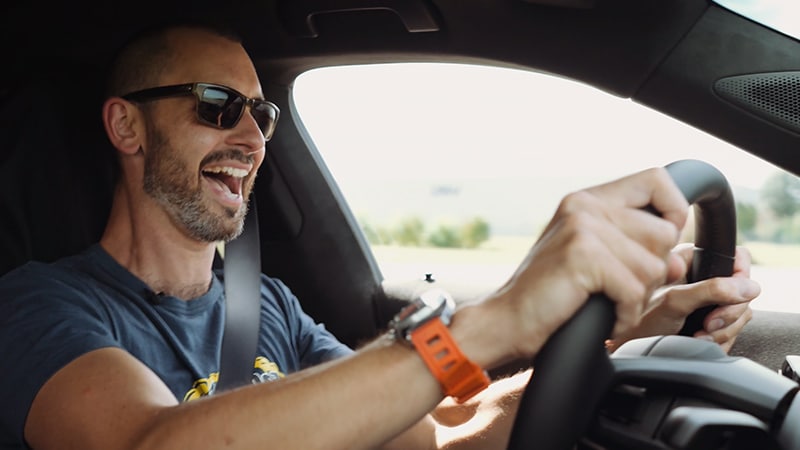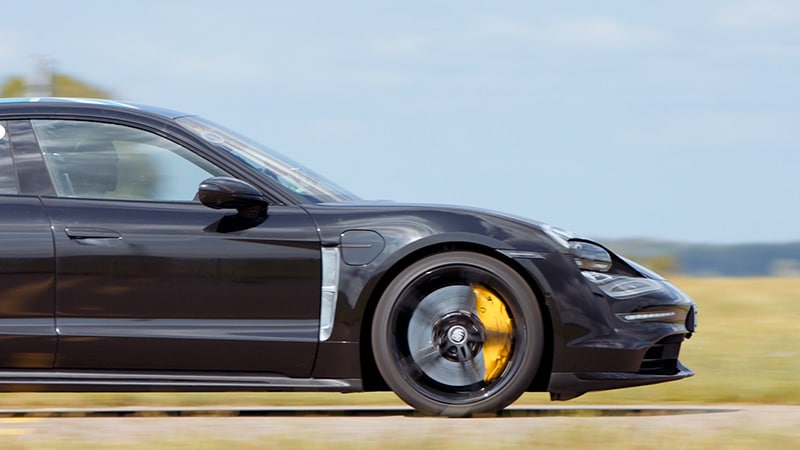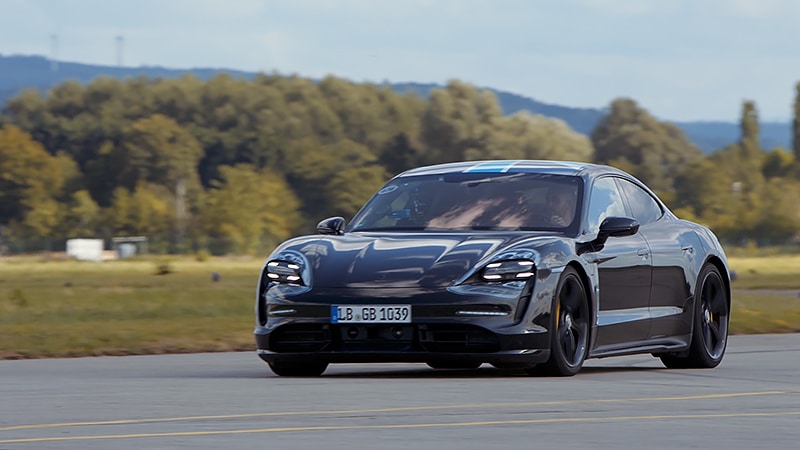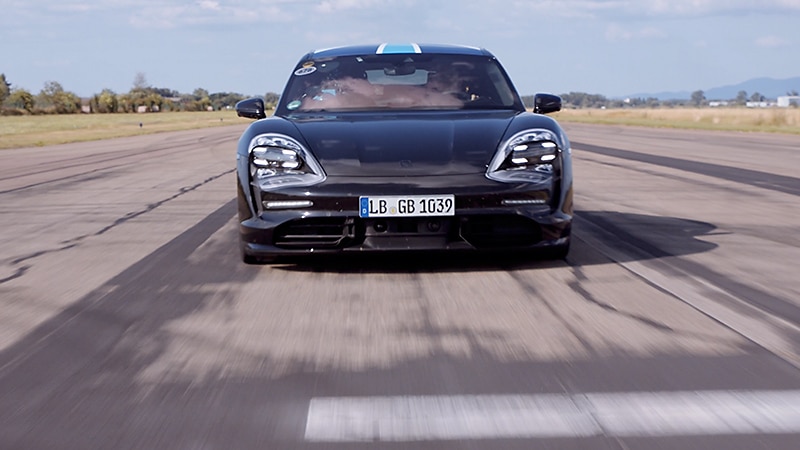 Charging and Range
Nothing official mentioned, but the Taycan's range will be between 300 and 320 miles in normal cruising modes with what we think is a 96kWh battery. 'Range' mode on the driving selector adds 10% by paring back air con and sensitivity of controls below 85mph.
Being 800 volts is a huge development for Porsche, because this allows some seriously rapid charging abilities. It will be the first production EV to charge theoretically up to 350kw. Porsche owns a stake in Ionity, so expect to see more of these charge points in the near future.
In the meantime if you can find a 150kW rapid charger then the Taycan will top up from 0-80% in 40 mins. At 350kW? 0-80% in some 15 mins! A 3-pin plug charge would take 30 hours.
It has been alleged that Porsche are already developing the car to take solid state batteries in order to drop that 2-tonne kerb weight down and bring the energy density levels even higher.
Boot
Main boot is shallower than a Panamera (and isn't a hatchback – rather a coupe boot lid) and is about 400-litres, but has some interesting side cubby pockets and lift-up floor for fussy charge cables. There is a front boot (froot) which carries almost 100 litres and is shaped to swallow suitcase(s), like its 911 grandpa.
Interior
The cabin is a tasteful blend of familiarity and gradual evolution of tech screen. The steering wheel (with 10 control elements on) is borrowed from the current 992 911, with the addition of a regen button. The boomerang floating frameless dash binnacle is pure digital and displays 5 dials, like the classic 911s did. The push power button is also to the left of the steering wheel, paying homage to the old 911 brethren. There is reportedly an autopilot function which will have been borrowed from Audi's A8 flagship model.
The driving position feels very 911, and the centre console has a clean haptic screen for the climate controls and battery status. To each side of the 5-dial binnacle you can touch logos for the suspension, sport modes and that kind of thing. The screen in the centre of the dash is for navigation and infotainment. As we said, the Taycan is exclusively a 4-seater car, and the rear passenger footwells have been designed to be deep for comfort. They work around the battery enclosure, which sits between the wheels in a carbon fibre cage.
The test car had stitched leather but there will be a non-animal skin option.
Batteries
Porsche won't confirm, but their battery partner is LG. There are reported to be 408 li-ion pouch cells in 34 modules in this version of the Taycan making up a pack of about 96kWh that weighs approximately 650kg. Mounting this low helps the Taycan to achieve a lower centre of gravity than a 911. The pack is liquid cooled using a pair of radiators either side of the front bumper, fed by air through channels underneath the front number plate.
Motors
In this pre-production car I believe the front motor to be 215hp and 221lbft, with the rear motor delivering 402bhp and 406lbft of torque. So 649 lbft peak torque, sometime more for 'overboost' according to some reports. It is rumoured the motors have been specially developed with an Italian company to feature rectangular thick 'hairpin' style windings rather than thin round wire windings, similar to that in the 919 Hybrid Le Man car. This enables Porsche to package copper wires within the solenoid coil more tightly to make the motors smaller and more resilient to hard current/heat punishment. In other words be able to perform full throttle launch control multiple times without damaging components and throwing a Christmas tree of warning lights across that beautiful dash fascia.
Gearbox
The motor design allows hard repeated use, but there is alleged to be a 2-speed gearbox which can block first gear to prevent damage during hard launches, working alongside an electronic differential lock. Sustained high speeds (something Porsche are known for being excellent at – cue Autobahn commuting clichés) are also achieved with this gearbox, as the motors rev to 16,5000 rpm. Being a Porsche means the power delivery is rear biased, using torque vectoring on both axles to regulate the power delivered to each wheel. Some inside information suggests the pulse inverter that masterminds the power vectoring acts five times faster than conventional 4wd systems. There is no stability managed by brake actuation – the Taycan's ECU controls everything by wheel selected torque feed.
Suspension
The ride is adjustable air-bag suspension, with rumours of rear steer on some models. There is a 48-volt active anti-roll bar system. Sport Plus lowers and stiffens the suspension to maximise cornering and also downforce. There's also active aero in the adjustable rear spoiler and front bumper air dams.
Brakes
This being the flagship 'Turbo' spec car it has the optional carbon ceramic brakes and 21-inch wheels (20-inch will be standard). Most Taycans will come with PSCB coated steel brakes to reduce dust creation. Porsche are confident they have cracked the brake feel and efficiency with software that progressively merges e-motor regen as hydraulic friction braking kicks in. In normal driving 90% of the braking will be done by regen, but yet there is no mention of one-pedal driving. Brakes to me feel totally relatable to normal piston Porsche cars, which is high praise indeed.
Summary
I have only driven the car around tight slower corners on flat ground, but from the launch control runs I can tell this is unmistakably a Porsche. It is packaged to rival the forthcoming Merc EQS and Audi E-Tron GT, and show hot Tesla drivers that high performance is way more than a one shot deal.
The Taycan appears to be an incredible package that is priced to tempt existing or would-be Tesla owners into a legacy manufacturer who is clearly taking EVs very seriously. The Taycan isn't the start – that was the 919, the 918 and their Formula-E team – but within 18 months I believe it will help to change perceptions of what an EV is and how it can fit into the world of hardcore car enthusiasts, as well as hyper milers.
I want to thank Porsche for offering myself and Fully Charged this special exclusive drive. There is a lot of arrogance in the car media world, and a few noses may have been put out of joint with this video, but Porsche are a progressive company, and I like to think that this channel that Robert Llewellyn has created is exactly that. We are small, but we are powerful. I went away from Stuttgart trying to work out if I could afford a base model single motor RWD Taycan by the time such a car comes to market. All that's left to say is this:
"I can tell you I don't have money, but what I do have are a very particular set of skills. Skills I have acquired over a very long career. Skills that make me a nightmare for certain other journalists. If you let me keep the Taycan that'll be the end of it. I will not look for you, I will not pursue you, but if you don't, I will look for you, I will find you and I will kill you.". … Only joking.