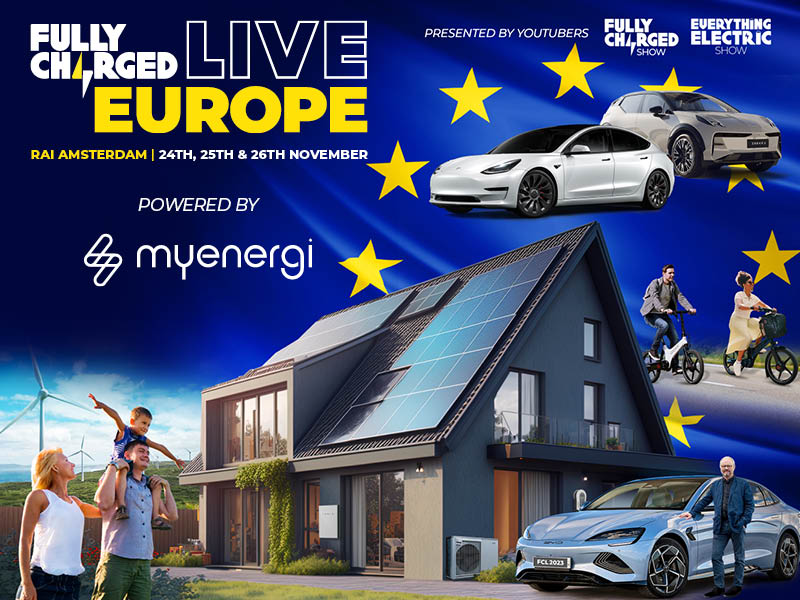 myenergi confirmed as Headline Sponsor of Fully Charged LIVE Europe in Amsterdam on 24th-26th November

Fully Charged LIVE returns to the RAI exhibition centre in Amsterdam for a second year with ~20,000 attendees anticipated

Event will deliver popular visitor features including 50+ live theatre sessions as well as the new Zero Carbon Kitchen & Electric Launchpad

In addition to sponsoring the event, myenergi are the exclusive sponsor to the first ever Fully Charged AWARDS taking place on the evening of 24th November also at the RAI

Categories and nominees for the AWARDS have been announced with tickets now available
Renewable Home Energy Tech pioneers myenergi have been confirmed as headline sponsor for Fully Charged LIVE Europe at the RAI Exhibition Centre next month.
With a growing customer-base in Europe, especially Belgium, Germany and The Netherlands, myenergi is the perfect partner for our second year show in Europe which will take place from 24th-26th November.
Fully Charged LIVE Europe will deliver all the favourite consumer features including over 50 live panel sessions, 1:1 advice from our Home Energy Advice Team and an unrivalled electric test drive activation.
In addition, this year we are introducing our new Zero Carbon Kitchen with live plant-based cookery demonstrations and our Electric Launchpad showing innovative electric vehicles coming to market imminently.
As well as joining us as Headline Sponsor, myenergi is also exclusive sponsor of the first Fully Charged AWARDS which will also take place at the RAI on the evening of 24th November.
The AWARDS will be the first 'consumer choice' awards for clean energy and electric vehicles with nominees for the 15 categories now announced and voting opening early November.
---
Fully Charged founder Robert Llewellyn had this to say
"We are delighted to welcome long-term friends of Fully Charged, myenergi, as headline sponsors to our event in Amsterdam next month. As exclusive sponsors to our first AWARDS which takes place at the show, we are thrilled that they are also joining as sponsors to the event itself at the RAI exhibition centre from 24th-26th November. With their innovative approach to renewable technology and recent global expansion myenergi are the perfect partner for Fully Charged LIVE Europe."
---
Jordan Brompton, co-founder and CMO of myenergi, added;
"As one of the world's fastest-growing eco-smart tech companies, our products are used by homeowners around the world, including on the Continent via our subsidiaries in Germany and The Netherlands. To that end, it makes absolute sense that we have partnered with Fully Charged LIVE on a global basis for all six events this year, including Fully Charged LIVE Europe. Our products and services support the switch to renewable energy, electric vehicles and eco-smart homes; and while myenergi is becoming an increasingly well-known brand in the UK, thanks partly to our back-to-back rankings among the country's top 30 fastest-growing private companies, the myenergi brand is becoming more recognised internationally, too. It was the Fully Charged channel that first exposed myenergi to thousands of potential customers, and we are excited to continue our partnership with the world's leading electric vehicle and home energy show."