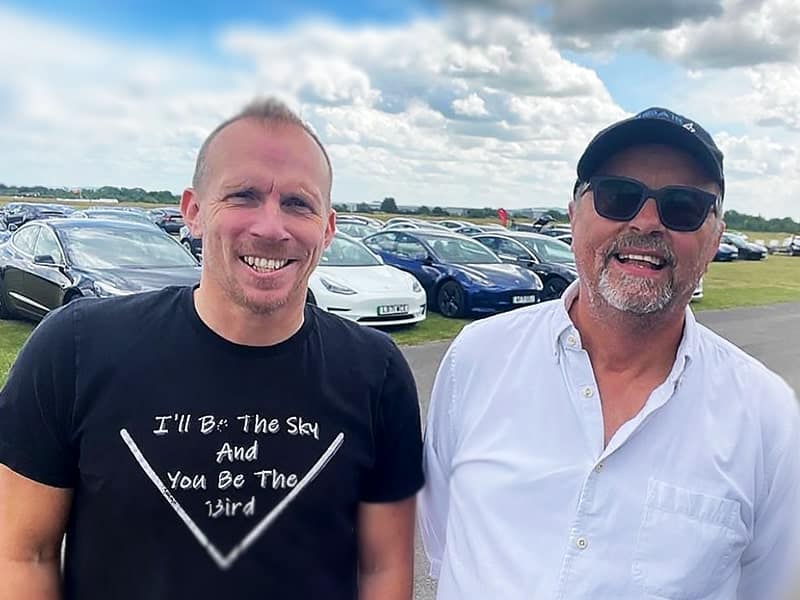 It's been a wee while since I've written here for the FullyCharged.SHOW. Yes, we've been characteristically busy, but after a rollercoaster 30 months since the world went 'viral', we've had a rare period of reflection.
In fact, I can confidently say in the 6 years since Robert and I started to 'collaborate', I've never seen either of us so intensely relaxed.
So now is a great time to share some secrets from the inner sanctum of our collective cerebral cortex, including:
A significant switch in emphasis from Fully Charged
Where we get our money from (and how that's about to change)
Why things are worse, much worse than the 'big beasts' realise
Why, when it comes to energy and transport, politics really do matter
'The selection', the 'sell' and 'the production' behind Fully Charged episodes
Can we really continue to do things differently?
THINK DIFFERENT!
Steve Jobs co-created the 'Think Different!' slogan with Craig Tanimoto. Obviously, for the pedants among us it should read 'think differently', but the noun was deliberately chosen to make people look twice.
At the Fully Charged Show we're ridiculously fortunate to be a decision-making team of two that doesn't restrain each other, and we are able to speak as we feel. Which in the current world is closely akin to having a superpower.
Do we always get it right? Of course not. Have we upset several establishment organisations? Absolutely. But are we going to change? Not a chance. We believe in #StopBurningStuff. That's just us.
This is not a 'love-in' though; and Robert would be the first to admit – with me a close second – that we have a stupidly talented team of around forty individuals that make the whole thing work.
A team – and the money to invest in that team – is a real luxury. We openly admit that whether it's on-screen, behind camera, or on an organisational basis, we have superstars that are simply better than us, and we try to let them shine.
And, one of the most valuable commodities of all, the talent pool of people that want to work for the Fully Charged Show is deep and wide.
So how do we protect 'different-thinking' as we grow? Well, we're not 100% sure, but I can confirm we're wholly committed to trying, and being open with you is certainly an important piece of that jigsaw.
THE SELECTION, THE SELL & THE PRODUCTION
At the Fully Charged Show's heart, it's the content that's king. Whether that be on our primary or secondary YouTube channels, the podcast, online or at our LIVE events, we hope that our passion for sharing the subjects we cover shines through.
But boy have we made it hard for ourselves at times.
You see, while YouTube rewards consistency, it can't abide unpredictability. The UK's most successful car channel – you know, the one with a wow in it – basically makes the same episode over and over again (and admittedly they do it very well).
This allows channels to build the big 'mo' – that's momentum by the way, not a character from a cockney soap opera – and allows the audience to know where it stands.
Fully Charged on the other hand is 'weird and wonderful', switching seamlessly from electric cars, to future flight, to big batteries, to bike boats, and just as we build up a bit of momentum, we bump back to earth again.
So our episode 'selection' has been a bit trying to climb the north face of the Eiger with one crampon-clad climbing boot, a clown shoe, and fingerless gloves. In short, it's difficult to get a grip.
When it comes to 'the sell', you'd be positively shocked how much of an impact the episode thumbnail makes. I won't bore you with the minutiae, but its 'clickability' or lack thereof, can make a major difference.
Oftentimes our thumbnails are so good, you could easily imagine them adorning the walls of Robert's country pile.
And when it comes to 'production', we would argue that's the thing above all else that makes the show truly stand out. Location shoots, establishing shots and epic storytelling; redolent of top-quality telly, not YouTube.
These things differentiate the Fully Charged Show, and hint at our not so secret desires to hit the streaming platforms, but often our approach feels like we are swimming against the strongest stream of all; the YouTube algorithm.
So how do we navigate these channels, without fundamentally changing what makes the Fully Charged Show so special? The answer is, with great care.
EVERYTHING IS POLITICAL
Skunk Anansie put it best when they sang 'Yes, it's f**king political', and while they probably weren't talking about politicians being in the pocket of Big Oil, they might as well have been.
There are times when we get a bit political – it could be Robert politely ranting on a podcast, it might be me on the Twitters, and perhaps we should know better – but these things matter.
I've been close enough to the empty promises, poorly-funded policies and their predictable fallout over 20 years in the energy and transport sectors to tell you, there's a toxic stench of corruption in Governments the world over.
Since David Cameron called many of the things that the Fully Charged Show stands for 'Green Crap', the UK has flirted with fracking, more mining and North Sea oil.
The only reason the outskirts of Blackpool don't resemble Mordor is because brave protestors fought fiercely against the Government. No exaggeration. Part of the Conservative Party's 2017 manifesto was written by a lobbyist for Cuadrilla (a fracking firm).
And fracking is one conspicuous example of where politicians tried to ride roughshod over the 'will of the people'. DECC's opinion tracker consistently showed support for renewables and the opposite for fracking, before its publication was halted.
Much more worryingly though is the stuff that happens in the margins, things that we witness, but that might not be obvious to the general public, like the Tufton Street based lobbyists / fossil fuel shills. So yes, politics matter.
As it happens, much like in the US and Australia, the UK is in the final throes of rejecting a populist leader whose record on renewables is, if not abject, certainly nowhere near as ambitious as his rhetoric suggested.
And as we wait for our next leader, you can rest assured that when it comes to their words and their deeds on energy and transport, we will be watching closely, and calling their behaviour out if needs be.
BIG BEASTS, BIG TROUBLE?
Robert often reflects that without the fossil fuelled revolution of the last century, Westerners simply would not have cheap transportation, plentiful power and heat and petroleum by-products, and the lifestyle those things have afforded us.
And who can blame the early beneficiaries of these bountiful luxuries? It is only really in recent decades that the consequences of our wastefully excessive lifestyles have started to hit home.
No, I am not going to get into the climate emergency on this occasion, other than to say that things are going to get really bad, real quickly, and I spent as much time thinking about adaptation as prevention these days.
I am going to talk about an existential threat of another kind though; the threat to those 'big beasts' that have dominated economies over multiple decades. Whether it's the oil majors or the auto OEMs, there maybe trouble ahead.
I attended three fantastically fast-growing vibrant events recently – Fully Charged LIVE UK, Fully Charged LIVE Europe, and the UK Tesla Model Owners' Club annual event – and then I attended Goodwood Festival of Speed.
What an incredible contrast.
Hats off to the Festival of Speed. As an annual pilgrimage for petrolheads, it's really not my thing, but objectively it remains the benchmark for automotive shows (including the various FullyCharged.LIVE shows around the world).
And their 'Electric Avenue' feature was excellent too. They can clearly afford to invest heavily in this fast-growing feature. It was busy too, which I was delighted to see.
And yet, there was something missing.
Where there was an evangelical enthusiasm and a demonstrable eagerness to 'try and buy' cars at the FullyCharged.LIVE shows and the Tesla event, the Goodwood crowd was much more of a mixed bag.
Of course, deals will have been done, cars will have been sold, but the questions I overheard were beyond basic – 'does it do 20 miles?' one visitor said alongside a £70,000 EV – and I witnessed bemusement and tyre kicking aplenty.
And the penny truly dropped as to just how 'EV-ready' Fully Charged Show viewers are when compared to the average attendee of other events in the automotive calendar.
What's more, I am incredibly fortunate to talk to all of the new kids on the block regularly, brands like Fisker, Lucid, Rivian, Tesla, BYD, Geely, Nio, XPeng to name only a few.
Even now these companies are eating a very sizeable slice of available market share for electric vehicles.
As electric vehicles will make up the whole market in time – and faster than many think – I am fearful of what slivers of opportunity will remain for the late movers and the laggards.
There are several legacy carmakers that are early enough movers to survive (if not thrive), but there are several OEMs that are precisely nowhere and, I am more convinced than ever that these companies are approaching their 'Kodak moment'.
SELF-FUNDING FULLY CHARGED
It's no secret that the Google advertising revenues we receive are not enough to run a business on. They are so low, that if it was an option on YouTube, we would probably disable adverts entirely.
And as such, the thing that was fuelling our growth, was our FullyCharged.LIVE events.
The fantastic thing about them is that our audience love attending. Having seen the technology in our episodes, viewers want to learn more at the LIVE events.
At the point the pandemic made its mark, FullyCharged.LIVE already generated the vast majority of our revenues. Their absence was an absolute show-stopper for the whole business.
Looking back, in the uncertainty of knowing when the pandemic would abate, we were really creative – who remembers the Electric Drive-In and the EV World Cup?
But it became increasingly clear that we required a longer-term solution in the absence of the events, a regular, recurring source of revenue, and Fully Charged PRODUCTIONS was fast-tracked into existence.
Make no mistake, had we not created and broadcast content for clients on the Fully Charged PLUS channel, there would be no FullyCharged.SHOW.
This diversification enabled us to keep the business afloat and to retain all of the talent that we had taken years to recruit.
But, while we are proud of many of the episodes we produced – not least the award-winning 'Electric Moments' series with Leaseplan and the majority of our product showcases – we understood that this was a compromise of sorts.
Thankfully, the full return of our events this Spring (in Farnborough and Amsterdam), and the six events scheduled for 2023, has given us the financial freedom to re-evaluate our priorities.
We are delighted to confirm that while we are committed to a handful of commercial projects, as of October 1st we will permanently end the publication of paid-for content on our 2nd channel.
Furthermore, after two years of constant client projects, Fully Charged PRODUCTIONS is going to take a breather. It will return, but as above, future paid-for content will not appear on the 2nd channel.
Once again we would like to thank you for your understanding over the last 2 years or so, as we have had to adapt to some very challenging circumstances.
WATCH FOR A BIG SWITCH
And finally, our biggest news of all…
As of October 1st, you will notice some substantial changes over on our Fully Charged PLUS YouTube channel.
The channel will be rebranded as EVERYTHING ELECTRIC, but the changes will be more than skin deep.
In the UK and beyond the cost of energy has become a profound cause for concern. This Autumn we anticipate that the cost of living is going to get unprecedentedly difficult for many, and more challenging for all.
In the last 12 months you may have noticed our increased focus on Home Energy technologies. Whether it's on the FullyCharged.SHOW or at FullyCharged.LIVE, our audience has demonstrated significant demand for this type of content.
At our FullyCharged.LIVE events, in addition to adding many more Home Energy-related exhibitors, live sessions on stage and our Home Energy Advice Team visitor attraction are to be rolled out across all 6 events worldwide.
It is only natural then that we increase Home Energy content on YouTube too and the majority of that coverage will be centred around this new channel.
We see this as the single biggest growth sector for Fully Charged, and in the interests of our overall mission – #StopBurningStuff – and with the increasing importance of energy in the home, we hope you will subscribe and/or watch EVERYTHING ELECTRIC.
Thanks for your support – for further information on any of the above, please email me on Dan@FullyCharged.Show or if you like independent opinions, follow me on Twitter @FullyChargedDan
---
DAN CAESAR
Joint CEO, Fully Charged