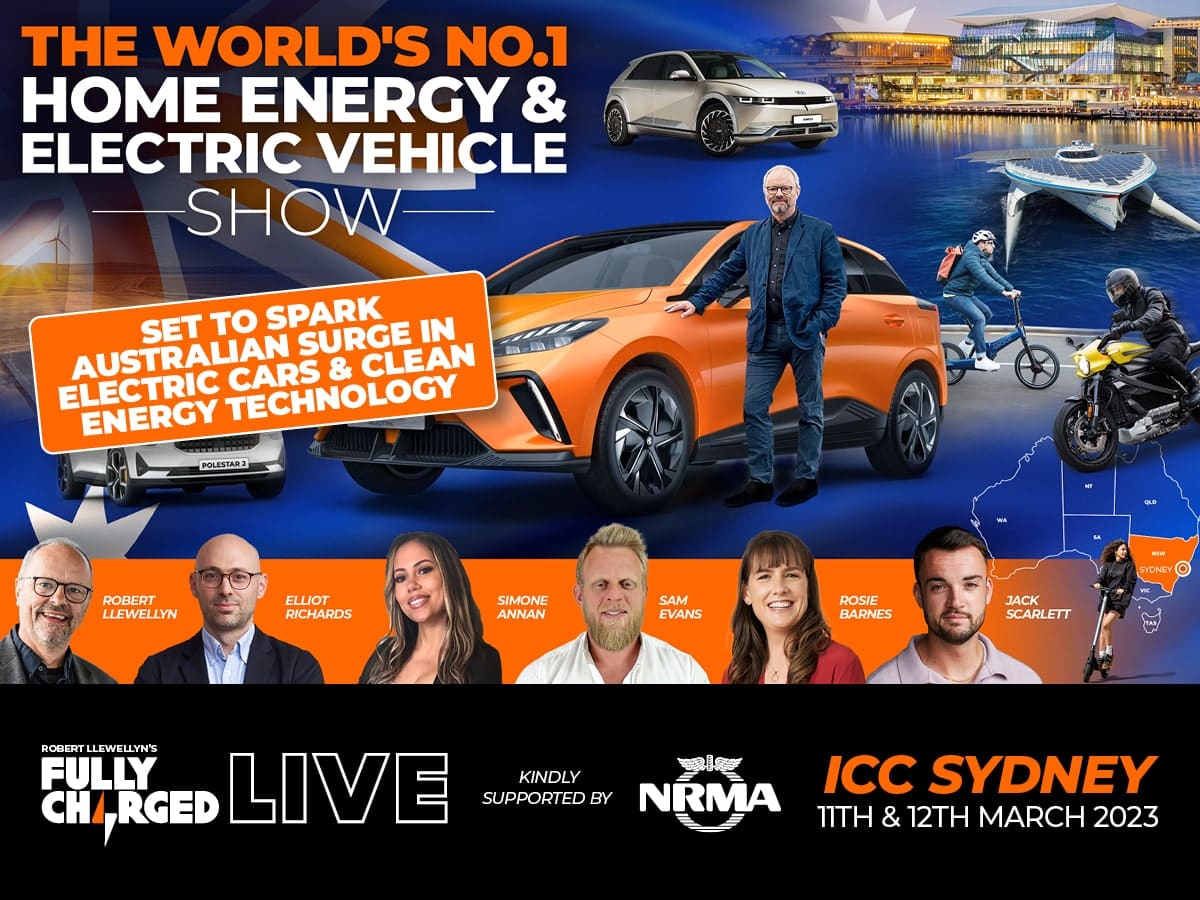 Fully Charged LIVE brings YouTube sensation to Sydney's ICC on 11th & 12th March

NRMA headlining with multiple major sponsors confirmed for launch exhibition

Evie Networks to power Fully Charged BUSINESS area with networking & seminar sessions

Origin Energy announced as sponsor of Home Energy Advice Team attraction

Electric Vehicle Council (EVC) supporting show and extensive test drive programme

12,000-15,000 attendees expected over 'exhilarating weekend of electrification'
Fully Charged LIVE opens at the ICC in Sydney in 25 day's time on 11th & 12th March with organisers anticipating record crowds of energy-savvy, EV-ready attendees for its 5th launch exhibition worldwide.
Following on from 7 successful LIVE events globally, the Sydney show benefits from an array of proven features like the Home Energy Advice Team (H.E.A.T.), Fully Charged BUSINESS, Watt Drive? (test drive programme), Electric Launchpad, Electric Alley, Electric & Eclectic, 2 Wheel Test Track and more.
The Home Energy Advice Team (H.E.A.T), sponsored by Origin will provide ticketholders the opportunity to ask energy experts how to improve energy efficiency at home through simple actions to bigger investments. Sessions can be booked at the event, and visitors are encouraged to bring along images of their property and details of its energy performance. In addition to energy experts on-site, there will be presentations, talks and a showcase of relevant technologies from heat pumps to batteries.
---
Origin General Manager E-Mobility, Chau Le said,
"We're thrilled to be part of Fully Charged for their first Australian event, as part of our commitment to lead the transition to a cleaner and smarter energy future. Our energy experts are looking forward to meeting visitors at the event as part of the Origin 360 EV Garage and Home Energy Advice Team and helping them learn more about how solar, batteries, EVs, smart charging and more can make an impact at home and for the planet."
---
Fully Charged BUSINESS, kindly powered by Evie Networks, will offer an inspirational space for business delegates network and find out more about the cost benefits of going green at work.
Seminar sessions will run throughout the two days covering a vast array of topics including benefits of charging at home, away or en route, how can businesses break down the EV adoption barriers for consumers and how we can look to e-mobilise the masses in 10 years.
Evie Networks' Chief Operating Officer, Geoff Brady said:
"Here at Evie Networks, we are always excited to team up with organisations that share our passion for accelerating the switch to electric transport to clean the air, reduce emissions and make our cities more liveable. We are excited to see the moves Fully Charged LIVE are making in the way of encouraging the Australian transition to clean energy and electric vehicles and sponsoring such an event seemed like a natural partnership."
---
The Watt Drive? test drive programme offers visitors the opportunity to get behind the wheel and try a selection of electric vehicles for themselves. The Electric Vehicle Council will be partnering with Fully Charged to enable people to try electric cars for the first time.
Behyad Jafari, Chief Executive at Electric Vehicle Council had this to say:
"The penny has well and truly dropped, and most Australians are now considering an EV as their next car. This shouldn't come as a surprise; Australians are traditionally early adopters and don't like to be left behind on tech advances. The problem we have right now is not consumer appetite, but supply. Hopefully this year the government introduces long overdue fuel efficiency standards, and we can finally start getting vehicles shipped to Australia to keep pace with accelerating demand."
---
Furthermore, Fully Charged LIVE offers attendees more than 30 'live sessions' across 2 stages in which YouTube presenters host fun, educational panel sessions with Australia's leading experts. Hosts include Fully Charged's founder, Robert Llewellyn (Red Dwarf, Scrapheap Challenge), its China correspondent, Elliot Richards and its lead Automotive presenter, Jack Scarlett. These presenters will be joined by Australian YouTubers Simone Annan (CarTell TV), Rosie Barnes (Engineering with Rosie) and Sam Evans (Electric Viking).
---
Fully Charged's CEO Dan Caesar added,
"We are delighted to welcome these new sponsor organisations on board for our Sydney launch show to support these vital features which are designed to educate consumers and business on how to switch to cleaner technologies and electric vehicles. Each feature will enable attendees to learn more about the ways they can make changes and home and within business to become more sustainable. This first-time event looks like outperforming our previous launches and our flagship show in the UK is now the biggest show of its type in the world. We look forward to replicating that over the coming years in Australia."