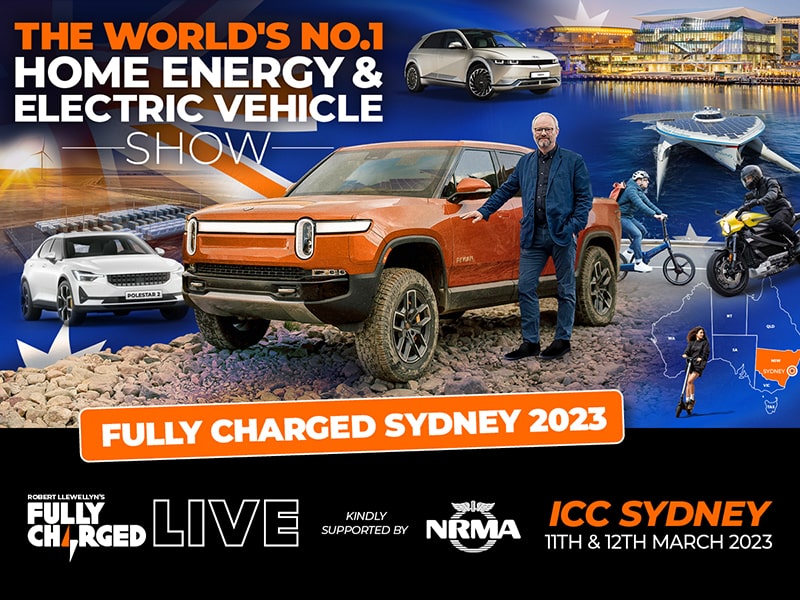 New South Wales set to benefit from the 'Fully Charged effect' of increased consumer interest

World's no.1 clean energy and electric vehicle YouTubers to host show next March (11th & 12th)

Australian edition of award-winning Fully Charged LIVE show to debut at ICC in Sydney

Leading sponsors to include the NRMA, Origin Energy, Polestar Cars, The Driven and more

Fully Charged SHOW presenters including Robert Llewellyn to lead >40 'live sessions'

LIVE event packed with features including Test Drives and Home Energy Advice Team
When the 1st Fully Charged LIVE event debuted in the UK it attracted 6,000 consumers, 5 years later it attracts 35,000 and is now widely considered the UK's motor show.
As well as its debut in Australia, Fully Charged LIVE will be educating and entertaining visitors in Canada, USA, Europe, and the UK (North and South) in 2023.
The content-first exhibition will benefit from dozens of 'live sessions' across 2 stages, hosted by British and Australia YouTube presenters, and populated with experts.
In addition to Fully Charged, confirmed Aussie YouTubers include Electric Viking, Engineering with Rosie, Ludicrous Feed, Electric Chris, Tesla in the Gong & Ryan Model Y.
The organisers invest heavily in an array of attractions including the Home Energy Advice Team, Electric & Eclectic, Electric Alley, Electric Launchpad and M1CR0 MACH1NES.
Additionally, the Fully Charged SHOW is working with industry to bring the widest selection of electric vehicles – whether that's bikes or boats, cars or commercial vehicles – ever displayed Down Under.
What's more, an exhibition of the most progressive companies in Australia will help to explain how consumers can switch to cleaner energy and electric vehicles over the coming years.
An intensive 8-week promotional campaign kicks off in mid-January, with the Fully Charged SHOW's founder spending several months filming and recording in Australia.
Fully Charged SHOW viewers can expect around 20 Australian-themed episodes and podcasts on the Fully Charged SHOW and its sister channel the Everything Electric Show.
Following on from recent successes in the South of England, Southern California and the Netherlands, the organisers anticipate a minimum of 10,000 energy-savvy, EV-ready attendees.
Actor (Red Dwarf) & Presenter (Scrapheap Challenge) Robert Llewellyn had this to say:
"Since starting the Fully Charged SHOW in 2010, I've always wanted to do more Down Under. Not least as my wife and her family are from Queensland. We have amassed 1 million YouTube subscribers and we can guarantee a large, highly engaged audience wherever we go. In fact, Sydney, Melbourne, and Brisbane are 3 of our 5 top cities globally for viewers, and we know that there is a latent desire for cleaner energy and transport. We can't wait to tell the Australian story on our channel, and to spread our unique brand of positive energy with the thousands of people that descend on the ICC in Sydney in March. The Australian economy has the potential to become an energy superpower, and we expect Fully Charged LIVE Australia will help to spark significant consumer interest."