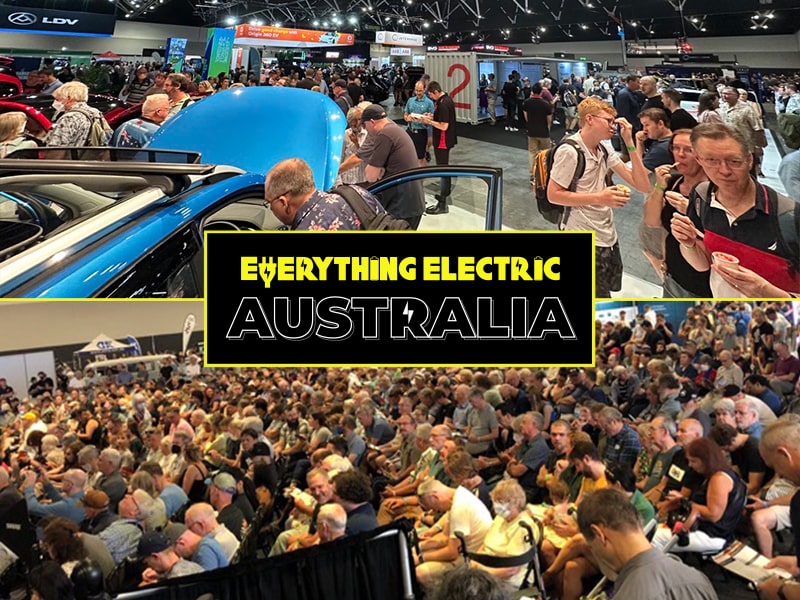 Following the huge success of Fully Charged LIVE Australia, the show returns a month earlier and as a 3-day event on 9th, 10th & 11th February 2024

With plans to grow exponentially each year, and to host Australia's biggest ever test drive programme, the show moves to Sydney Showground

And in order to appeal to even more mainstream consumers, the show is being rebranded as 'Everything Electric Australia, powered by Fully Charged'
After acclaim from visitors, exhibitors and media – 'Fully Charged LIVE puts the jolt back in motor shows' (The Australian) – Fully Charged is delighted to be able to announce its return.
With almost 14,000 attendees, the organisers believe that its Australian show has the potential to grow significantly in future years and has lengthened the event and expanded its footprint.
Furthermore, all seven of the Fully Charged LIVE exhibitions globally in 2024 will run under the new 'Everything Electric' brand in order to further broaden their appeal.
Everything Electric Australia will be hosted at the Sydney Showground on Friday 9th, Saturday 10th and Sunday 11th February 2024.
The exhibition will return with all of its 2023 attractions and more, and new organisations that are interested in participating in 2024, are encouraged to email commercial@fullycharged.show
---
Founder of the Fully Charged SHOW, Robert Llewellyn had this to say:
"It's not often that I am shocked – or short of words – but Fully Charged LIVE Australia was an incredible launch. Every single person that we have spoken to was delighted with our exhibition and its potential is evident. We're so excited about returning that the event will be a month earlier and will take place over 3 days. Additionally, we are absolutely stoked to be moving the show – as Everything Electric Australia – to the stunning Sydney Showground, where we have all we need to make the exhibition bigger and better than before. We have 5 more events before then, with two in the UK, and others in Canada, the US and Europe, but we will be back before you know it, and we can't wait!"
---
Andrew Roberts – Director of Sales and Marketing, Sydney Showground added,
"Sydney Showground is thrilled to partner with Everything Electric Australia and to help support the growth of the event following the success of its inaugural Australian show in March this year. Our exhibitions halls offer the ideal space for an exhibition of this magnitude, with the venue's unique adaptability to expand across a single-level providing a better consumer experience. As a venue committed to environmentally sustainable practices and reducing site wide energy grid reliance, we are proud to host an event whose focus on clean energy aligns with our own."