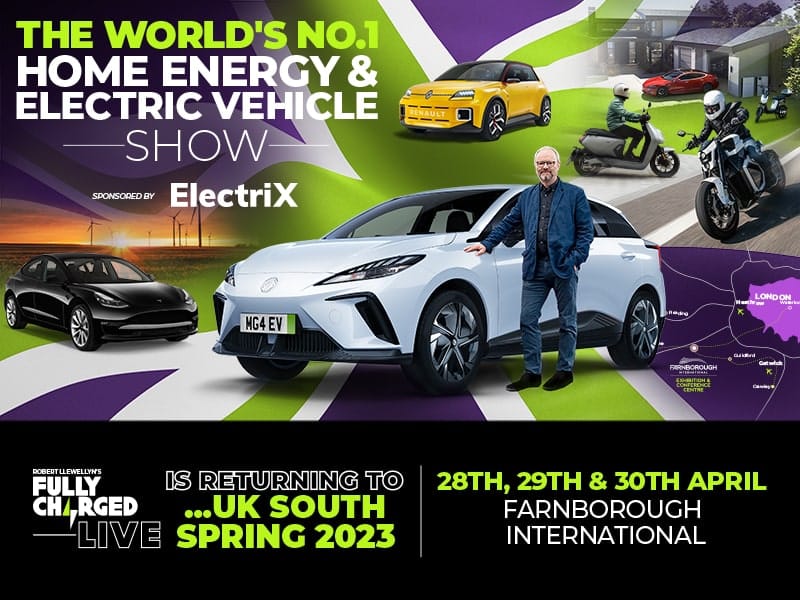 The World's No.1 Home Energy & Electric Vehicle show doubles up with two UK shows in Spring 2023 and ElectriX, powered by LV= General Insurance will be the Headline Sponsor for both shows. "Having supported our UK South show for 3 years and we are delighted that they are returning to support us again in 2023" said founder, Robert Llewellyn.
ElectriX has everything you need to go electric in one place with electric car leases with CBVC, smart home chargers with Indra and of course car insurance.
As well as joining us as Headline Sponsor, LV= General Insurance will be sponsoring our Kids' Zones at both shows bringing family fun to what is the UK's established 'festival of electrification'.
Fully Charged LIVE South will return to Farnborough International on 28th, 29th &; 30th April 2023 and is set to be our biggest show ever with an expected audience of 35,000.
In 2023, we will also be launching Fully Charged LIVE North in Harrogate at the Yorkshire Event Centre on 19th, 20th & 21st May.
Both events will deliver much-loved visitor attractions including 'live sessions' across two theatres hosted by Fully Charged presenters Robert Llewellyn, Jack Scarlett, Helen Czerski, Imogen Pierce and Dan Caesar.
Consumers can 'try before they buy' with thousands of electric vehicles test drives and rides available. Fully Charged LIVE offers the most complete line-up of electric cars that can be seen anywhere in the world.
The ever popular Home Energy Advice Team will return offering even more 1-2-1 guidance on how to make your home cleaner, greener and cheaper too.
Visitors will also be able to visit our Business Zone, Commercial Vehicle Zone and much more at both shows.
As well as these familiar favourites, we will be bringing a number of exciting new features to our flagship show in the South including Zero Carbon Kitchen, an Electric Launchpad and an Eco Market Place.
For the first time at Farnborough we will be holding 'electric fireside chats' with well-known celebrities including with sustainable entrepreneur Deborah Meaden (Dragon's Den, The Big Green Money show).
Gill Nowell, Head of EV Communications at ElectriX had this to say
"ElectriX is delighted to return as headline sponsor of Fully Charged LIVE 2023. As the UK accelerates toward wider adoption of electric cars, this event is the best place to learn, discover and test drive while at the same time give drivers the confidence that switching to an electric car is simple, safe and affordable. Over half a million people have already moved to an electric car and ElectriX is committed to helping even more people make the move. We look forward to welcoming everyone to the show."
Heather Smith, Managing Director at LV= General Insurance Retail added,
"As the leading insurer for electric vehicles in the UK, LV= GI is very excited to take part in Fully Charged LIVE 2023 and looking forward to showcasing ElectriX, our one-stop-shop for electric cars. Having recently joined forces with Little Tikes to give the classic Cozy Coupe a one-off electric makeover, we'll also be supporting the Kids Zone and introducing the world of EVs to our drivers of the future. It's set to be a fantastic event and we can't wait to meet everyone."
---
About The Fully Charged SHOW / Fully Charged LIVE
Fully Charged SHOW is 'the World's No.1 Home Energy & Electric Vehicle channel' hosted by author, broadcaster and actor Robert Llewellyn, Helen Czerski, Jack Scarlett, Elliot Richards, Ricky Roy, Imogen Pierce & Dan Caesar.
After more than a decade, the Fully Charged SHOW has amassed a highly engaged, global audience in excess of 3 million consumers, with 4.2 million episode views in September 2022 alone. Fully Charged exists to educate, encourage and explain to its viewers that almost all of the energy that the world demands can and should, come from 'clean' sources, like solar, wind and energy storage. In short, to inspire people to 'STOP BURNING STUFF'.
Fully Charged LIVE has run in the UK since 2018. The most recent event (29 April – 1 May 2022) in Farnborough, England attracted more than 23,000 visitors and doubled its footprint versus the 2021 event, with more visitor
attractions and exhibits than ever before. The show boasts the broadest spectrum of electric vehicles and clean energy exhibits anywhere in the world. Forthcoming shows include Australia (11-12 March 2023), and Canada
(8-10 September 2023), America (27-29 October 2023). The European and UK shows return in 2023 as Fully Charged LIVE Europe, Fully Charged LIVE UK South and with the addition of Fully Charge LIVE UK North.
---
About Liverpool Victoria General Insurance and ElectriX
ElectriX, powered by LV= General Insurance, is a one-stop shop offering drivers everything they need to get on the road with an electric car – from leasing a vehicle, through to buying a home charger and getting electric car insurance.
LV= General Insurance provides car, home, pet, travel, landlord, breakdown and home emergency insurance to over 7 million customers in the UK.
We're the UK's third largest personal lines insurer with just over £2 billion in annual premium income.
We offer our products and services directly to consumers as well as through intermediaries, including brokers, affinity partners and IFAs.
LV= General Insurance uses the LV= brand under licence from the Liverpool Victoria Financial Services Group and the L&G brand under licence from the Legal & General Group.
We are part of the Allianz Group, one of the world's leading insurers and asset managers with more than 92 million retail and corporate customers.
Within the Allianz Group, LV= General Insurance forms part of Allianz Personal, the largest personal lines insurer in the UK, with gross written premiums of £2.6 billion, 8.5 million customers and around 5,000 employees. Allianz Personal comprises LV= General Insurance, Petplan, Home & Legacy and Allianz Musical Insurance.
The LV= General Insurance newsroom includes links to our news release archive and image library.
For an introduction to what we do and how we do it, please click here.
Follow us on twitter: twitter.com/lv / twitter.com/LVElectriX
Follow us on LinkedIn: www.linkedin.com/company/lv / www.linkedin.com/company/lvelectrix