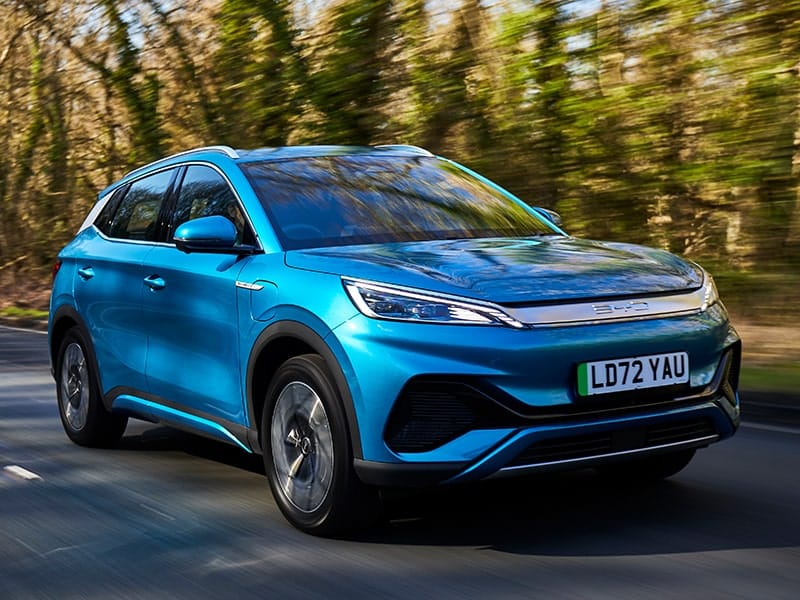 World's biggest manufacturer of battery electric (BEV) and plug-in electric vehicles (PHEVs), BYD, to exhibit at Fully Charged LIVE South & North

Milestone moment for China's electric carmakers, as its leading OEM, enters the biggest European markets by volume in earnest

BYD Auto Co. Ltd (Build Your Dreams) is the automotive subsidiary of BYD Company, a world-leader in battery technologies, buses and trucks

BYD to exhibit and participate in the Fully Charged LIVE test drive programme with their ATTO 3 EV

Fully Charged LIVE is a YouTube sensation turned 'festival of electrification' with 50,000 'EV-ready buyers' expected across 2 UK events (South and North)

Fully Charged LIVE going global with 6 events in 2023 – Australia, Canada, Europe, USA & UK – and the 1st Fully Charged AWARDS in Amsterdam
BYD Auto – the automotive subsidiary of publicly listed Chinese multinational manufacturer BYD company – has confirmed its presence at the UK editions of the world's no.1 electric vehicle shows.
With 2023 set to be the biggest year yet for electric vehicle sales around the world, it is anticipated that this is the year when Chinese carmakers start to export electric cars in significant volumes.
Fully Charged LIVE's flagship event at Farnborough International on April 28th, 29th & 30th expects ~ 300 exhibitors, including more than 20 of the biggest car brands.
This year's Farnborough event will include its largest contingent of Asian challenger brands ever, as well as a selection of long-established legacy automakers. The first-year Harrogate event follows at the Yorkshire Event Centre on May 19th, 20th and 21st.
Amongst the selection of cars on show at both events will be BYD's impressive ATTO 3 – which will be part of the largest ever EV test drive programme ever held in the world.
Just launched in the UK, the BYD ATTO 3 is a compact yet spacious C-Segment SUV. Combining modern aesthetics with exceptional intelligence and efficiency. ATTO 3 utilises the revolutionary Blade Battery plus the next-generation BYD ePlatform 3.0 that incorporates an 8-1 electric powertrain, for the ultimate in system efficiency and integrated vehicle intelligence.
In addition to the electric vehicle exhibitors and test drives, visitors to both shows will also be able to access EV-related attractions including the Electric Launchpad, Electric Alley and Electric & Eclectic. Additionally, as the Fully Charged SHOW on YouTube covers electric vehicles of all shapes and sizes, home energy and clean energy, there will be an array of additional features including the Home Energy Advice Team, Zero Carbon Kitchen, Commercial Vehicle Zone, Fully Charged BUSINESS and Two-Wheel Test Track.
At the heart of the events are more than 50 'live sessions' where the presenters of the Fully Charged SHOW on YouTube host entertaining on-stage sessions with energy and transport experts.
As well as the two UK events in 2023, Fully Charged LIVE launches in Canada (Vancouver) later in the year and completes the year, with established events in the USA and Europe.
The first Fully Charged AWARDS – a global, consumer choice ceremony – will be held in Amsterdam in late November 2023.
---
Dan Caesar, CEO of the Fully Charged SHOW had this to say:
"We've long predicted that Chinese carmakers would play a pivotal role in the global transition to electric vehicles, and there are none bigger than BYD. We are delighted to welcome them to multiple Fully Charged LIVE shows in 2023. We know from our YouTube analytics, that our audience is eager to see, touch and test BYD's electric cars, not least as until now there has been a shortage of more affordable electric vehicles in European markets. At the Fully Charged SHOW we have a unique vantage point – we work with over a hundred carmakers old and new – we are on the cusp of a paradigm shift in the automotive market. Legacy automakers can no longer rely on long-held brand loyalties, and a huge percentage of the car market is in play. Fully Charged LIVE is the only physical event where you can see almost every electric vehicle available as part of an educational, entertaining day out."
---
Mark Blundell, Marketing & PR Manager BYD UK commented:
"We're absolutely delighted to showcase our brand and the recently launched ATTO 3 at Fully Charged LIVE South and North which will be the first public events in the UK for BYD. With a range of ATTO 3s available to test drive and our knowledgeable team on hand we're looking forward to welcoming guests to our stand to discover more about our brand, our technology, and our future plans for BYD in the UK".