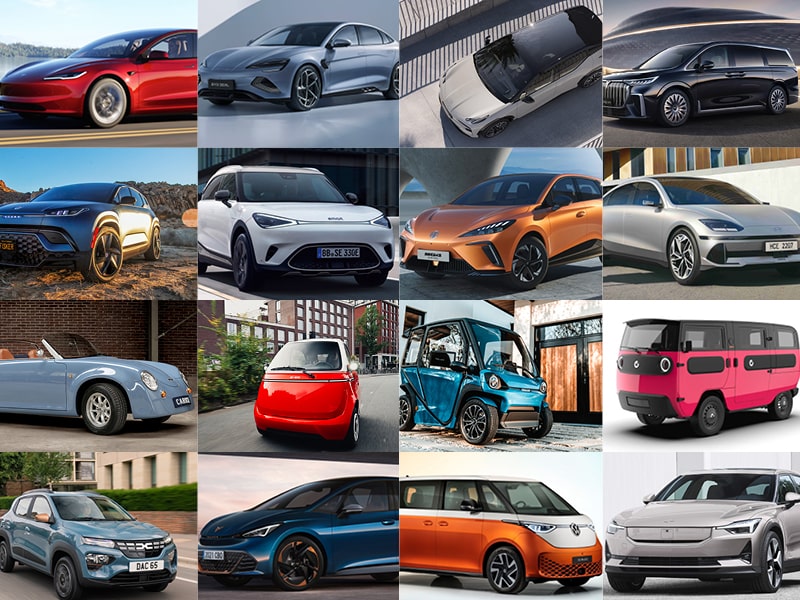 Fully Charged LIVE Europe returns to RAI Amsterdam on Friday 24th, Saturday 25th & Sunday 26th November

As 1 in 3 new car sales is all-electric, Fully Charged SHOW YouTubers bring 'everything electric' to the Netherlands

Organisers confirm that it will have 'almost every EV under one roof' including micro-mobility and commercial EVs

First European test drives of the new version of the Tesla Model 3, as part of multi-manufacturer test drive programme

Significant presence of Chinese electric cars, including Aiways, BYD, Hongqi, MG, NIO, Polestar, smart, VOYAH, Zeekr

Introducing numerous EVs previously unseen in the Netherlands, including AEHRA, Fisker, Microlino, XBus

Content-driven exhibition that encompasses cleaner energy, as well as electric vehicles of all shapes and sizes

Event co-located with International Cargo Bike Festival and the first Fully Charged AWARDS ceremony

Array of attractions also includes >50 'live sessions' over 2 stages, Home Energy Advice Team and Zero Carbon Kitchen
With the switch to all-electric vehicles well under way in Northern Europe, and the Netherlands leading role in that transition, you can make the case that Amsterdam is evolving to become the European capital of cleaner technologies. As well as its world-famous commitment to micro-mobility, news that 34% of new cars sold in September 2023 were battery electric, confirms the Netherlands as the fastest growing country for cleaner transportation. The Fully Charged SHOW – the long-established YouTube channel with a global audience of EV-curious, energy-savvy consumers, brings its 'festival of electrification' to Amsterdam for 3 days in November.
Notably, Fully Charged LIVE Europe will illustrate the once-in-a-century shift to a new breed of car companies from North America and Asia, especially an influx from Chinese companies. As it stands Tesla – which is bringing its new Tesla Model 3, for its first European test drives – is the biggest battery electric car company in the world with 435,059 BEVs delivered in Q3 2023. Also attending will be Chinese behemoth BYD, which is likely to eclipse Tesla in Q4 2023 (431,603 BEVs delivered in Q4 2023) with its range of EVs. Of the other Chinese carmakers exhibiting, Zeekr will be hosting the European first view of its X model, VOYAH will be unveiling its new DREAM model, while NIO will be bringing the ET5 Touring, EL6 and ET7 too.
Other highlights include a comprehensive test drive programme, with the BYD Seal, Fisker Ocean, smart #1 amongst the many options; the Electric Launchpad attraction which will host a dozen never displayed in the Netherlands before EVs, from the minuscule Microlino to the versatile XBus; plus a comprehensive selection of other battery electric vehicles on the Electric Alley, and a Commercial Vehicle Zone. Boards, bikes, cargo-bikes, scooters and motorbikes will also be well represented across the exhibition and within the co-located International Cargo Bike Festival.
Beyond electric vehicles, Fully Charged LIVE Europe boasts an array of exciting and educational attractions. Visitors will benefit from dozens of entertaining 'live sessions' with the Fully Charged SHOW presenters, and around 200 energy and transport experts on the Giga Theatre and Mega Theatre. The Home Energy Advice Team gives attendees face-to-face access with experts on heat pumps, solar, batteries, EV chargers and more, while the Zero Carbon Kitchen hosts plant-based cooking sessions, all powered by an electric vehicle.
And at the end of day 1, visitors and exhibitors, speakers and sponsors will head to the RAI Auditorium, as the winners of the first Fully Charged AWARDS are revealed.