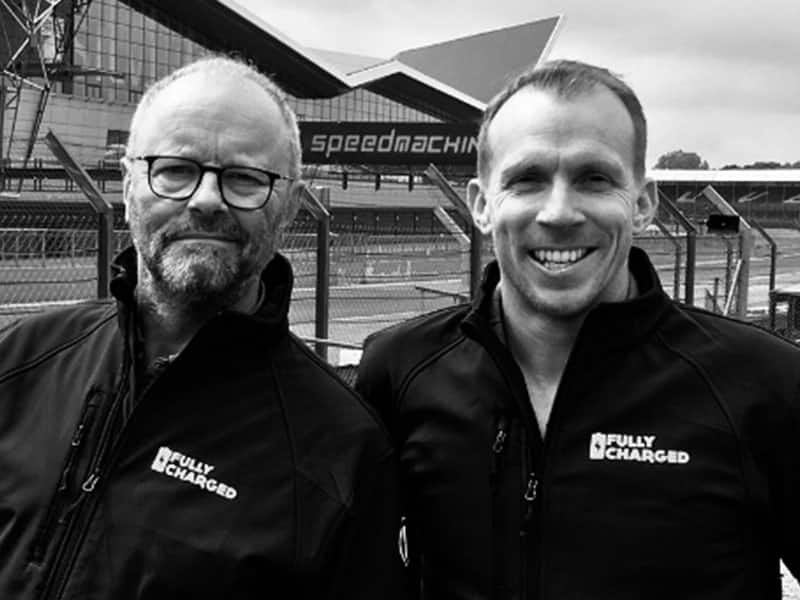 ROBERT LLEWELLYN, FOUNDER
I can't remember a time when the outlook for the Fully Charged SHOW has been so optimistic. Ironic given what is going on elsewhere.
Our growth is in no small part down to the tireless work of our talented team and in an extremely challenging climate. I would like to express my sincere thanks to each and every one of them.
There's no doubt though that we wouldn't be where we are without the calm leadership shown by my Joint-CEO, Dan Caesar, over the last four years.
His passion for our project and his relentless positivity has enabled us to emerge post-pandemic not only strengthened, but ready to rapidly scale up.
I love Fully Charged and it's my intention to be involved for many years to come, but I'm really relieved to be able to pick and choose the things that I get to work on these days.
As such, I am delighted to announce that, while I will continue unchanged as founder (and presenter of course), Dan will assume the role of CEO in its entirety.
Over to you Dan – Fully Charged couldn't be in better hands. Here's to the next 12 years!
---
DAN CAESAR, CEO
Thanks Robert, it's been my honour to lead Fully Charged with you over the last few years, and I am as excited as ever about continuing to do so.
As ever though, on behalf of our whole team (and I am sure on behalf of our audience), I would like to acknowledge that we simply wouldn't be here without your constant inspiration.
Anyway, that's enough of the mutual self-appreciation, let's update you on what you can expect from the Fully Charged SHOW, Fully Charged LIVE and the Fully Charged AWARDS in the next year or so.
With what's going on in the world right now – arguably best described as 'fossil-fuelled instability' – we feel that the mission to accelerate the transition to sustainable energy and transport, is more important than ever.
Rest assured that our desire to make a positive impact, and to inspire people to #StopBurningStuff, has never burnt more intensely.
First of all, it's fantastic to see the channel going from strength to strength, and with 4.1 million viewers in the last 28 days we are approaching peak performance after some pandemic-induced unpredictability.
Not only are we setting new records, but we are on target to reach 1 million subscribers by the New Year.
We've made some tweaks to our content 'selection', 'sell' and 'production' (as detailed in my previous insight piece) and it has had a hugely positive effect.
We have some outstanding content coming, and our presenter network which includes Robert, Jack, Helen, Elliot, Ricky, Imogen (amongst others) is (we believe) second to none.
Secondly, our sister channel, the 'Everything Electric SHOW' has undergone the mother of all renovations, and there will be tonnes of new Home Energy content coming from mid-October onwards.
We've unearthed another great presenter – Emilie, a renewable energy professional – to help present this content alongside Robert, and you will be able to see her very soon as we go 'through the keyhole' at his house!
So if you haven't done so already, please subscribe to that channel too.
Thirdly, we have some really exciting plans to take the Fully Charged PODCAST to the next level, and you can expect to see a special pilot episode entitled 'Failure is NOT an option' in the run-up to Christmas.
And we still have our sights on a bigger stage too, but it's a little bit too early to say anymore on that score.
Meanwhile, our Fully Charged LIVE 'festivals of electrification' are shaping up to be quite something. We saw almost 40,000 attendees over 3 events in 2022, and we are predicting a sharp increase with 6 events in 2023.
We feel that if we can establish a series of these events around the world, it will enable us to educate an even broader audience and provide the financial underpinnings for our future.
Interest in our Australia show is sizeable and Sydney is no.2 globally of all the cities on our audience statistics – Melbourne is no.3 – so there seems to be strong, pent-up demand awaiting us 'down under' in March 2023.
The UK South show at Farnborough (April 2023) looks likely to be sold out from an exhibitor perspective by Christmas, and amazingly our new UK North show at Harrogate (May 2023) is not far behind. Unheard of for a launch.
Stay tuned for some big announcements over the coming weeks as we confirm some very special guests to Fully Charged LIVE from traditional television and from YouTube too.
In September 2023, we host our first Fully Charged LIVE Canada and, much like Australia, we sense very strong demand. From what we are seeing we think Australia and Canada could become clean energy superpowers.
We almost attracted 10,000 attendees to our Californian show in September 2022, and we return to San Diego, but at a bigger, better venue (Del Mar Fairgrounds) in October 2023.
Now, what have we forgotten? Oh yes, Amsterdam. We've always said that we believe that Fully Charged LIVE Europe can be our biggest show of all, and in fact we are increasingly confident that it will be.
We will have more to say about why we think that is the case in the very near future.
Additionally, we will be announcing more about the Fully Charged AWARDS soon too, including the location, venue, dates and categories.
It's no exaggeration to say that we think that a 'consumer-choice awards' as voted by tens of thousands of electric vehicle owners could be the most influential thing Fully Charged has ever done.
And now that we have a team in place, I will have the time to work behind the scenes on some other secret projects, all with the express purpose of enabling us to inspire people to #StopBurningStuff.
So follow us on YouTube, Twitter, LinkedIn, Facebook, Instagram and even Tik-Tok, for further announcements.
However, as Robert said, we simply could not do it without the team.
Our 'About Us' page on our website is being refreshed as it's hopelessly out of date. Would you believe there are more than 40 of us now, and we expect that there will be 50 in the near future.
So finally, while we do our best to keep it positive, please don't think we aren't acutely aware of the economic difficulties that exist in these uncertain times, and we will do our best to reflect that fact in our future coverage.
In the meantime, from all of us, thank you for all of your support. It means the world to us.
#StopBurningStuff – @FullyChargedDan