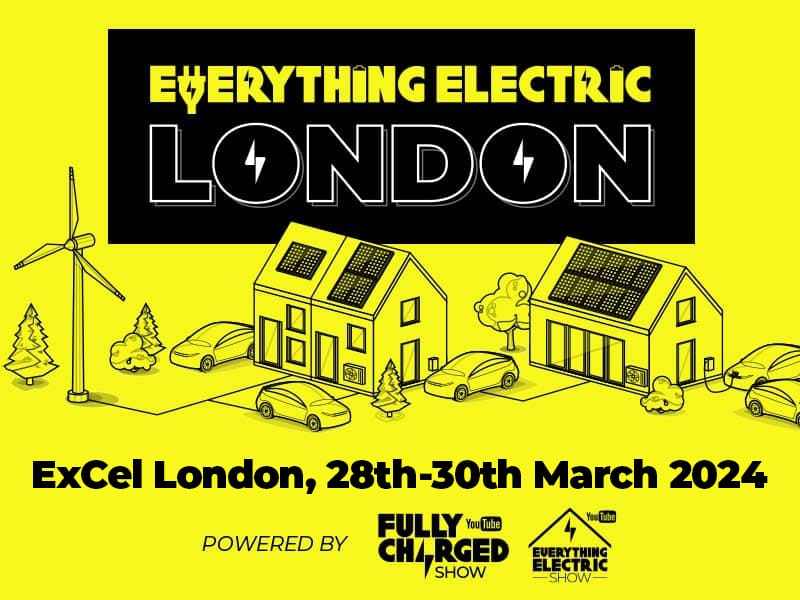 Its multi award-winning Fully Charged LIVE exhibition series (UK, Europe, US, Canada, and Australia) to be rebranded as 'Everything Electric' in 2024

Introducing first ever 'Everything Electric LONDON' on March 28th-30th 2024

Inaugural event to be hosted at ExCel London is expected to be the world's biggest electric vehicle and home energy festival in its first year

'Everything Electric London' will be a 3-day long-weekend event that includes an exhibition, 40+ 'live sessions' as hosted by a selection of the very best energy & transport YouTubers, and an array of proven attractions, such as Watt Drive? Home Energy Advice Team, Zero Carbon Kitchen, Electric Launchpad, Electric Alley, Micro-Mobility, Business & Commercial Zones

Watt Drive? is expected to be the biggest electric vehicle test drive programme ever hosted in the world, and includes EVs of all shapes and sizes
Conceived by actor (Red Dwarf) and presenter (Scrapheap Challenge), Robert Llewellyn in 2010, the Fully Charged SHOW on YouTube has hit the 1 million subscriber milestone. A British-based channel about electric vehicles and clean energy, the Fully Charged SHOW has in a few short years spawned a series of award-winning exhibitions around the world.
As cleaner, greener options – like electric cars and home energy technologies – have started to hit the mainstream, the Fully Charged team has announced its most ambitious move to date. In 2024, to increase its mainstream appeal, Fully Charged LIVE will be rebranded as Everything Electric, and will host its first London event at ExCel on March 28th-30th.
Everything Electric London will be one of seven events in 2024, which will also include Everything Electric North and South in the UK, as well as Everything Electric Australia, Canada, USA and Europe. The events will target more than 200,000 EV-ready, energy-savvy consumers eager to see their favourite YouTubers and enjoy an electrifying mix of attractions and exhibitors.
The Everything Electric exhibitions will continue the existing shows' content-first approach and will all include 40+ 'live sessions' across 2 stages and Watt Drive, which will enable thousands to test drive the latest electric vehicles. Visitors will be able to get up close and personal with almost every currently available EVs in the Electric Alley and a selection of cars that are 'coming soon' on the Electric Launchpad.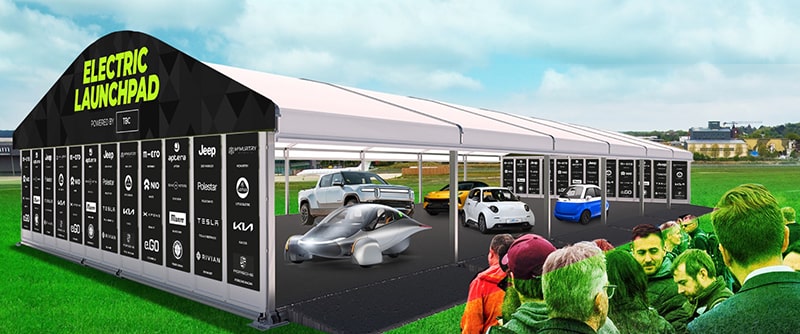 What's more the Home Energy Advice Team gives homeowners the opportunities talk to experts about their property, and the Zero Carbon Kitchen sees chefs creating plant-based meals, powered by an electric car. What's more all of the Everything Electric exhibitions globally will include business, commercial vehicle and micro-mobility zones.
Everything Electric LONDON will occupy 30,000m2 of ExCel London in its first year and is expected to be the biggest electric vehicle test drive programme ever hosted in the world.
---
Founder, Robert Llewellyn commented:
"Little did I realise when I filmed the first episode of the Fully Charged SHOW in 2010 that it would generate such great interest around the world. We regularly receive 3 to 5 monthly million views on YouTube, so to reach the 1 million subscriber mark is an amazing achievement, and we would like to thank everyone that has made this possible. When we launched Fully Charged LIVE in 2018, its success was even more unexpected, yet all of the events we have hosted around the world have been a revelation. To reach the point where we can work with a venue on the scale of ExCel London is an exciting moment in the evolution of the Fully Charged and Everything Electric brands. We believe we are on the cusp of cementing our Everything Electric exhibitions in the energy and transport calendar. And with new car launches now a regular element of our events, we believe they have the potential to eclipse the motor and home shows of old."
---
Simon Mills, ExCeL's Chief Commercial Officer, added:
"The rise of electric vehicles has seen rapid growth and ExCeL is really excited to be a part of that. As a carbon neutral venue and the home of the all-electric motorsport championship Formula E, we're delighted to be hosting the Everything Electric event and we look forward to welcoming Robert and the team to London."