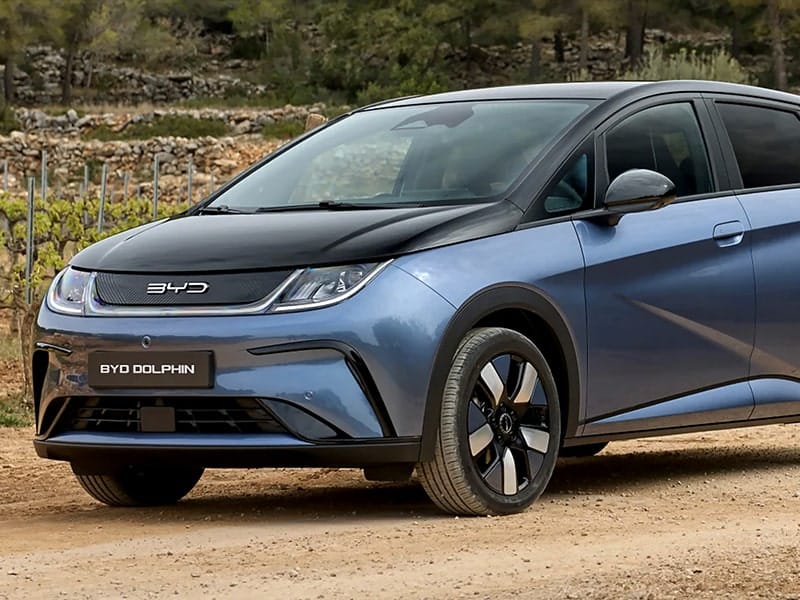 World's No.1 Electric Vehicle & Clean Energy Show returns to UK in late April

Hundreds of electric vehicles and thousands of test drives on offer

35,000 attendees expected at Farnborough International (28-30th April)

At least 15 electric vehicles 'previously unseen' at any UK exhibitions on-site

Includes European debut of BYD's latest electric car, the BYD Dolphin

'EV-ready' consumers can test cars in the Watt Drive? programme

Additional features include Electric Launchpad, Electric Alley, Electric & Eclectic

Fully Charged LIVE also packs in charging, clean energy, and home energy tech

Deborah Meaden to open show with Fully Charged founder, Robert Llewellyn
In the UK in 2022, 16.6% of new car sales were pure electric. Despite difficult economic conditions, EV (electric vehicle) sales are set to surge to up to 25% over the year ahead. This is as part of a global growth trend that saw 79% of new car sales in Norway in 2022, 33% in Sweden, 20% in the Netherlands and 18% in Germany, and which industry experts predict will be further accelerated by the arrival of Asian-made cars in Europe and the UK.
Established carmakers are facing off against an array of challenger brands, led by Tesla, that have more immediate access to the new battery electric supply chain. In 2023 and 2024, Chinese carmakers in particular are expected to export EVs in volume to the UK. BYD Auto – the automotive subsidiary of publicly listed multinational manufacturer BYD company – has confirmed its presence at Fully Charged LIVE UK South.
Its latest EV – the BYD Dolphin – will make its European debut at Farnborough International on the 28th, 29th and 30th April. Furthermore, the recently launched BYD Atto 3 – that utilises the revolutionary Blade Battery – will be part of the world's biggest test drive programme – Watt Drive? BYD's car will be two of approximately 200 EVs on-site.
Previously unseen EVs at Fully Charged LIVE UK, include:
BYD Dolphin
BYD Atto 3
GWM Ora's new fully electric premium saloon
Hyundai Ioniq 6
MG4
Polestar P3
AEHRA SUV
Fisker Ocean
Jeep Avenger
Microlino
Munro Mk_1
Vauxhall Astra
Abarth 500e Scorpionissima
Ford F150 Lightning
Lotus Eletre
McMurtry Spéirling
Rivian R1T
Smart #1 Brabus Edition
Subaru Solterra
In addition to vehicles on manufacturer's stands, the Electric Launchpad will showcase a selection of electric cars that are on the cusp of commercial availability or are being considered for the UK market in the future, including the Fisker Ocean and Jeep Avenger.
Additionally, as the Fully Charged SHOW on YouTube covers electric vehicles of all shapes and sizes, home energy and clean energy, there will be an array of additional features including the Home Energy Advice Team, Zero Carbon Kitchen, Two-Wheel Test Track, Fully Charged BUSINESS and the Commercial Vehicle Zone.
The star attraction in the Commercial Vehicle Zone will be the new Munro Mk_1, the all electric, all-terrain vehicle manufactured in Scotland. Meanwhile, Fellten's 'Electric & Eclectic' attraction, offers enthusiasts access to a unique collection of EV conversions.
At the heart of the events are more than 50 'live sessions' where the presenters of the Fully Charged SHOW on YouTube host entertaining 'live' sessions with industry experts. Deborah Meaden from the BBC's Dragons Den, will be interviewed in the opening session on the first morning of the Farnborough exhibition (Friday 28th April).
Fully Charged LIVE's flagship event at Farnborough International includes hundreds of clean energy and transport exhibitors, including more than 20 of the biggest car brands, such as Tesla, Polestar, MG, Genesis, Hyundai, KIA and many more. Meanwhile, the first year Fully Charged LIVE North event follows at the Yorkshire Event Centre (May 19th-21st).
As well as the two UK events in 2023, Fully Charged LIVE launches in Canada (Vancouver) later in the year and completes the year, with established events in the USA and Europe.
The first Fully Charged AWARDS – a global, consumer choice ceremony for electric vehicles and clean energy – will be held at the RAI Amsterdam on 24th November 2023.
---
Dan Caesar, CEO of the Fully Charged SHOW had this to say:
"It's testament to the audiences that the Fully Charged LIVE exhibitions have attracted around the world since 2018, that car companies are now regularly launching EVs with us. This year more than ever, we can see that the Asian automotive industries are stealing a march over their European competitors at our UK and Europe shows. The growth in interest in electric vehicles and clean energy, means that the Fully Charged LIVE team will be adding a third event next year, at London's ExCel (March 29th, 30th & 31st 2024)."
---
Mark Blundell, Marketing & PR Manager BYD UK commented:
"Not only are we delighted to be exhibiting in the UK for the first time at Fully Charged South, we're thrilled to unveil the latest model in the BYD line-up, the BYD DOLPHIN. Our all new C-segment hatchback will be available later this year and Fully Charged visitors are able to view it first in the UK. Sharing the same revolutionary Blade Battery technology and platform as ATTO 3, BYD DOLPHIN will offer UK customers high levels of standard equipment and technology across the range, which visitors will be able to discover at the BYD stand."