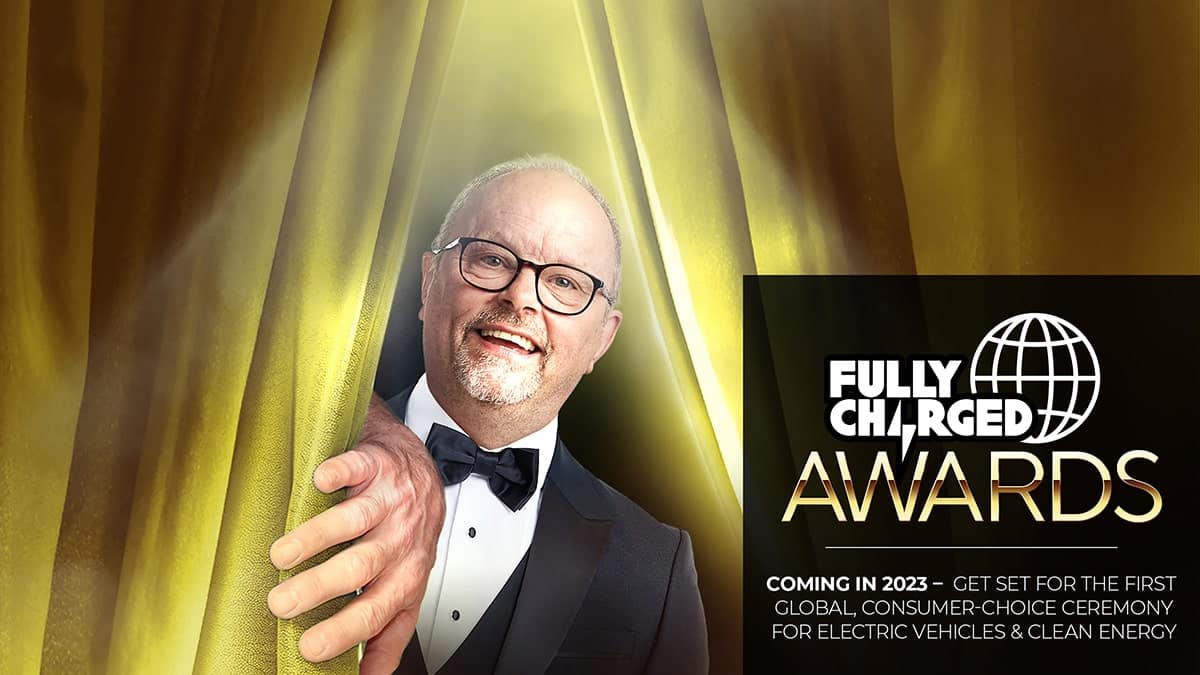 • Inaugural, global awards to debut in Europe in 2023
• Consumer-choice awards for electric vehicle drivers
• Glittering gala to be hosted at the RAI Amsterdam
• Hosted by the Fully Charged SHOW presenting team
• 15 categories, including 'Best Electric Vehicle/s'
---
The Fully Charged SHOW – the World's No.1 Clean Energy & Electric Vehicles channel with ~1m subscribers on YouTube – is to launch the first global, consumer-choice ceremony in November 2023.
The 1,500-attendee event will bring together the industry's brightest and best, hosted alongside Fully Charged LIVE Europe on the evening of Friday 24th November at the RAI Amsterdam in the Netherlands.
Founder, Robert Llewellyn had this to say: "The automotive and energy industries are transforming and merging at such speed that it's hard to keep up. With our huge audience of existing and prospective EV owners we believe that we can approach an awards event with a blank sheet of paper. And we are really looking forward to rewarding those organisations that are truly leading the charge to full electrification."
With millions of viewers worldwide, the Fully Charged AWARDS will be voted for online, and after previous digital campaigns, the organisers expect tens of thousands of people to vote for the winners.
All winners will be announced at a glittering gala dinner in Hall 11 of the RAI against a backdrop of the vehicles shortlisted, and the ceremony will be hosted by the Fully Charged SHOW presenters, including Robert Llewellyn and lead automotive presenter, Jack Scarlett.
The awards will have one exclusive overall sponsor, and a total of 15 categories, all global, including:
Best Energy Project
Best Energy Supplier
Best Home Energy Technology
Best Small-Scale Electric Vehicle (e.g. boards, bikes, trikes)
Best Commercial Electric Vehicle
Best Large-Scale Electric Vehicle (e.g. boats, planes, trains)
Best EV Charging Network
Best Innovative EV Manufacturer
Best Sustainable EV Manufacturer
Best Small Electric Vehicle
Best Energy Efficient Vehicle
Best Electric Vehicle <€15,000
Best Electric Vehicle <€30,000
Best Electric Vehicle <€45,000
Best Electric Vehicle >€45,000
---
CEO, Dan Caesar added:
"At the Fully Charged SHOW, we are lucky to have ringside seats to what promises to be a fascinating fight for supremacy in the electrification of energy and transport. It's an incredible privilege to see the fresh thinking that the new breed of businesses is bringing to these sectors, and how the most progressive of the long-established organisations is responding to the challenge ahead. We are also fortunate to have an in-depth knowledge of what is going on in California and China, as well as what is going on in the strongholds of Germany, Japan and the US. Start-up, scale-up or established businesses will all get the opportunity to participate in the Fully Charged AWARDS, and our categories have been designed to reward the behaviours that we believe are needed in a post-combustion world."
---
The Fully Charged AWARDS organisers are highly experienced, award-winning event producers who have run events like the global Fully Charged LIVE shows, as well as successful large-scale awards.
While the event is global in nature, the capital city of the Netherlands was chosen as host city as a result of the high levels of EV adoption in the North-western countries of Europe.
After a successful launch in 2022, Fully Charged LIVE Europe, which will incorporate the Fully Charged AWARDS, takes place over a longer duration (3 days – 24th, 25th & 26th November) and in a larger space (Halls 10, 11 & 12) at the RAI Amsterdam.
---
The latest Fully Charged LIVE received huge acclaim from a host of high-profile participants, including:
Henrik Fisker, CEO & Co-Founder, Fisker:
"Fully Charged LIVE exceeded our expectations in every way and gave us a great opportunity to meet with the public and our reservation holders. We look forward to more interactions as we launch the Fisker Ocean all-electric SUV."
Sarah Hardwick, Chief Marketing Officer, Aptera:
"We had an amazing experience at Fully Charged LIVE. We've already had thousands of new reservation holders and investors join Aptera's solar revolution after seeing us at the show."
---
In 2023, Fully Charged LIVE will return to California, debut in Australia and Canada, return to Europe and double up with 2 shows in the UK (South and North). A total of more than 100,000 energy savvy, EV-curious consumers, ready to invest in the latest technologies are expected across all 6 events.

The full line-up of events is as follows:
Fully Charged LIVE Australia – 11th & 12th March 2023, ICC Sydney
Fully Charged LIVE UK South – 28th, 29th & 30th April 2023, Farnborough International
Fully Charged LIVE UK North – 19th, 20th & 21st May 2023, Yorkshire Event Centre
Fully Charged LIVE Canada – 8th, 9th & 10th September 2023, Vancouver Convention Centre
Fully Charged LIVE USA – 27th, 28th & 29th October 2023, Del Mar Fairgrounds, San Diego
Fully Charged LIVE Europe – 24th, 25th & 26th November 2023, RAI Amsterdam
Fully Charged AWARDS – Evening of 24th November 2023, RAI Amsterdam