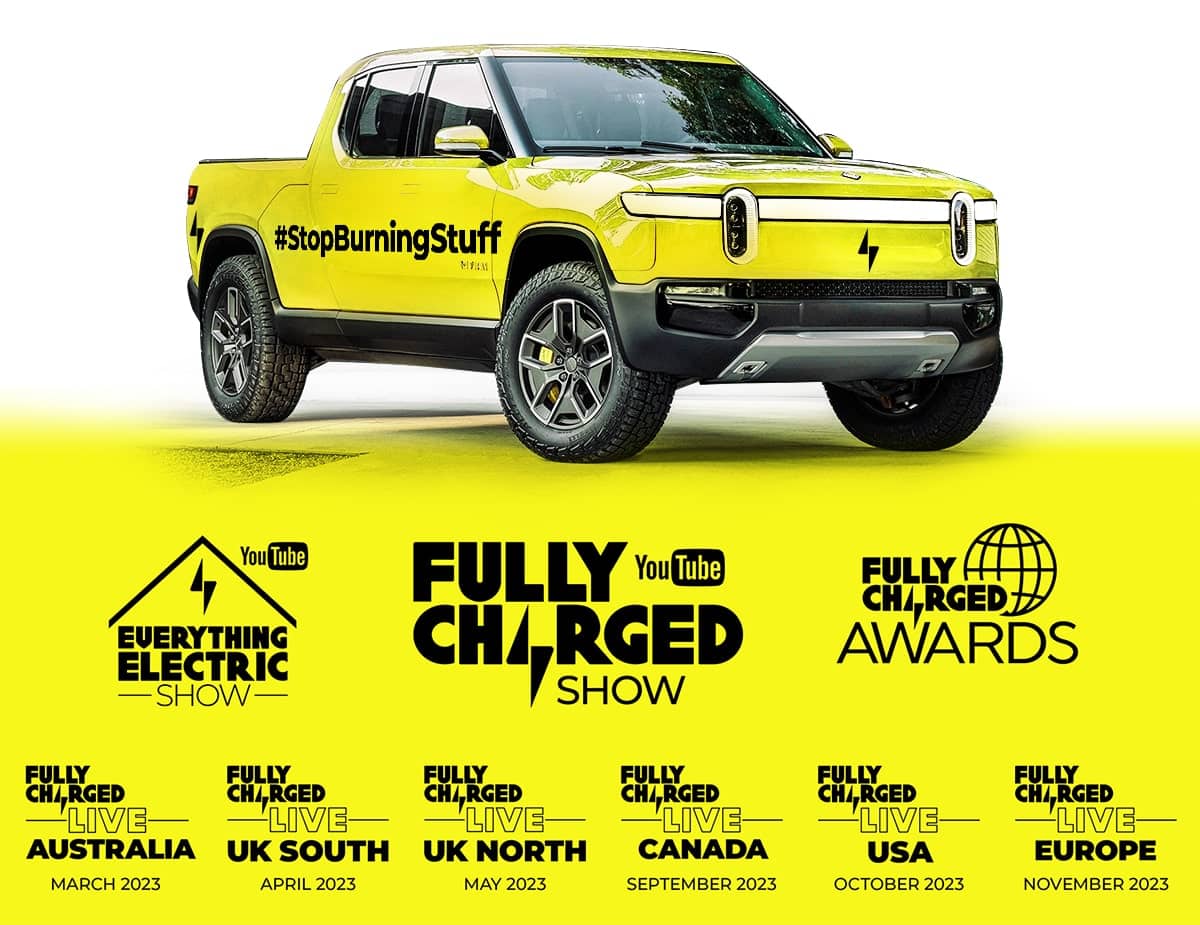 British-based, global YouTube sensation, the Fully Charged SHOW announces the roll-out of 7 major events in 2023

Established Fully Charged LIVE events in Europe, the USA, UK (South) return, as well as new events in Australia, Canada and UK (North)

Global Fully Charged AWARDS in Amsterdam completes event line-up in 2023

Actively exploring 7th & 8th Fully Charged LIVE, as well as new event formats for 2024

Business prioritises 'acceleration of switch to cleaner energy and transportation' that the Fully Charged LIVE events are enabling
---
In 2017, Robert Llewellyn's Fully Charged SHOW announced its intention to launch its 1st ever 'festival of electrification' at Silverstone, the world-famous F1 circuit.
With an audience of millions of EV-ready, energy savvy viewers – generated globally on YouTube since 2010 – the Fully Charged SHOW has been able to tap into a unique community of consumers.
After successful 2018 and 2019 events, Fully Charged LIVE outgrew the event space at Silverstone and announced its intention to move to a new venue. In 2020, Fully Charged LIVE debuted at another F1 circuit – the Circuit of the Americas in Texas – and again immediately outgrew the event space.
Post-pandemic Fully Charged LIVE has been held twice at Farnborough International in the UK, and has also launched successfully in the Netherlands and in California in 2022.
In 2023, the Fully Charged LIVE team is targeting a combined total of more than 100,000 attendees across 6 events in Sydney, Farnborough, Harrogate, Vancouver, San Diego and Amsterdam.
The full line-up of events is as follows:
Fully Charged LIVE Australia – 11th & 12th March 2023, ICC Sydney
Fully Charged LIVE UK South – 28th, 29th & 30th April 2023, Farnborough International
Fully Charged LIVE UK North – 19th, 20th & 21st May 2023, Yorkshire Event Centre
Fully Charged LIVE Canada – 8th, 9th & 10th September 2023, Vancouver Convention Centre
Fully Charged LIVE USA – 27th, 28th & 29th October 2023, Del Mar Fairgrounds, San Diego
Fully Charged LIVE Europe – 24th, 25th & 26th November 2023, RAI Amsterdam
Amsterdam will also host the 1st Fully Charged AWARDS (Friday 24th November 2023), a global consumer-choice ceremony to acknowledge the most progressive organisations in clean energy and electric vehicles.
The Fully Charged LIVE team is also researching the addition of 2 further events in 2024 in geographies where the demographic of its audience is best represented.
New event formats are also in development, including an all-year round retail activation (Fully Charged DRIVE).
With more than 45 full-time and part-time employees in the UK, US, Canada, Australia, Europe and China, Fully Charged continues to scale-up at speed.
New hires in October alone include Susana Burguera (formerly of Motorsport Network, Autosport International), Danielle Lillis (Salesforce, WeWork) and Susy Wootton (Home Office, Dept of Health).
---
CEO, Dan Caesar had this to say:
"We are on track to creating a broadcast, digital and event portfolio that can play a significant role in switching people to cleaner, greener technologies over the next 10-15 years. As an organisation we are driven by decarbonisation and inspiring people to #StopBurningStuff. Against the urgent backdrop of the climate and air pollution emergencies we are extremely motivated to use events as an enabler of consumer uptake of technologies, like batteries, heat pumps, solar and electric vehicles of all shapes and sizes. The power of these events is unparalleled as a result of its blend of influencer marketing, content-first strategy and an audience that are already primed and able to invest in the products on show. Feedback we have had from participant companies has been consistently outstanding, and our team is working with many of our exhibiting organisations as they prepare to commit to all of the Fully Charged LIVE events worldwide."
---
The latest Fully Charged LIVE received huge acclaim from a host of high-profile participants, including:
Henrik Fisker, CEO & Co-Founder, Fisker:
"Fully Charged LIVE exceeded our expectations in every way and gave us a great opportunity to meet with the public and our reservation holders."
Sarah Hardwick, Chief Marketing Officer, Aptera:
"We had an amazing experience. We've already had thousands of new reservation holders and investors join Aptera's solar revolution after seeing us at the show."